Women's, Gender and Sexuality Center Opens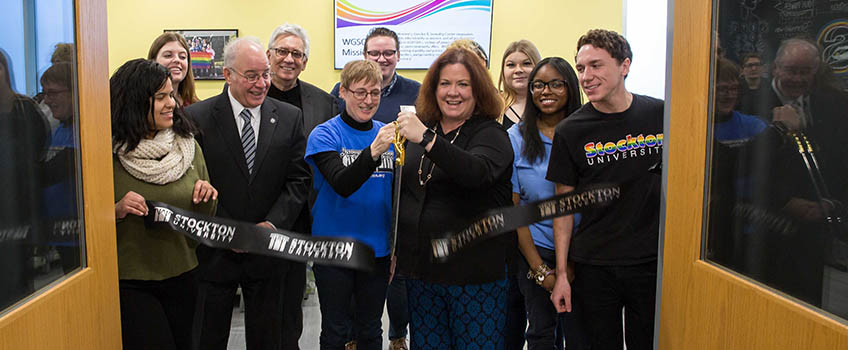 Galloway, N.J. _ Laurie Dutton points to the message engraved on the door of the new Women's, Gender and Sexuality Center lounge: "All Are Welcome Here."
"This is a center by and for the students," said Dutton, the center's director. "It is a safe space, it supports diversity and inclusion, and it is not just for women. It is open to anyone who wants to learn about feminist thinking."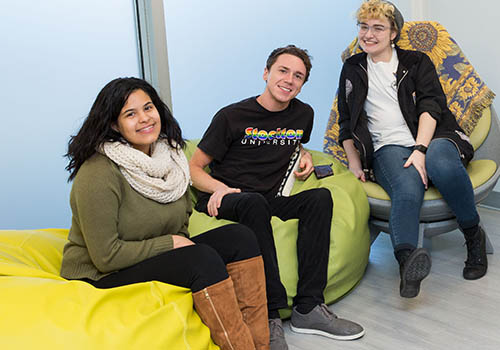 A ribbon-cutting for the new center, in F-103, was held on Tuesday, Dec. 3.
President Harvey Kesselman said students provided the original impetus to have a center, which he called a symbol of what is important to the university.
"When you go there you will find a place where you will be comfortable, no matter what is going on around you," he said. "It is located in the center of campus, and it was intended to be that way."
Dutton and Professor of American Literature Kristen Jacobson co-chaired the 24-member task force of faculty, staff and students that recommended the formation of the center, which was established in March 2015.
"This center shows that if you see something in your community that is missing, you can make it happen by building a coalition," Jacobson said.
The center had been located inside the Wellness Center. The opening of the new Academic Quad buildings in 2018 created more space in F-Wing for the WGSC to have its own larger space.
The WGSC includes a lounge and a physically separate victim advocacy center. It has a small kitchenette, a lactation room for students with infants, a meeting room, and what student Alex Franklin called "the best bathroom on campus" tiled in muted gray.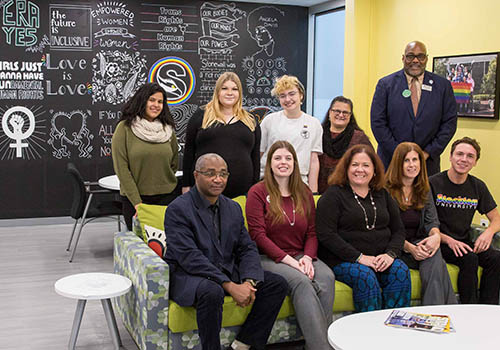 The lounge is decorated in bright yellow and lime green, with two couches, a couple of bean bag chairs, and a wall mural designed by student Meghan Casper of Jackson, a sociology major and vice president of Pride Alliance who wanted to create a message of inclusion and support for all students.
"We talk about inclusion and acceptance, but you don't realize that it means until you are in a space where you are not accepted," Casper said. "This is a place where you walk in and feel at home, accepted."
Student Dynesha Wiggins of Newark has been a student worker at the center since 2017 and said the expansion has been amazing.
"To see how it has been transformed is just so exciting," she said.
Franklin, of Gibbstown, who is president of the Coalition for Women's Rights at Stockton, is already spending a lot of time there.
"This center shows what we can do if we raise our voices and fight for what we need," Franklin said. "This is for people whose voices have been suppressed."
Stockton's history of LGBTQ advocacy is also represented. Framed on the wall is the original charter of the Gay Peoples' Union at Stockton, (now the student club Pride Alliance) co-founded by student Laurel Hester '78, and written on a simple sheet of lined composition paper now yellowed with age. Laurel Hester's story of championing for LGBTQ equal rights was the subject of the award-winning documentary Freeheld and movie of the same name.
The WGSC already has programs planned:
"Spill the Tea: A Feminist Tea Party" will be held from 2-3:30 p.m. Dec. 9.
"A Whole New Closet" is a service for students who are transitioning MTF or FTM that provides funding up to $50 to purchase clothing that better suits their identity.
Osprey Advocate Sexual Assault Advocate training will be held from 9 a.m.to 5 p.m. March 16-20 during spring break. Osprey Advocates are volunteers who support a victimized student through forensic exams and investigations.
Wish List: The center has a wish list of items ranging from kitchen and coffee supplies to diapers. The list is available at the center and on the website.
The WGSC lounge is open from 9 a.m.to 5 p.m. Monday through Friday. The 24/7 hotline for victims of power-based personal violence and bullying is available at 609 849-8473.
# # #
Contact:
Diane D'Amico
Director of News and Media Relations
Stockton University
Galloway, N.J. 08205
Diane.DAmico@stockton.edu
609-652-4593
609-412-8069
stockton.edu/media