Africana Studies Symposium Highlights Major Opportunities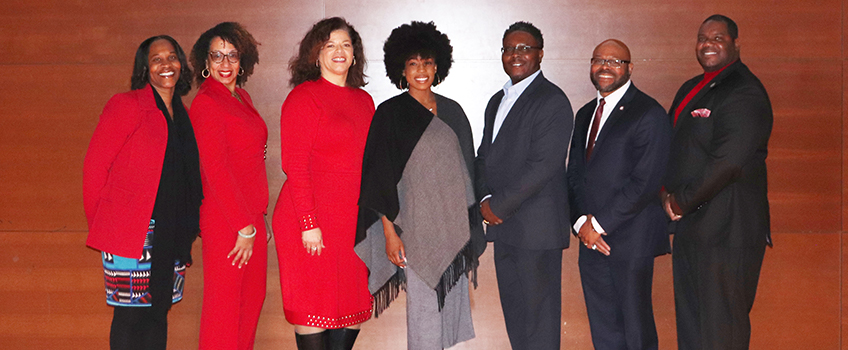 Galloway, N.J. - What can you do with an Africana Studies degree? Absolutely anything. For those who wanted to dive deeper into this question and find out what doors the university's new major could open for them, the Africana Studies Alumni and STEM panel discussions Feb. 20 provided answers.
"I think that both panels spoke to the importance of representation. There is an old saying, 'If you can see it, you can be it.' I don't recall who said it first, but it definitely applies here," explained Donnetrice Allison, coordinator and professor of Africana Studies at Stockton University. "It is important for African Americans, and all students really, to see those who look like them in various fields so that they can see how wide ranging their options are."
The first discussion, made up of six Stockton alumni, examined how minoring in Africana Studies not only influenced their careers and lives, but was an integral part of their Stockton experience. Through Africana Studies classes, panelists learned more about themselves and other cultures. The department also provided them with a support community and safe space in a Predominantly White Institution (PWI), which can be a challenging environment for students to navigate, panelists said.
"I would posit that Africana Studies was the glue, was the soil in which we were dropped in and our seeds got watered over the years through our various journeys, expectations and experiences to bring us to where we are today," said Frank Assante '90, principal of Emerson Community School.
Other alumni included moderator John Gray '92, instructor of Organizational Leadership at Stockton; Toyo Aboderin '17, a freelance marketer enrolled in Temple University's Africology Doctoral program; Ariane Hutchins-Newman '90, assistant dean in Stockton's School of Health Sciences; Pam Thomas-Fields '90, the first African American woman to run for mayor in Atlantic City who works in its Department of Planning and Economic Development, in addition to being an adjunct professor in Stockton's School of Business; and Marion McClary '90, the NCAA Division I faculty athletics representative at Fairleigh Dickinson University and coordinator of the Louis Stokes Alliances for Minority Participation in STEM.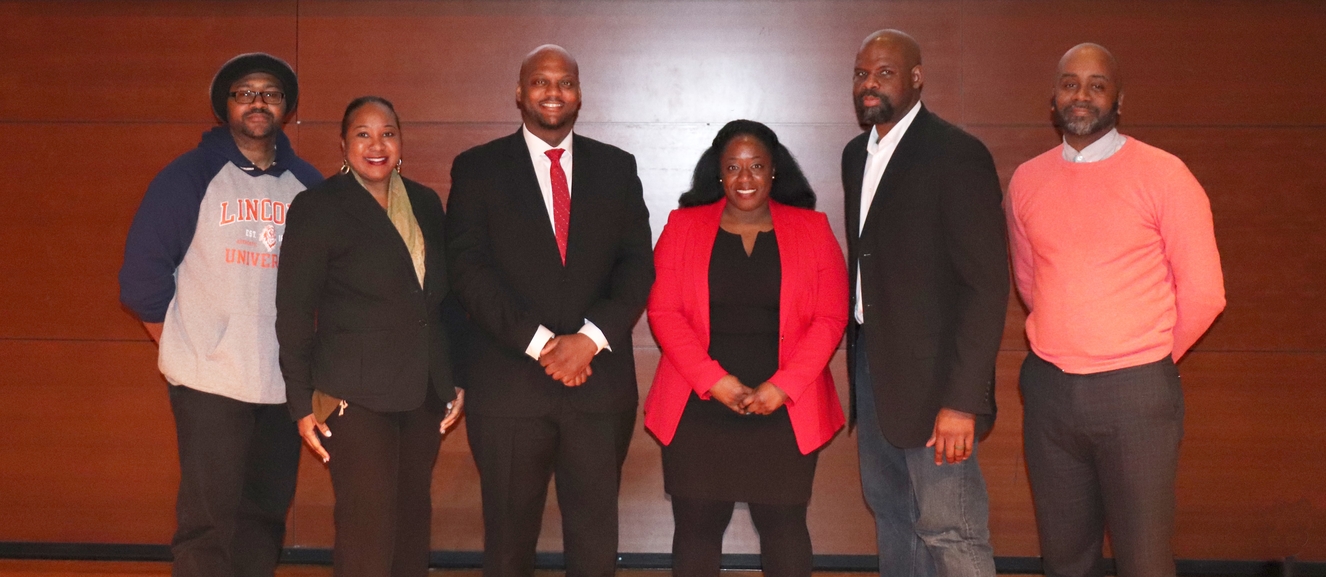 The second half of the day centered on African Americans in Science, Technology, Engineering and Mathematics (STEM) careers. These six speakers discussed the importance of representation and access to education in STEM careers for black students. All panelists talked about the obstacles they faced throughout their college careers and beyond, while also touching on what keeps them motivated to excel in their varying industries.
"One of the places where it starts is because there are a lot of white people in STEM. It's one of those things where you don't have a whole lot of African Americans that you actually see, so there's this idea that you can't do it," said Kerisha Bowen, a registered patent agent for Dentons US, LLP.
Additional STEM panelists included LaShauna Connell, recruitment specialist at the University of Pennsylvania; Kendrin Dyitt, an Atlantic County educator; Brian Moore, owner of Freeman Consultants, LLC; moderator Gordan Reeves, assistant professor of chemistry at Stockton; and Caleph Wilson, a field application scientist at Miltenyi Biotec, Inc.
To learn more about the Africana Studies majors and upcoming events, visit stockton.edu/arts-humanities/africana-studies.html.