Callahan Discusses Humanizing the Badge in Lecture Series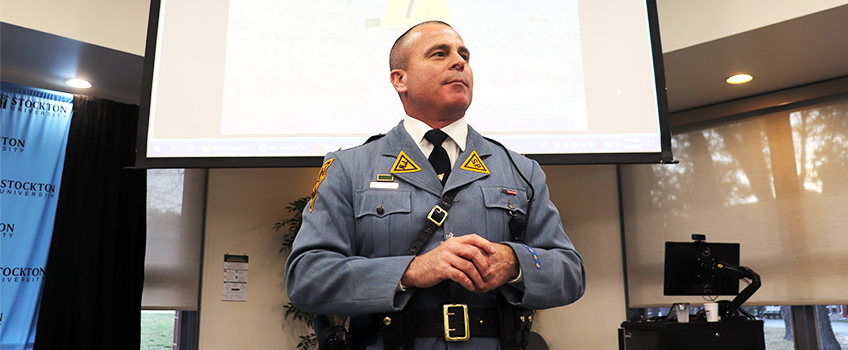 Galloway, N.J. - New Jersey State Police Superintendent Colonel Patrick J. Callahan spoke frankly about the challenges and rewards of being a law enforcement officer at the inaugural Stockton University Criminal Justice Lecture Series on March 3.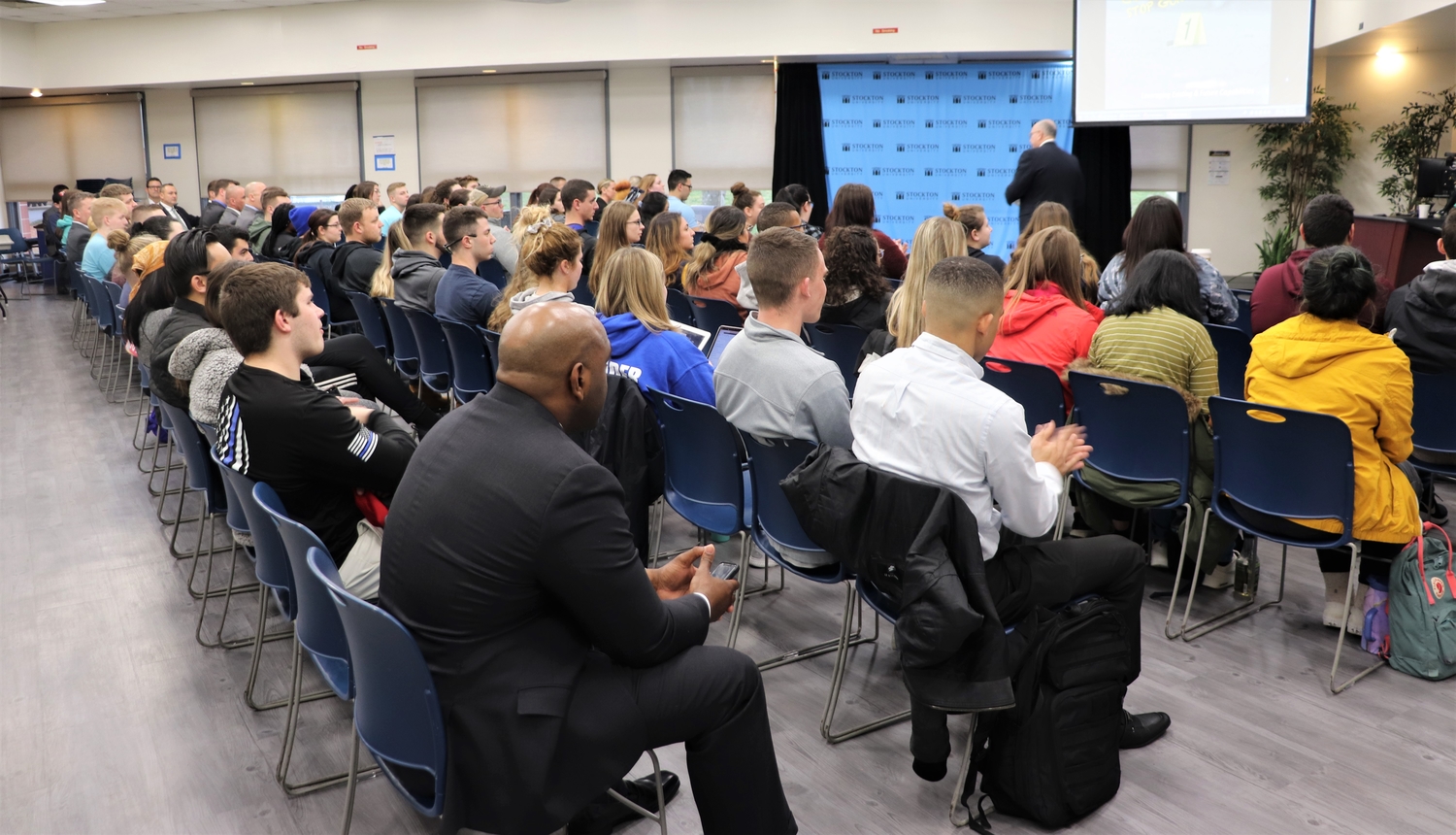 Students, faculty, staff, area law enforcement and community members packed the Townsend Residential Life Center to hear Callahan discuss "Visionary Leadership on Policing Issues."
Michelle McDonald, Interim Provost and Vice President for Academic Affairs at Stockton, welcomed Callahan, saying it's imperative that police agencies make improving relationships with local communities a top priority.
Callahan's passion for law enforcement is infectious. Both his father and grandfather served as police officers. From a young age, Callahan knew what he wanted to do with his life: become a New Jersey state trooper like his father, who served for 29 years.
Beginning his 25-year career as a state trooper in 1995, Callahan was sworn in as the 14th Colonel of the New Jersey State Police, the largest law enforcement agency in the state, on October 31, 2017.
Callahan discussed the five "C"s guiding his work and outlook on policing: communication, candor, character, constancy and caring.
"We need to, as (Michelle McDonald) said, humanize this badge - let people know that we're little league coaches, that we're Sunday school teachers, that we're fathers, brothers and sisters," Callahan said. "We build houses with Habitat for Humanity, we go on mission trips to Haiti, we give a damn about giving a damn…that's why it's important that we hold ourselves to a higher standard."
Callahan believes in the importance of being seen and fostering face-to-face connections in the communities he serves, especially where the relationship between law enforcement and community members is tenuous.
Two years ago, Callahan took a picture with Jesse Jackson at an event. After posting the photo on the New Jersey State Police Facebook page, former officers took offense.
Ruffled but undeterred, Callahan said he responded: "Who do you want me to go meet with? Do you want me to go meet with the Hibernians, who love the state police? Or to be out in the communities where that trust has been diminished? For me, it's the latter…We need to be out there – all of us, not just me – regardless of our gender, regardless of our race, regardless of our religious beliefs, regardless of our sexual orientation. We need to be out there showing them what humanizing the badge looks like."
During the Q&A session, a student asked Callahan if, looking back, he would change anything in his career. Without hesitation, he recounted an instance when he verbally berated a man he arrested as he drove him to the hospital. Callahan admitted it was not a proud moment for him and set a bad example for the young officer with him at the time. He said the incident still bothers him to this day because it goes against what he stands for in his work.
Among those in attendance were students from the Forensic Investigation and Sciences Club, who were excited for the opportunity to learn from a prominent figure in their field.
The Criminal Justice Lecture Series, sponsored by the School of Social and Behavioral Sciences, focuses on current developments in the criminal justice field. For more information on upcoming events, visit https://stockton.edu/social-behavioral-sciences/events.html.
Reported by Eliza Hunt