A Conversation with Don McGahn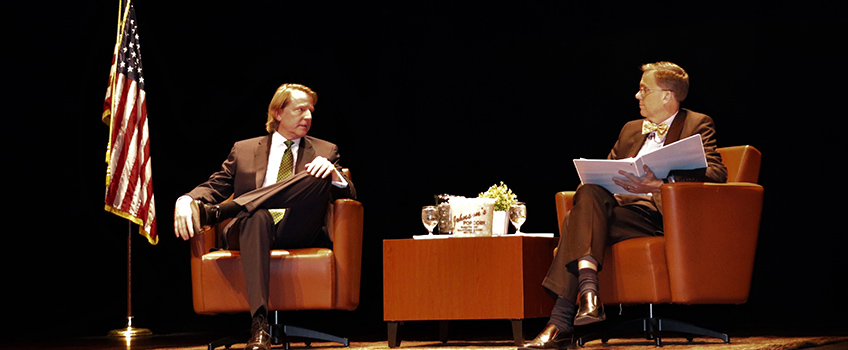 Galloway, N.J. – On Election Night 2016, attorney Don McGahn was not celebrating victory with the Trump family. As Trump's presidential campaign counsel, he was already preparing for what might come next.
"Election night is not a celebration for the lawyers," McGahn said. "So much still goes on. I was panicking about recounts."
McGahn went on to become White House Counsel, and on Thursday, Jan. 23, he talked about his career with friend William J. Hughes, Jr. during "A Conversation with Don McGahn" sponsored by the William J. Hughes Center for Public Policy at Stockton University.
Sitting in arm chairs with a bucket of Johnson's popcorn on the table between them, the two avoided topics that McGahn cannot legally discuss, including the impeachment hearings, and alternated between serious discussions of Supreme Court rulings and the occasional joke.
Hughes began on an apparent serious note about the nation being divided, which led to a question about …. Prince Harry and Meghan leaving the royal family.
"I heard (Meghan) called the queen and it was a perfect call," McGahn said, getting a laugh from the audience for the reference to President Trump's self-proclaimed "perfect call" with the president of Ukraine.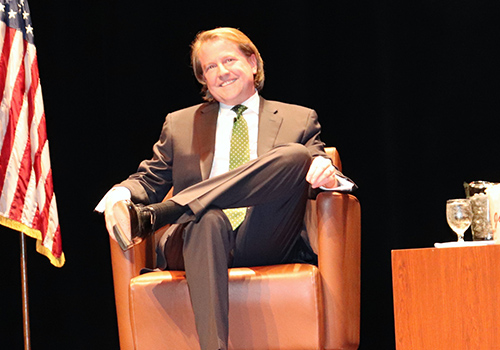 McGahn grew up in Brigantine in a family that was active in Atlantic City and state politics. He built a career on election law, and said when he first met Donald Trump, then just a potential presidential candidate, the two "hit it off."
McGahn said he believed that none of the regular Republican candidates could beat Hillary Clinton, and that the candidate had to be someone different.
"Americans were feeling left out, and Trump's instincts were picking up on that," he said. "I thought he could win, though at the time in Washington everyone thought I was nuts."
McGahn talked about the role of the White House Counsel, which one day included reviewing the annual contract for Easter eggs and being called to the "situation room" for a national security issue.
When Hughes asked McGahn if the president's propensity for Twitter was a good way to issue policy, McGahn said that it could be since records are maintained and the president's Twitter feed is being captured for the national archives.
On the issue of balance of power, McGahn said it is an argument that has been ongoing for generations of presidents.
"Executive power has no list of duties, no manual," McGahn said. "There has been constant battle with Congress and it is a tug of war. It is a system of necessary tension, a feature, not a bug, and part of the democratic experiment."
Hughes commented on the large number of judicial appointments that were made during McGahn's tenure at the White House, including two Supreme Court Justices, Neil Gorsuch and Brett Kavanaugh.
A member of the Federalist Society, McGahn said people should not be surprised at the judicial choices that have been made.
"At the end of the day we had a president who ran on certain concepts and we should not be surprised that they agreed with certain justices like Scalia and Roberts," McGahn said. "I give life to what the president wants to do. He put his trust in me to come up with names. "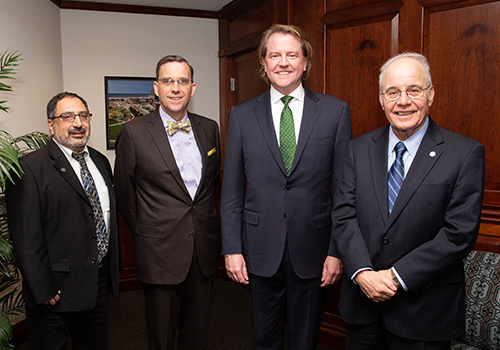 McGahn said politics should not play a role in legal decisions, but in Washington, the impact politics has to at least be recognized.
"But, if people think you are playing politics, you lose your impact as a lawyer," McGahn said.
He said when you take a job in Washington you know your time is limited and that the work and hours will be grueling.
"You do what you can while you can," he said. "I figured 18 months would be it, and it was. It was time to get reacquainted with sunlight."
Hughes asked if Washington could again become a place of compromise and negotiation as it was under Ronald Reagan and Tip O'Neill.
McGahn said it can, but it will take time and a common premise. He noted that some legislation has been passed in a bipartisan manner, but today it is harder for anyone to cross party lines. He suggested that since most members of Congress no longer move to D.C. with their families, there is less socialization outside of work where they get to know each other as people.
"People don't see each other in social settings," he said. "Maybe if people socialized more they would find they have more in common."
He said constant TV coverage also creates a false reality, where people feel they have to perform and put on a show rather than just sit down and work out a deal.
Asked his advice for students, McGahn said they should take risks now, while they are young, and do the hard work to master something.
"You have to pay your dues," he said.
On a final musical note, McGahn, a guitarist, said his personal music idol is Van Halen, and favorite song is "Tom Sawyer" by Rush.
"There are a lot of good guitarists, but Van Halen was the guy for people my age," McGahn said.
Stockton President Harvey Kesselman said Stockton and the Hughes Center serve as forums for diverse voices. Previous speakers have included two Supreme Court Associate Justices, Sandra Day O'Connor and Neil Gorsuch.
View a gallery of photos from the event.
# # #
Contact:
Diane D'Amico
Director of News and Media Relations
Galloway, N.J. 08205
Diane.DAmico@stockton.edu
609-652-4593
609-412-8069
stockton.edu/media