Hughes Center Hosts 2nd District Online Debate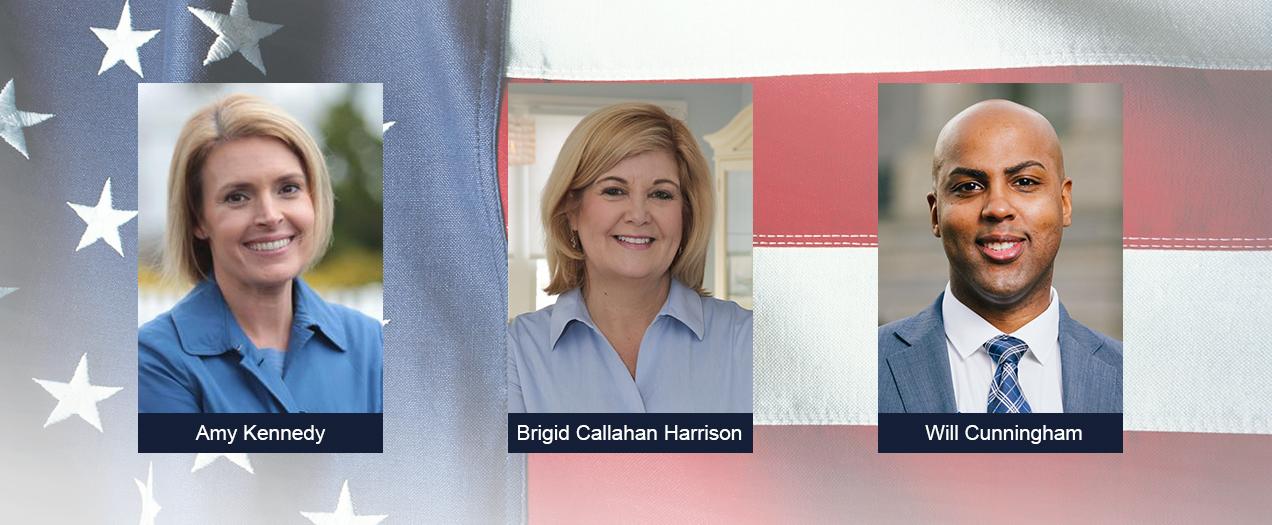 Galloway, N.J. - The William J. Hughes Center for Public Policy at Stockton University hosted an online debate among Democratic primary House candidates in the 2nd Congressional District at 6 p.m. June 25.
Candidates Will Cunningham, Brigid Callahan Harrison and Amy Kennedy debated for one hour.
The debate can be viewed on YouTube at: https://www.youtube.com/watch?v=wuGClioS7xk&t=8s Debate questions, in the order they were asked, are below.
John Froonjian, executive director of the Hughes Center, moderated the event.
The standard for inclusion in the debate was that candidates had raised and spent the minimum amount required for them to file a first-quarter campaign finance report with Federal Election Commission. Candidates John Francis and Robert Turkavage did not file FEC reports. Each candidate had 90 seconds to answer questions. If a candidate criticizes another participant during their response, that other candidate will have a 30-second rebuttal.
New Jersey's primary election is July 7. The winner of that primary is expected to face Rep. Jeff Van Drew, an incumbent and former Democrat who switched to the Republican Party in December. Van Drew has a Republican primary opponent, Bob Patterson.
Following, in order, are the questions that were asked during the debate:
The recent killing of George Floyd by police in Minneapolis has sparked not only a mass protest movement but a long-overdue examination of a range of social justice issues. My first of two questions on this topic is about law enforcement actions and culture. What reforms to police departments and criminal justice do you think are needed?
The reaction to the George Floyd killing has forced many Americans to confront issues of racism, economic inequality and white privilege. These are huge, complex issues, of course. But how would you advocate we start working to address these problems?


Americans have sacrificed greatly as we fight the coronavirus pandemic. More than 120,000 have lost their lives. How would you rate our country's response to the pandemic? What more, if anything, should Congress be doing?
President Trump and the Republicans are in court suing to overturn the Affordable Care Act. On the other side, some Democrats call for Medicare for all. Where do you stand? What do you advocate as health care policy?
Suggested by resident of EHT: What would you do to bring more economic opportunities and relief to the people of South Jersey especially with so many currently experiencing hard times?
A Stockton University Poll last fall found widespread concern in New Jersey that climate change is already affecting the state. How much of a threat do you think climate change is and what actions or policies do you support?
The term "Infrastructure Week" has become a joke in Washington because nothing ever gets done. Yet our roads and bridges continue to crumble. What do you see as the 2nd District's infrastructure needs, and how would you address them?


President Trump has made restricting immigration his major policy thrust. How do you feel about current U.S. immigration policies, and what reforms would you support?


Many Americans, horrified by gun violence, support at least some gun control measures. Yet you would represent a largely rural district with many hunters and gun owners. What restrictions, if any, would you support on gun purchases or ownership?


If elected, how closely would you adhere to the Democratic Party line in the House? Could you see yourself working with Republicans?
About the Hughes Center
The William J. Hughes Center for Public Policy (www.stockton.edu/hughescenter) at Stockton University serves as a catalyst for research, analysis and innovative policy solutions on the economic, social and cultural issues facing New Jersey, and promotes the civic life of New Jersey through engagement, education and research. The center is named for the late William J. Hughes, whose distinguished career includes service in the U.S. House of Representatives, Ambassador to Panama and as a Distinguished Visiting Professor at Stockton. The Hughes Center can be found on YouTube, and can be followed on Facebook @StocktonHughesCenter, Twitter @hughescenter and Instagram @ stockton_hughes_center.
# # #
Contact:
Diane D'Amico
Director of News and Media Relations
Galloway, N.J. 08205
Diane.D'Amico@stockton.edu
609-652-4593
609-412-8069
stockton.edu/media