Spotlight On: Art Students Get Inspired in Taiwan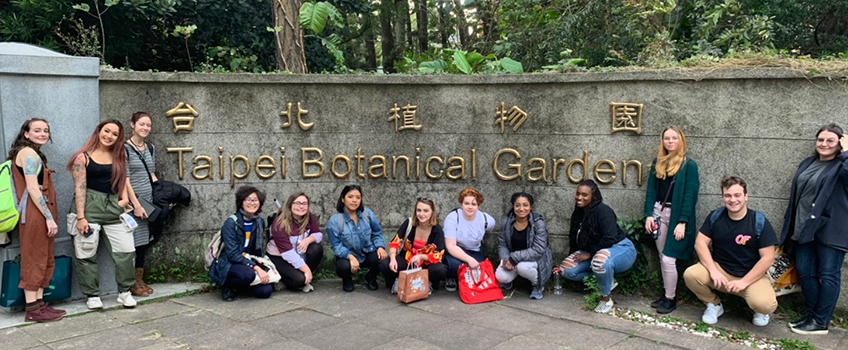 Galloway, N.J. – A group of Stockton University students along with Mariana Smith and Chung-Fan Chang, assistant professors of Visual Arts, got a global hands-on experience during winter break when they spent time in Taiwan, learning in cultural institutions, visiting historical sites and attending the National Taipei University of Education, Stockton's partnership institute.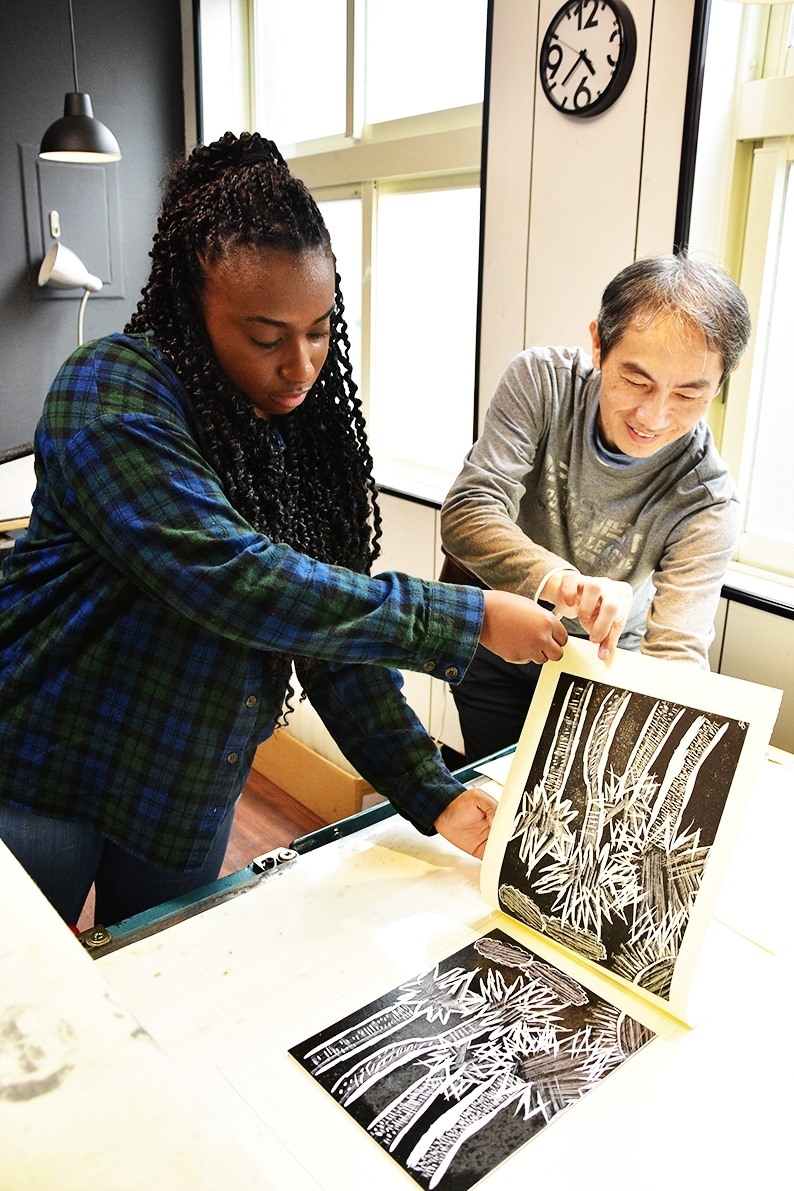 During the Fall 2019 semester, the students completed a combination of credit course work for eight weeks at Stockton, which then culminated in the immersive two-week international experience, "Printmaking and Mixed Media: Taiwan Study Tour." The international component and use of silkscreen at Stockton were new elements, making for a more authentic and unique experience. The printmaking studio additions were funded by the Provost Opportunity Grant.
The course investigates printmaking as a mixed media discipline, integrating printed images with drawing, painting, three-dimensional work and digital art. In addition to the studio work and attention to craftsmanship, this course is designed to provide theoretical engagement with the printmaking as an interdisciplinary practice. Chang led two eight-week courses, Chinese Brush Painting and Introduction to Drawing.
Once the students arrived in Taiwan, they began a different type of journey in the arts - visiting galleries, exploring museums and nurturing a global perspective by learning from local art students and art organizations. Highlights included students working on sketches and landscape studies at Taipei Botanical Garden, sampling Taiwanese cuisine, perusing markets and embracing the aspects of a different culture.
"Students were able to get out of their comfort zone and expand their understanding of contemporary art and eastern culture through museum/gallery visits and interactions with local artists and students, and other international students from Germany, Switzerland and around the globe," Chang said.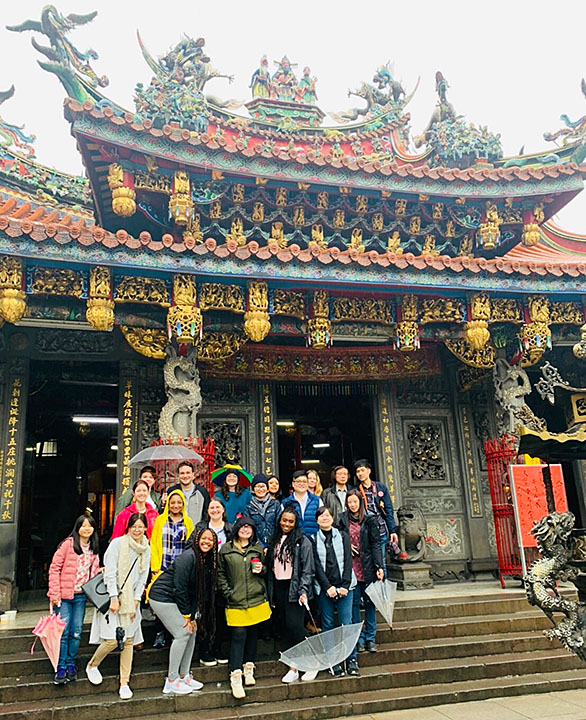 Notably, students attended a two-day workshop at Tsubaki Print Studio with master printer Tsubaki Huang, where they had an introduction to the silkscreen. Here, students continued work on images they already developed in the fall at Stockton, with the expertise and help from Huang and his assistants.
"The workshops that we attended were a good opportunity and networking experience that I am glad I was a part of," said Alexsandra Panton, an Economics major. "Since I am not an art major, I am happy that it started at the pace of a beginner and that we were able to freely do and express ourselves the way that we wanted to do it."
Students also had the opportunity while abroad to study printing with Taiwanese artist Lia Cheng Hui during a printmaking workshop at IDEAS Print Studio. IDEA print studio artists Terri Tang and Huang Jialing shared creative experiences with the students during a presentation that focused on the medium of printmaking techniques and sewing crafts, collage mixed media in imageries, cultural aspects and living style combined with a personal inner world and life.
"My experience in Taiwan through observation of the streets, museums, temple structures, studio processes and calligraphy has helped inspire my personal art style by flowing more and not be so restrictive," said Alyssa Collier, a Visual Arts major. "Before the trip, it was quite difficult to loosen up my style more when it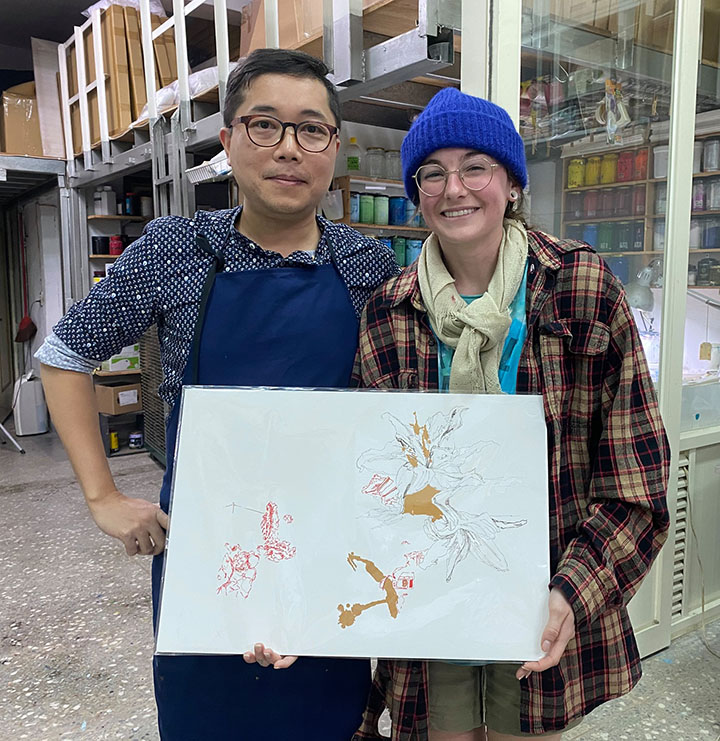 comes to my illustrations. Now I enjoy drawing once again as I watch my personal style shine through more."
The students also hosted an exhibit of their art at Jian-Guo Elementary School in Taoyuan, Taiwan, where local children asked them questions about their creations.
The "Stockton in Taiwan Student Art Exhibition" is on display now through April 27 at the Richard E. Bjork Library Gallery at Stockton's Galloway campus. A closing reception will be held in the gallery at 2 p.m. on April 16. The exhibit is sponsored by the School of Arts and Humanities and the ARTV Program.
Learn more about international education opportunities by visiting the Office of Global Engagement.
Reported by Mandee McCullough