Black History Month Marches into the Future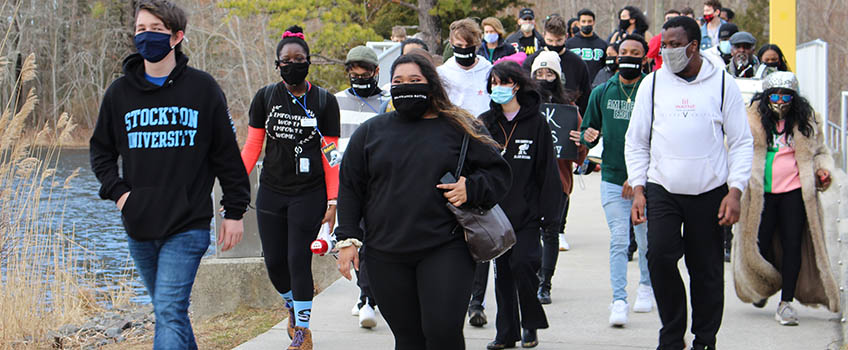 Galloway, N.J. - It may have been held at the end of Black History month, but the march hosted by the Stockton University Student Senate on Feb. 27 sent the message that the work required to achieve racial equality continues beyond one event, or one month.
"We want to celebrate Black history, present and future," said Irenonsen Eigbe, governmental affairs chair for the Student Senate, who organized and moderated the march under the theme "The Movement Continues."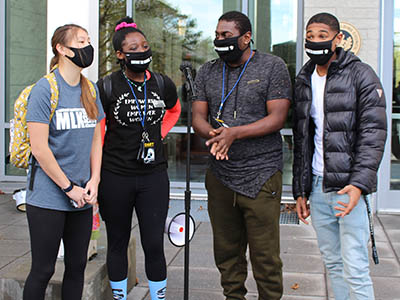 President Harvey Kesselman said that it was events like the 1955 lynching of 14-year-old Emmitt Till that led to the civil rights movement and forced the nation to face racial injustice. Today, the Black Lives Matter movement has again forced Americans to address social and racial injustices.
"As for Stockton, we are committed to doing better in every aspect of our community," Kesselman said. "Because 'doing better' falls on the shoulders of every stakeholder at every level."
Kesselman cited efforts that include infusing racial justice issues throughout the curriculum, and promoting an equitable and inclusive climate for all students.
"A safe environment for our students to learn and grow is a non-negotiable necessity," Kesselman said, condemning a recent Zoombombing of a Black History Month event as inexcusable.
Vice President for Student Affairs Chris Catching outlined some of the steps the university is taking to reinforce a supportive environment for all students.
"Inclusive student success is social justice," he said. "We must educate all students to advocate for social justice."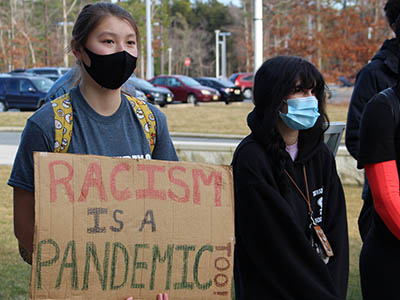 Student Ben Dziobek, president of the Environmental Club, addressed intersectionality – the interconnectedness of race, class, nature and society and how they impact each other. He cited health care, business and environmental practices that have helped some at the expense of others.
Following a march around the campus, the group of more than 50 participants heard from Amy Kennedy, a local teacher who ran for Congress in 2020, who brought her family to the event "to show how we should be treating each other," she said.
"There has never been a time when racial inequality has not been an issue," Kennedy said. "You can't just say this is someone else's struggle, or someone else's fight. We have to stand together. I want a more inclusive environment for all children."
Stockton Professor of Communications and Africana Studies Donnetrice Allison talked about mentoring and how the Council of Black Faculty and Staff at Stockton came together almost 40 years ago to support each other and students of color.
"We recognize the importance of unity and protecting one another," she said. "There are many more of us now. Seek us out."
She also promoted the inclusion of the race and racism issues in every academic program because they affect every field.
Executive Director of Student Affairs Planning and Operations Ashlee Roberts said college students have always been in the forefront of the civil rights movement.
"You stand on the shoulders of giants, but also those who have never been heard from," she said. "Speak up."
Student Senator Joshua Hunte, who serves on the new Campus Committee on Diversity and Inclusive Excellence, said they are working to create an environment where all are welcomed.
"We can find common ground," he said, thanking all those who attended and supported the event. "I encourage you to reflect on Black history not just in February, but every day."
Read President Kesselman's full remarks here.
View a gallery of photos from the event on flickr.
# # #
Contact:
Diane D'Amico
Director of News and Media Relations
Galloway, N.J. 08205
Diane.D'Amico@stockton.edu
609-652-4593
609-412-8069
stockton.edu/media