Mock Trial Team Exhibits Excellence in Competition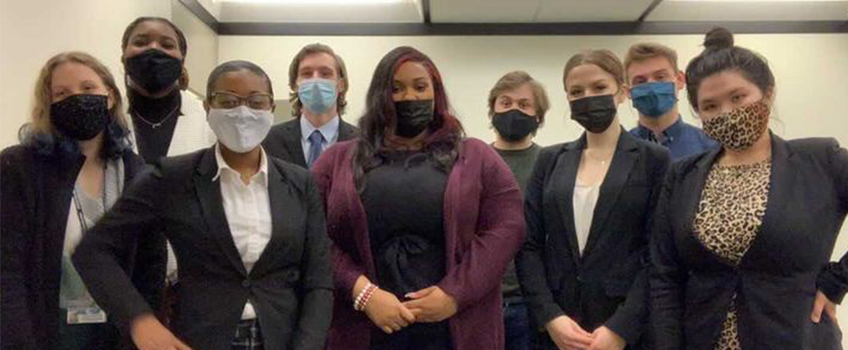 Galloway, N.J. - The Stockton University Mock Trial team earned two Outstanding Attorney awards for individual performances, and the Spirit of AMTA award at the virtual American Mock Trial Association (AMTA) regional competition Feb. 5-7. This was the team's fifth appearance in the annual competition since the club's inception in 2015.
Under the coaching of Anne Crater, investigator in the Office for Equal Opportunity and Institutional Compliance, and the leadership of club president Annalise Catherine, students argued both the prosecution and defense sides of a civil mock trial case against teams from University of North Alabama; University of Tennessee, Knoxville; University of Illinois, Springfield and Scripps College.
Catherine, a junior, and sophomore Patrick Kelleher received the Outstanding Attorney awards. Out of 12 competitors awarded Outstanding Attorney, Catherine tied for second, while Kelleher tied for third rank.
"Winning an Outstanding Attorney award, especially this year, was amazing," said Catherine, who joined the team three years ago. "I don't think I've ever struggled as much during a season as I have this past year, so to get recognized for all my hard work and all the nights I stayed up way too late felt really good."
Kelleher, who joined the team last year, added winning the award "felt like a dream. I had no clue that I had even scratched the surface of being one of the top attorneys in the competition. In that instant, all of the months of hard work had paid off."
Civility, justice & fair play
Additionally, the team's overall demeanor earned them the Spirit of AMTA award, which recognizes the team best exemplifying AMTA's ideals of civility, justice and fair play. "Winning the Spirit of AMTA award was completely unexpected, it's an award that goes to the nicest team based on scores their competitors give them," said Catherine. "It's not something we go into competition consciously trying to win. We just won this award because our team is genuinely nice and full of great people. We end every round by letting our competitors know that they did a good job. Little things like that go a long way."
Club faculty advisor Kimberley Schanz, associate professor of Criminal Justice, is "extremely proud of the team's performance, particularly since, given the longer winter break and an earlier competition date, they had less time than normal to prepare for the competition."
Crater, who became the team's coach in fall 2019, is also proud of the students' hard work, determination, creativity and support for one another in this unprecedented season. "I'm extremely proud that Stockton always was first to say, 'Thanks for a good round' and offer something positive about their adversary's performance," she added. "Our club's kindness and wit literally turned stressed looks to smiling faces at the end of every round."
Mock Trial team members include Max Klenk of Somerdale, Danielle Combs of Berlin, Bryanna Storck of Sicklerville, Ahmiya Jones of Egg Harbor Township, Shahyan Abraham of Orange, Briana Davis of West Orange, Patrick Kelleher of Franklinville, Annalise Catherine of Galloway, Jack Glenn of Washington Township and Siena McCabe of Galloway.
Trial by Zoom
"This was not an easy situation," Schanz said. "The students had to translate a typically performative task to a virtual platform, they had less time to prepare, they had to find a way to become a team without being able to physically work together on a regular basis. They did it all in the face of significant environmental obstacles, and clearly did it extremely well."
For Catherine, the greatest challenge of navigating online preparations was Zoom. "Some of the material we have to go over can be kind of boring. When we aren't in person, we can't engage each other, which makes it way worse."
"We did everything we could to make life fun and mitigate Zoom fatigue," said Kelleher. "Instead of meeting all together, we tried smaller sessions and breakout rooms that had a specific focus, so team members who didn't need to be present at the meeting could get a reprieve from virtual meetings all day."
Despite the unique obstacles brought about by the COVID-19 pandemic, the team persevered and did not miss a beat in competition. "When they got to the competition, they displayed evidence exhibits by screen-share like it was nothing new," said Crater. "They questioned people wearing masks and still could be heard clearly. The whole competition went smoothly. Our club members pivoted when they had to pivot and held steady when they had to maintain calm."
Looking to the next case
For Stockton's Mock Trial team, there is plenty to look forward to in the coming years. "I'm looking forward to the team continuing to improve its track record in competitions and its camaraderie with each other," said Schanz. "These students really do become a team throughout their preparations for the competition and they come to see their successes as each other's successes."
"I have one more year left, so I am really hoping to have one more in-person competition," said Catherine. "Even though our team had a lot of fun in the mock trial group chat this year, there is a sense of family that comes from competing in person. We get to travel together and stay together for the weekend, not to mention all the nights spent staying up until 3 a.m. working on the same set of questions."
"I'm hoping to help grow the team over the next couple of years and improve my own skills," said Kelleher. "I'm beyond excited to see the bright future that all of our members have and hope to succeed in next year's competition."
For more information about Mock Trial and joining the team, visit OspreyHub.
Reported by Eliza Hunt