Pleasantville Police Join Procedural Justice Training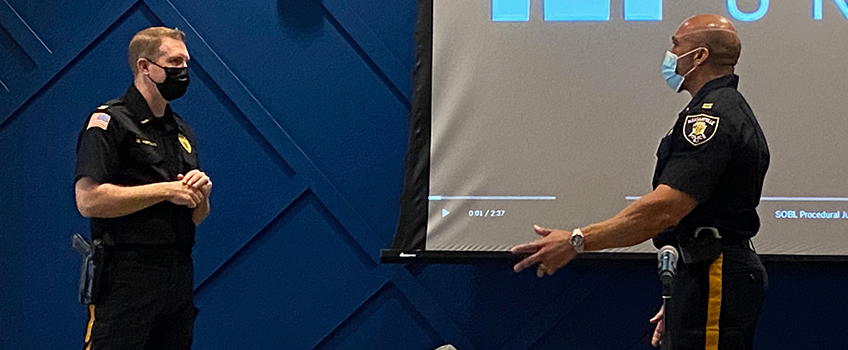 Galloway, N.J. _ Officers from the Pleasantville Police Department recently joined Atlantic City Police at Procedural Justice training session offered by Stockton University Criminal Justice faculty members Nusret Sahin, Jess Bonnan-White and William McKnight, a retired Atlantic City Police Department Captain.
Procedural justice is the concept that individuals believe fairness within a procedure is more important than the outcome. Using procedural justice techniques has been shown to increase citizen compliance and cooperation with police.
During the training the officers learn advanced communication skills, procedurally-just practices, and de-escalation tactics. Officers are also given hypothetical scenarios and asked to apply the basic principles of procedural justice to daily policing activities through role-play activities. In one of those scenarios, captains acted out a scenario to calm down a citizen who was angry and upset about a speeding ticket.
Atlantic City Police began the training in March and were joined on April 28 by 10 members of the Pleasantville Police Department, which has already been utilizing procedural justice techniques.
"The Pleasantville Police Department is always seeking innovative ideas and available training to improve the relationship with the community we serve," said Deputy Chief James M. Williams. "Our overall goal for participating in the program is to have our officers focus on interactions with the public and how those interactions can shape the public view of police. We were extremely pleased to have our officers invited to attend training hosted by Stockton University in Procedural Justice, which we believe will continue to push the message that 'Our Community Matters.'"
The Stockton University Research and Professional Development Committee recently awarded a grant for the project, which will allow the team to continue to train police officers. For more information on the project, contact Nusret Sahin at Nusret.Sahin@stockton.edu
# # #
Contact:
Diane D'Amico
Director of News and Media Relations
Galloway, N.J. 08205
Diane.D'Amico@stockton.edu
609-652-4593
609-412-8069
stockton.edu/media
Stockton University