Evening of Excellence Honors Black Alumni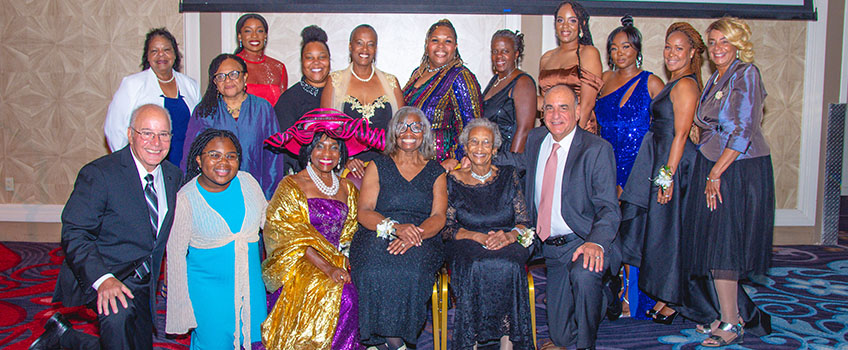 Galloway, N.J. – More than 140 guests came together to honor the tremendous achievements, leadership and service of Stockton's Black alumni at the university's inaugural Evening of Excellence at the Tropicana Atlantic City. The event also recognized faculty and staff who have supported Black student success at Stockton, including President Harvey Kesselman.
Ayisha Lee '14/M.B.A. '17, assistant director of Alumni Relations, and Dr. Ashlee Roberts, executive director, Student Affairs Planning and Operations, were emcees of the Aug. 26 event. Together, they planned the event both to recognize excellence and to raise funds in support of the new Multicultural Center at Stockton.
"This event was planned for us [the Black community] and by us," Lee said in her opening remarks. "And tonight, we celebrate the collective excellence and impact of all our people in a way that has not been highlighted before at Stockton."
The program began with Alicia Jenkins '23 singing the Black National Anthem, followed by the formal awards program.
"We put out a call for nominations to our Stockton community and received an overwhelming response," Lee said. "We received more than 100 submissions for more than 60 individuals nominated by their colleagues, peers and fellow alumni; it's been an amazing process."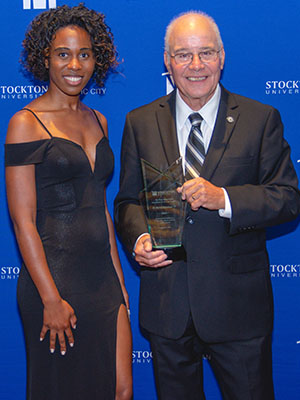 A selection committee comprised of university representatives and alumni determined award recipients.
Trashaun Powell '01, vice president of programs with the New Jersey Family Planning League, was among several alumni to be recognized at the event.
"I am very overwhelmed with gratitude to have been selected to receive the Making a Difference award," said Powell upon receiving her award. "I am so honored to have my advocacy and passion to push for better outcomes in Black maternal health recognized in this way by Stockton University."
Throughout the evening, many nominees and recipients mentioned the Educational Opportunity Fund (EOF) at Stockton and how it made a profound impact on their university experience, including Ed Marshall '92, director of Inclusion, Equity and Learner Research for the Perelman School of Medicine at the University of Pennsylvania.
Marshall, who was in the EOF program when Kesselman was the director, presented him with the Dr. Vera King Farris Excellence in Service award for his long-standing commitment to Black students' persistence and academic success, particularly through his work in the EOF program.
"There are two people that I modeled my professional career after," Marshall said to the crowd. "One being Dr. Kesselman."
The evening closed with the Outstanding Alumni award.
"I feel like my life has been changed through this evening," said Linda Bazemore '88, vice president of Administration and Finance/CFO at ACUA, and recipient of the Outstanding Alumni award.
"Just being reminded throughout this evening how important it is to embrace who we are and how we are created, while hearing the repeating themes of giving back to lift up, to elevate, to encourage and to keep our people moving forward in positive ways within our communities, it's just amazing to me."
Through ticket sales and sponsorships, the event raised more than $15,000 to support the new Multicultural Center at Stockton, which will provide a sense of belonging and support for students from historically underrepresented communities.
The complete list of honorees includes:
Ten Within Ten
Olutoyosi Aboderin '17
Rhonda DeMoulin-Bailey '16
Danielle Combs '21
Malikah Daniels '12
LaDonna Dickerson '18
Haashim Smith- Johnson '19
Rukayat Olunlade '19
Ambrial Ugoji '13
Kiera Williams '22
Excellence in Educating
Brian K. Jackson
Dianne Stalling
Making a Difference
Dr. Stashia L. Emanuel '93
Laia Mortimore-Sample '04
Trashaun Powell '01
Trailblazer
Dr. Juanita High
Outstanding Alumni
Linda Bazemore '88
Dr. Vera King Farris Excellence in Service Award
Dr. Harvey Kesselman '79
View photos from the event.