Donation Renames Financial Literacy Center for Late Economics Professor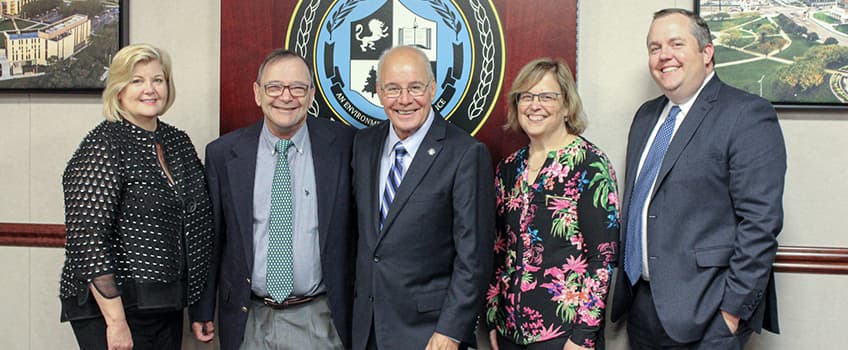 Galloway, N.J. — A $2 million commitment will name the Center for Economic Development and Financial Literacy after Elizabeth "Betty" Elmore, who spent five decades teaching economics at Stockton University.
Elmore passed away in December after a lengthy illness. Her husband, Richard, of Egg Harbor Township, wanted to honor the memory of his beloved wife by supporting the university's work related to her passion for finance and economics.
"Betty was proud to be the first female professor in the Economics department, and she was incredibly dedicated to Stockton and her students," Richard Elmore said.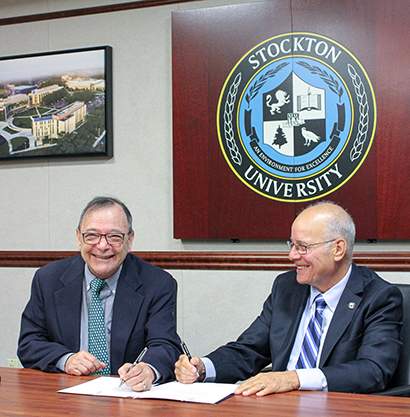 At left, Richard Elmore, former Stockton professor, with Stockton President Harvey Kesselman.
The Dr. Elizabeth Elmore Center for Economic Development and Financial Literacy's mission is to develop engaged and informed students, citizens, voters, workers, consumers, savers and investors who understand the interdependence of national economies in the global community and the role of financial institutions in the sustainability of these relationships. In recent years, Elmore served as director of the center.
"Dr. Elmore was a Stockton treasure who always had time to share a story and laugh, and she never hesitated to ask probing questions when discussing issues of significance," said President Harvey Kesselman. "She was a wonderful colleague who was deeply committed to our students and her peers."
Richard and Elizabeth were married for 53 years after meeting at the University of Notre Dame. Richard is a retired educator who taught at both Stockton and Mainland Regional High School.
The Elmores have long supported the Stockton University Foundation, having established the Frances Leonilda Acerra Christopher Memorial Fund and the Elmore Family Stockton Center for Economic and Financial Literacy Fund.
"I am grateful for your generosity and to know that Dr. Elmore will have a lasting legacy at Stockton," said Brigid Callahan Harrison, '88, chair of the Stockton University Foundation, who recalled taking "Econometrics" as a student with Elmore.
About the Stockton University Foundation:
The Stockton University Foundation supports numerous University initiatives, including a robust scholarships program, made possible by generous donations from alumni, friends of the university, organizations and businesses. Learn more about the Stockton University Foundation at stockton.edu/foundation.
# # #
Media contacts:
Stacey Clapp
Director of Strategic Communications
Stacey.Clapp@stockton.edu
609-626-3645
609-412-8069
stockton.edu/media


Mark Melhorn
Associate Director of News and Media Relations
Mark.Melhorn@stockton.edu
609-652-4593
609-569-6026
stockton.edu/media