Graduates Honored by Campus Groups and Societies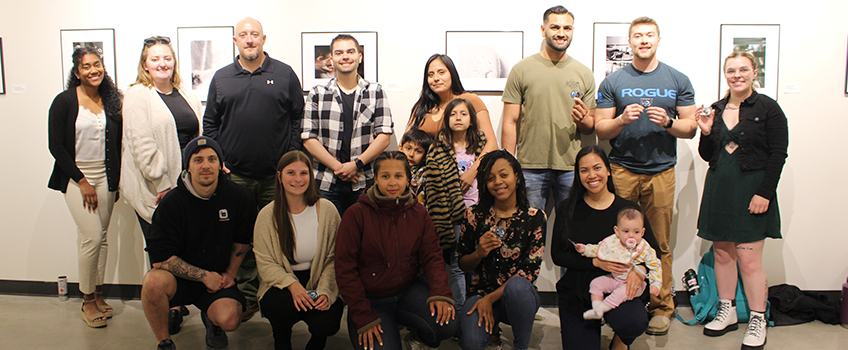 Several campus organizations and majors held graduating ceremonies for the 2022-2023 school year. Below is a list of some of the students, the programs they graduated from and the honor societies they were inducted into.
Military and Veteran Graduation Coining Ceremony
Thirteen graduates who are either current members of the military or veterans were honored April 28 in the Lower L-Wing Art Gallery as part of Coining Ceremony.
Michael Barany, the director of the Military and Veterans Success Center, presented each student with a commemorative coin to recognize their achievement of graduating from Stockton.
Here is the list of students that were recognized: Brittany Berchtold, Regina Dinan, Jay Gaskill, Victoria Harripersad, Andrea Medrano Rodriguez, Melissa Moninghoff, Chance O'Neill, Anthony Ortiz, Melissa Ortiz, Dev Patel, Sebastian Race, Hannah Schwartz and Samaria Trask.
Bachelor of Science in Nursing Pinning Ceremony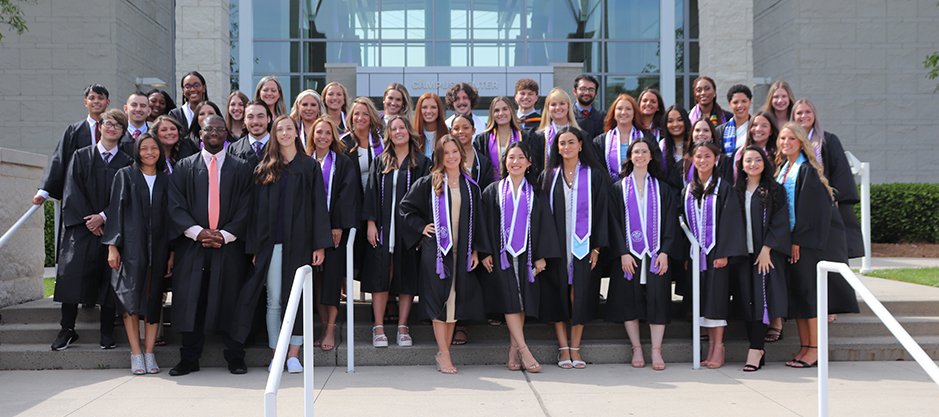 Several students in the Bachelor of Science in Nursing and the Accelerated Bachelor of Science in Nursing program received pins in a ceremony on May 11 in the Campus Center Theater.
Dr. Amita Avadhani, a professor at the Rutgers School of Nursing, was the keynote speaker.
Twenty-four students received a pin as part of the Bachelor of Science in Nursing program: Vakaz Akram, Regianna Alea, Kaeleigh Anderson, Adaoma Ayeke, Carly Barnes, Mary Blake, Jasmine Louise Chiao, Emily Clark, Olivia Dormanen, Lars Edeen, Katrina Ford, Kaelyn Godschall, Erin Haggerty, Carmella Hall, Tehmina Islam, Kira Key, Luke McBrearty, Shani Odhiambo, Megan Rodriguez, Marion Roux, Mireet Saleeb, Abby Skelly, Kaylie Takacs and Jacqueline Wilhelm.
Nineteen students received a pin as part of the Accelerated Bachelor of Science in Nursing program: Morenike Abdur-Rasheed, Karl Alexis Belarde, Kenneth Boateng, Megan Brown, Stephanie Danielson, Kanei Green-Scott, Allison Hoelker, Nicole Jandras, William Johnson, Henna Khan, Louis Lu, Daniel Marin, Nadira Morgan, Megan Pierce, Kelsey Rowe, Mikaela Sheridan, Jessica Shields, Nicole Toler and Laurel Wollaston.
Masters of Occupational Therapy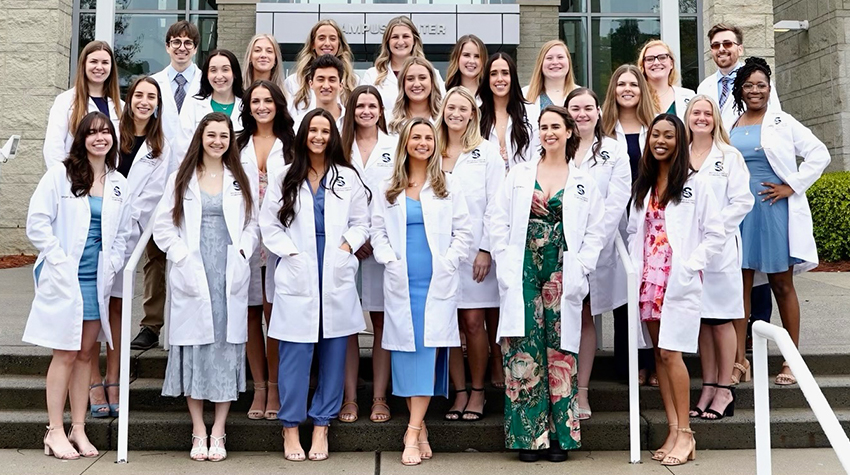 Twenty-seven students in the Masters of Occupational Therapy program celebrated the end of their classroom learning. They began their full-time clinical experiences in May and are scheduled to graduate in December.
Here are the 27 students: Megan Amerman, Julia Barr, Nicole Barsocchi, Ashley Berenato, Megan Brutko, Jessica Cacoso, Kedia-Kaye Davis, Alexis Fagotti, Anna Filoramo, Lauryn Flynn, Madison Gerencser, Lara Goodwin, Alissa Levance, Megan Lord, Cailey McGloin, Kathleen McLaney, Addison Meeker, Trevor Noon, Brianna Pagnani, Joanna Pitera, Gabrielle Pressley, Summer Roche, Jane Ryzhik, Jessica Sievers, Skyler Simon, Danyelle Waller and Alexander Weiler.
Also, 32 students in the Doctor of Physical Therapy program received their white coats in a ceremony on April 4.
Africana Studies Program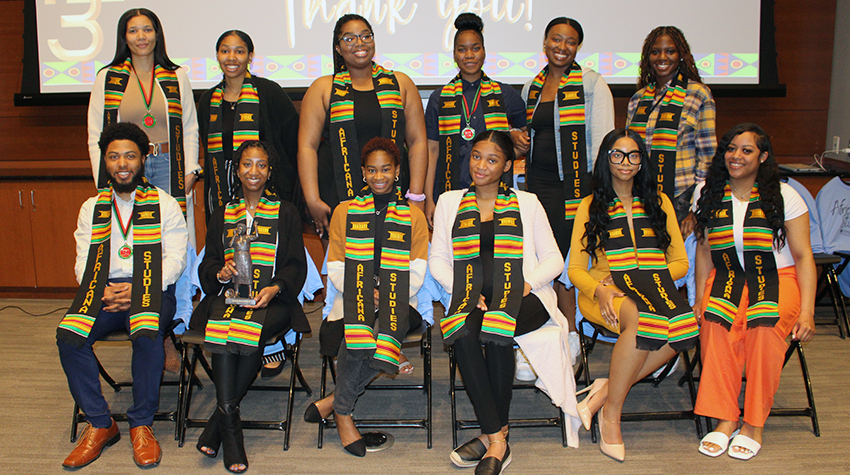 Seventeen students from the Class of 2022 and 2023 were honored during the Rite of Passage Ceremony for Africana Studies Program Majors and Minors on May 5 in the Board of Trustees Meeting Room.
Melody Jasper graduated with a Bachelor of Arts degree in Africana Studies, and the following students graduated with an Africana Studies minor: Aleyshka Barbosa, Shanae Bunn, Victorria Cotton, Ireanna Dallas, Nyasia Foster, Nyasia Fowlkes, Ny'Asia Gardiner, Nicolette Gramlick, Alicia Jenkins, Daniel Lambkin, Erica Muse, Lourdes Sanon, Kendall Washington, Lanna Washington, Aubriyauna Williams and Sillon Williams.
Also, Gramlick, Jenkins and Kendall Washington were inducted into the Anhk Maat Wedjua Honor Society.
Also, 25 students who graduated with a minor in integrative health were honored at a ceremony in April.
Honor Societies
School of Business
Fifteen students were inducted into Beta Gamma Sigma, an honor society for business studies: Kevin Adams, James Burd, Nina Capra, Faith Carter, Anthony Curcio, Theodora Eaton, Erika Highberger, Frank Knapp, Christina Lau, Andrew Morales, Kaylee Pereira, Natalie Smith, Gina Stavolo, Paulina Tyszka and Jessica Van Glahn.
Seventeen students joined the international hospitality management honor society, Eta Sigma Delta: Hayleigh Bowling, Dakota Brantner, Lauren Carfagno, Jenna Casperite, Alexandra Conenna, Sean Heany, Charles Cordery, Zachary Lorenz, Amy Lyle, Tyra McCaffrey, Maria Mezquita, Yocelina Morales, Jordan Rosser, Andre Romero, Natalie Russo, Isabella Tuso and Monica Witmer.
Five students joined the New Jersey Collegiate Business Administration Association honor society this spring: Michaella Howard, Alexandros Margeotes, Tiffany Papa, Kaylee Pereira and Dylan Snyder.
School of Arts and Humanities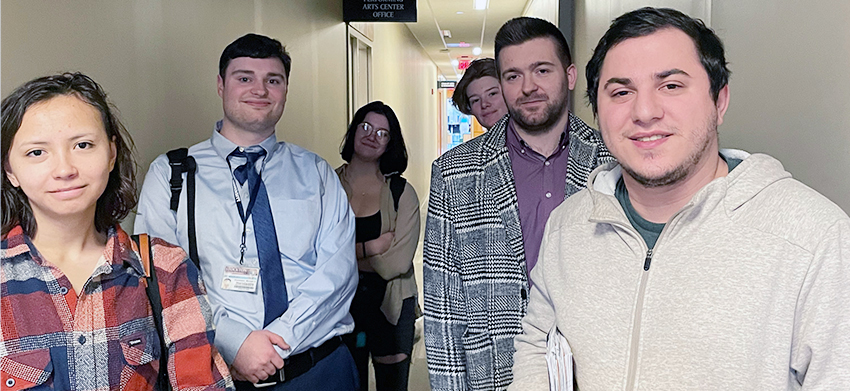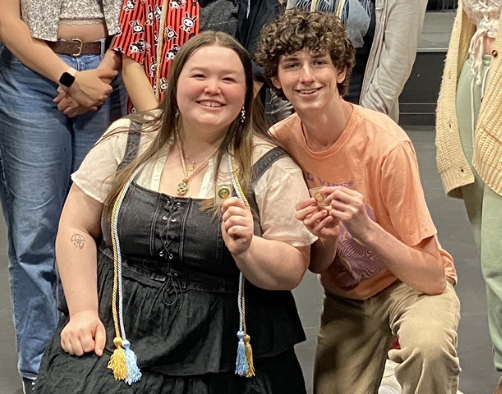 Alpha Psi Omega graduates Katie Weikle and Brian Beehler.
Eight students were inducted into the Theta Tau Chapter ofEta Sigma Phi: Sarah Lynn Boddy, Jacob Collver, Hannah Muller, Christina Pacentrilli, Michael S. Poplawski, Allison Reed, Matthew A. Resnick, and Nina Stecher.
Two students were inducted into the Alpha Psi Omega national theatre honor society: Katie Weikle and Brian Beehler.
Thirteen students were inducted into Phi Alpha Theta, a national honor society for history: Steven M. Bogart Jr., Jacob Collver, Christina Marie Doros, Amber M. Huminski, Aniyah McGriff, Melissa Millard, Ariana Negron, Michael Poplawski, Emily N. Sauerwald, Nicholas J. Schaivo, Andrew Simoes, Dominique Troehler and Timothy J. Venella.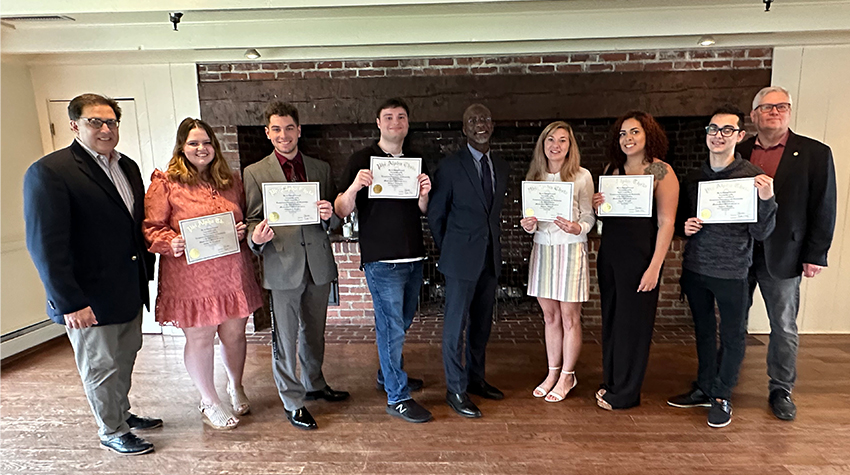 School of Health Sciences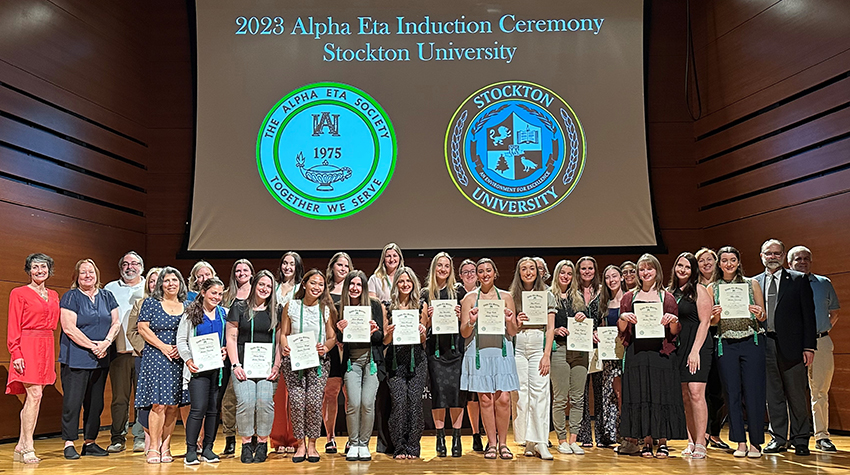 Several students and faculty members were inducted into Alpha Eta, the International Honor Society for the Allied Health Professions.
Seventeen Bachelor of Science students in the Health Science Program were inducted: Chloe Astin, Katelyn Beetel, Megan Dean, Allison Dilks, Juliana Gonzalez, Kayla Kovalak, Alexa Krosnoski, Emily Kurilla, Kathryn McDonald, Sydney Mohr, Jordyn Paglione, Priyanka Patel, Tara Pinder, Kayla Posten, Alexa Romano, Alexis Weaver and Delaney Young.
Two Bachelor of Science students in the Public Health Program were inducted: Jean Gibboni and Kassandra Macaya.
Four Masters of Science students in the Occupational Therapy Program were inducted: Jessica Cacoso, Joanna Pitera, Summer Roche and Danyelle Waller.
Six Masters of Science students in the Communication Disorders Program were inducted: Shelby Adamowski, Julia Handerhan, Nicholas Horn, Natalie Persia, Hailee Porricelli and Genesaret Mora.
Arianna Srinivasan was inducted as part of the Doctor of Physical Therapy Program, and three faculty members were inducted: Dr. Jennifer Calabrese, Dr. Rebecca Manuel and Dr. Sheila Quinn.
School of Social and Behavorial Sciences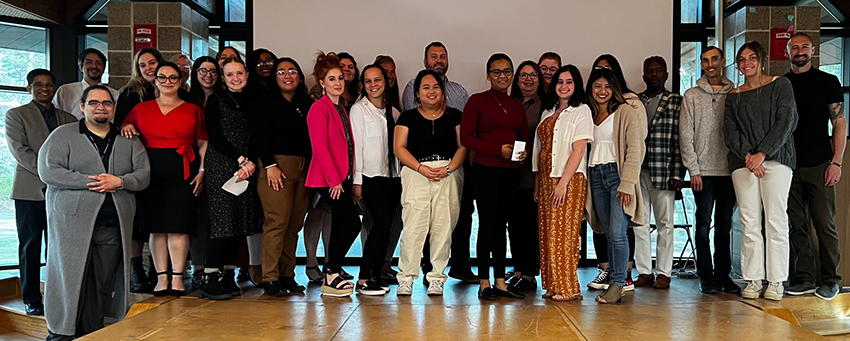 The following students from the Bachelor of Science in Social Work program were inducted in the Phi Alpha honor society: Andres Figueroa, Brandon Joey Santiago, Bria Glynn Donnell, Carolanne Rae Marsden, Cecilia Lillian Munoz, Chelsea Sadler, David Evans, Deazia C. Franklin, Hannah Pagan, Isabella Grace Trimble, Jared Michael Lombardi, Jessica Lyndsey Nash, Jessica Lynne Gustafson, Jessica Rose Lagary, Juliana Ramirez, Karlie Deckert, Kimberly Walther, Kyla Hoinkis, Laura Patricia Castillo, Lee F. Temple, Lynda M. Wisnoski, Madelyn Funkhouser, Marissa Danielle Hakim, Michael B. Dreessen, Michaela Briones Macalalag, Paige Arguello, Rande John Palmer, Riley Finnegan, Ryleigh Greenhalgh, Shannon Adams, Shauna Deming, Sheyla Piana and Tori Benoit.
The following students from the Masters of Social Work program were inducted: Calli Nicole Votta, Christine Ann Conaghy, Emily Baker, Erika Gardner, Kassidy Gwenyth Lechner, Melissa Dreby, Rachel Emily Lindeborn, Samantha Francis Rao, Samantha Kate Morrow, Sephoko Francinah Stokes and Sophia Rose Beyer.
Eight students were inducted into Alpha Phi Sigma, the criminal justice national honor society: Aidan Alverson, Allison Solimene, Gabriella Serrano, Jessica Gold, Kendall Washington, Lauren Torick, Lisa Peterson and Miranda Vitoria.
Fourteen students were inducted into the Alpha Zeta Rho Chapter of Pi Sigma Alpha, the national political science honor society: Alexis Post, Bobbi Gonzalez, Erin Kee, Gianna Schiattarella, Kelley Mason, Krystal Longnecker, Lanna Washington, Leandra Bonilla, Maria Storaci, Moujnir Lewis, Porsha Bryant, Sean Lopez, Sillon Williams and Tim Venella.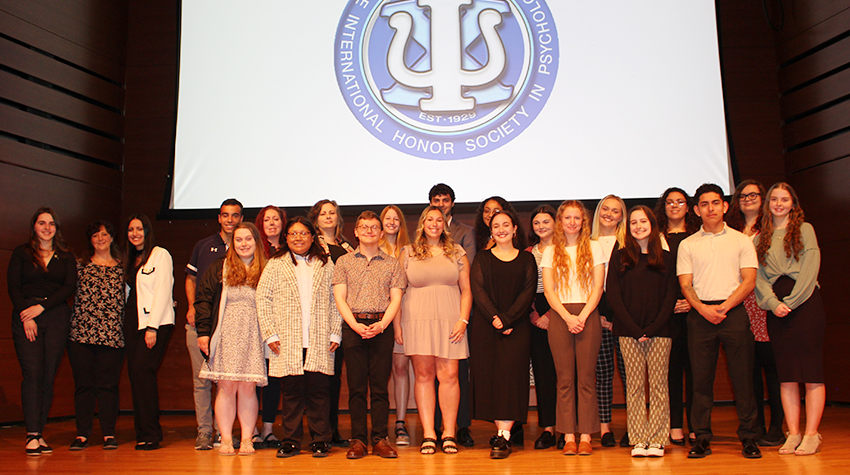 Twenty-one students were presented with pins and admittance into Psi Chi — the international honor society in psychology.
The ceremony took place on April 28 in the Campus Center Theater as part of the annual Psi Chi Conference. Dr. Chris Niebauer of the Institute for Creative Living was the conference's keynote speaker.
Here is a list of the inducted students: Max Eisenman, Mary Burns, Rachel Ferrara, Sarah Kuperstein, Sarah Miller, Katherine Wilkinson, Nicole Gingerelli, Jessica Sromovsky, Shayla Nagle, Arden Greenblatt, Alisha Akins, Alexandra Vargas, Katherine Quintana Godoy, Kaitlyn Bennett, Melvin Bravo, Nicholas Cerniglia, Jamie Nevin, Ronald Cox, Maya Vaughn, Molly Elum and Emma Riley.
- Story by Mark Melhorn