Two Students Receive Arcuri-Wharton Pre-Law Awards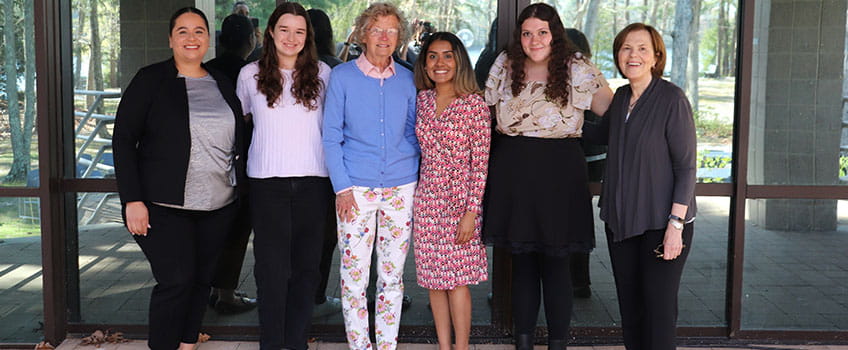 Galloway, N.J. – Two Stockton University students received the newly named Alan F. Arcuri and Linda J. Wharton Pre-Law Fund Award to support them in their journey to law school.
The fund started in 2019 in memory of Arcuri, a former Stockton professor known for his tireless efforts in advising pre-law students. It provides the recipients a stipend to cover the cost of a prep program for the LSAT exam and mentors for them as they apply to and attend law school.
This spring the award was renamed to include Wharton, a retiring professor of Political Science and Pre-Law advisor.
"Alan was a longtime and greatly loved faculty member. He cared deeply about our students," Wharton said. "I am so humbled to have my name paired in perpetuity with Alan Arcuri. He was my role model when I came to Stockton. He was an excellent advisor and excellent teacher."
Also at the end-of-year Political Science celebration, President Harvey Kesselman spoke about his own history as an undergraduate student in the Political Science program in the 1970s, recalling courses such as "Revolution and the Revolutionaries" taught by the late William T. Daly, distinguished professor emeritus of Political Science.
"Learning how to absorb information—and then synthesize it into my own authentic point of view—is a skill that was nurtured and refined by my Political Science faculty. I can say with absolute certainty that I would not be a university president if not for Stockton's Political Science faculty," Kesselman said.
The 2023 award recipients are:
Madison Giusti '24 – of Plainville, Massachusetts, an Economics major with a concentration in pre-law
Giusti is vice president of Stockton's Economics Society and plans to become an intellectual property attorney. Her alumni mentor is Nabila Sudha, '20, who graduates from American University's Washington College of Law this month. Sudha was a recipient of the inaugural Arcuri Pre-Law Fund Award in 2019 and is the initiative's first recipient to graduate from law school.
Julia Graf '23 – of Oakland, a Political Science major with a pre-law concentration
Graf was the secretary of Stockton's Pre-Law Society. Her alumni mentor is Jennifer Perez, '08, who holds a degree from Widener University Delaware Law School and has worked as a staff attorney at South Jersey Legal Services and Delaware Community Legal Aid.
The endowed fund has made a total of 25 awards since 2019, following the creation of the fund by Arcuri's wife, Kris. Arcuri was Professor Emeritus of Political Science and played a key role in establishing Stockton's Pre-Law program.
Program chair Tina Zappile said Wharton continued that excellence. "The Political Science program has a reputation for holding its students to the highest standards of academic excellence and preparing them for fulfilling careers after college. For more than 20 years, Linda's commitment to her students is one of the key reasons we have kept that reputation."
Marissa Levy, dean of the School of Social and Behavioral Sciences, also recognized Wharton's contributions to Stockton.
"She has had an accomplished career in public interest law, scholarship and teaching. She mentored countless students and helped them thrive and succeed at Stockton, law school and their careers. Students gravitated to her courses because of their quality and substance. She helped foster a culture of civic engagement on campus, including through the annual Constitution Day event. Wharton has led fundraising efforts and managed the selection of winners. On behalf of Kris Arcuri and the Arcuri Pre-Law Fund Selection Committee, we are happy to announce a name change to the scholarship. It will now be known as the Arcuri Wharton Pre-Law fund."
Claire Abernathy, associate professor of Political Science, led the induction of 14 students into the Alpha Zeta Rho chapter of the Pi Sigma Alpha, the National Political Science Honor Society. They are: Leandra Bonilla, Porsha Bryant, Bobbi Gonzalez, Erin Kee, Moujnir Lewis, Krystal Longnecker, Sean Lopez, Kelley Mason, Alexis Post, Gianna Schiattarella, Maria Storaci, Tim Venella, Lanna Washington and Sillon Williams.
For more information about the Arcuri Wharton Pre-Law Fund, including how to donate or apply, contact co-chairs Lauren Balasco or Mariam Majd.
-Story and photos by Stacey Clapp