Stockton University Atlantic City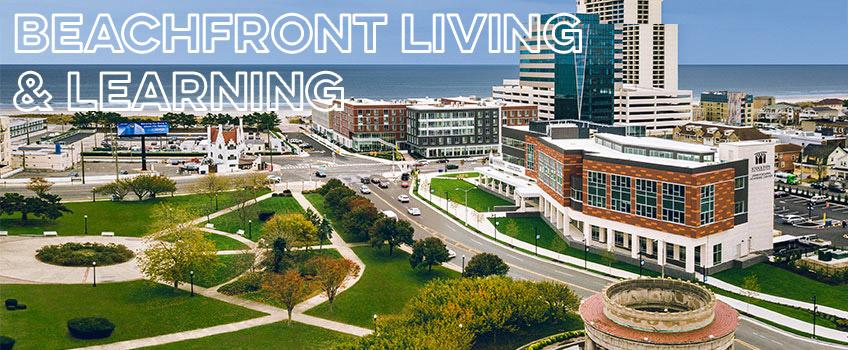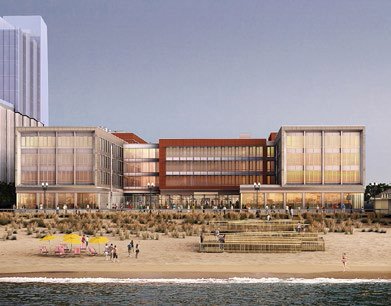 Stockton University Atlantic City, which opened in fall 2018, offers beachfront living and learning in a vibrant small city. Students have opportunities to be engaged in the community and learn from practical real-life internships and partnerships.
The $178.28 million campus includes a three-story, 56,000-square-foot John F. Scarpa Academic Center with 14 classrooms and computer labs; faculty and administrative offices, a 3,000-square-foot event room and a café area including outdoor seating. Approximately 1,300 students are enrolled.
The Residential Complex overlooking the beach offers apartment-style living to 500+ students in over 200,000 square feet. The residential building includes retail space along the Boardwalk and on Atlantic Avenue, meeting spaces, offices, mailroom, two 50-seat flexible classrooms, a fitness center, and two outdoor courtyards. A second Residence Hall is planned for 2023.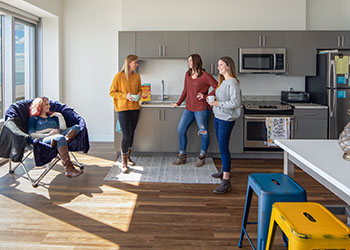 Garage parking is available as well as regular shuttle service between the main campus in Galloway, N.J. and Stockton Atlantic City.
Stockton's academic efforts in Atlantic City are led by Business Studies, Hospitality and Tourism, Social Work and Organizational Leadership. The university also offers a new, interdisciplinary undergraduate major in Community Leadership and Civic Engagement.
The university's other facilities in the city include the Rothenberg Building and the Noyes Arts Garage of Stockton University.
All of Stockton's facilities are within a few hours' drive of New York, Philadelphia and Washington, D.C.
Stockton University is an undergraduate and graduate university of the arts, sciences and professional studies within the New Jersey system of higher education.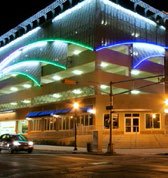 NOYES ARTS GARAGE
2200 Fairmount Ave., Atlantic City, NJ 08401
609.626.3805 - artsgarageac.com
From Stockton's main campus:
Turn left onto W. Jimmie Leeds Road/County Hwy-561.
Turn right onto Garden State Parkway South Ramp.
Take exit 38 toward Atlantic City.
Merge onto Atlantic City Expressway East.
At the end of the Expressway (first traffic light) turn right onto Fairmount Ave.
Noyes Arts Garage is located in the CRDA Wave Parking Garage, at the corner of Fairmount and Mississippi Aves.
Parking is available in the Garage.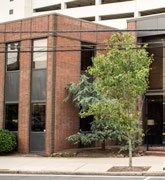 STOCKTON-ROTHENBERG BUILDING
3430 Atlantic Ave., Atlantic City, NJ 08401
Office of Continuing Studies: 609 441-3111 stockton.edu/continuing-studies
Lloyd D. Levenson Institute of Gaming, Hospitality & Tourism:
609.626.3893 • stockton.edu/light
From Stockton's main campus:
Turn left onto W. Jimmie Leeds Road/County Hwy-561.
Turn right onto Garden State Parkway South Ramp.
Take Exit 37 toward Pleasantville.
Turn left onto CR#608-Washington Avenue at end of ramp.
Turn right onto CR#651-Fire Road at first traffic light.
Turn left onto E. Black Horse Pike/Routes 40/322 at next traffic light.
Continue straight into Atlantic City; turn left onto Atlantic Avenue at Knife & Fork Inn.
Stockton-Rothenberg Building is located at 3430 Atlantic Ave.
Parking is available behind the building - get permit from reception.