General Information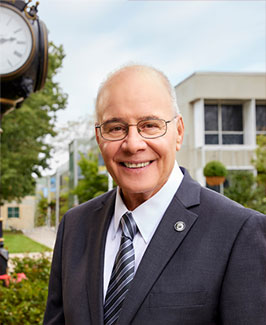 President
Dr. Harvey Kesselman
Main Campus
Stockton's 1,600-acre campus, situated in the Pinelands National Reserve, is New Jersey's
largest university campus. The main campus is located in Galloway, with a second beachfront campus in Atlantic City and satellite centers in Hammonton, Manahawkin and Woodbine. More than 3,000 students reside in University housing, including in the apartment complexes, residence halls, affiliated properties and at Stockton University Atlantic City.
Total Enrollment*
The total headcount for fall 2020 is 9,893, including 8,846 undergraduate and 1,047 graduate students.
Faculty: As of fall 2019, 352 full-time faculty members teach at the University, and 94 percent of Stockton's professors hold doctoral or other terminal degrees in their field of study.
Degrees Offered
More than 50 programs, including 40 undergraduate degree programs as well as 13 master's degree programs and three doctoral programs.
Tuition
In-state, undergraduate, full-time, flat-rate tuition (12-20 credits) for the fall 2020 semester is $7,164.
Out-of-state, undergraduate, full-time, flat-rate tuition (12-20 credits) for the fall 2019
semester is $10,881.
National Recognition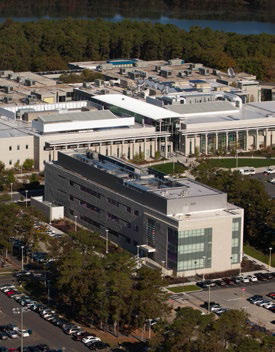 Ranked in the first tier of the Best Regional Universities in the North (America's Best
Colleges for 2021) by U.S. News and World Report for nine consecutive years, Stockton is among the top-10 public institutions, rated at #7.
Ranked as Best for Veterans by U.S. News & World Report and Military Times.
Selected for the prestigious Community Engagement Classification as compiled by the Carnegie Foundation for the Advancement of Teaching.
Ranked among the nation's most environmentally responsible "green colleges" and "Best in the Northeast" by the Princeton Review.
Environmental Studies and Marine Science programs were selected by Peterson's Guidesand the Alliance for Environmental Education for inclusion in Education for the Earth: A Guide to Top Environmental Studies Programs.
Campus Safety
The University's Campus Police Department is a full-service law enforcement agency with
New Jersey Police Training Commission certified state campus police officers.
Athletics and Recreation
NCAA Division III Sports
Fall: Men's and Women's Cross Country, Field Hockey, Men's and Women's Soccer, Women's Tennis, Women's Volleyball
Winter: Men's and Women's Basketball, Men's and Women's Indoor Track and Field
Spring: Baseball, Men's and Women's Lacrosse, Women's Rowing, Softball, Men's and Women's Outdoor Track and Field, Women's Golf.
Club sports and intramurals are also offered. Through the Office of Student Development, 140 student organizations and 26 fraternities and sororities offer leadership programs, community service initiatives and major campus events, enhancing student learning and development.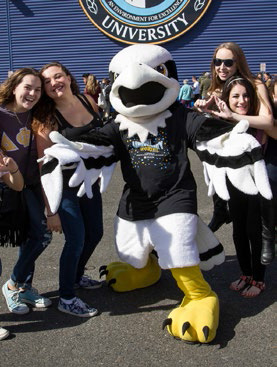 Mascot
The Osprey
Colors
The University's official colors are black and white. A secondary color, Columbia blue, appears in sports uniforms and
University apparel.
Accreditation
Stockton University is accredited by the Middle States Commission on Higher Education.
The School of Business is accredited by Association to Advance Collegiate Schools of Business.
The undergraduate Social Work Program and the Master of Social Work Program are accredited by the Council on Social Work Education.
The Teacher Education Program and Master of Arts in Education Program are accredited by the Teacher Education Accreditation Council (TEAC) that now formally falls under Council for Accreditation for Education Preparation (CAEP), an independent agency nationally recognized by the Council for Higher Education Accreditation and the U.S. Department of Education. All teacher certification curricula have been approved by the New Jersey Department of Education and are recognized by the National Association of State Directors of Teacher Education and Certification.
The Nursing Program is approved by the New Jersey Board of Nursing and accredited by the Commission on Collegiate Nursing Education.
The Physical Therapy Program is accredited by the Commission on Accreditation in Physical Therapy Education.
The Occupational Therapy Program is accredited by the Accreditation Council for Occupational Therapy Education of the American Occupational Therapy Association.
The Communication Disorders Program is accredited by the Council on Academic Accreditation in Audiology and Speech
Language Pathology.
The Biochemistry and Molecular Biology Program is accredited by the American Society for Biochemistry and Molecular Biology.
The Chemistry Program offers a B.S. track accredited by the American Chemical Society.
Mailing Address:
STOCKTON UNIVERSITY
101 Vera King Farris Drive
Galloway, NJ 08205-9441
609.652.1776
stockton.edu
*For additional data, visit the Institutional Research website at stockton.edu/institutional-research