Faculty
Virtual Faculty Handbook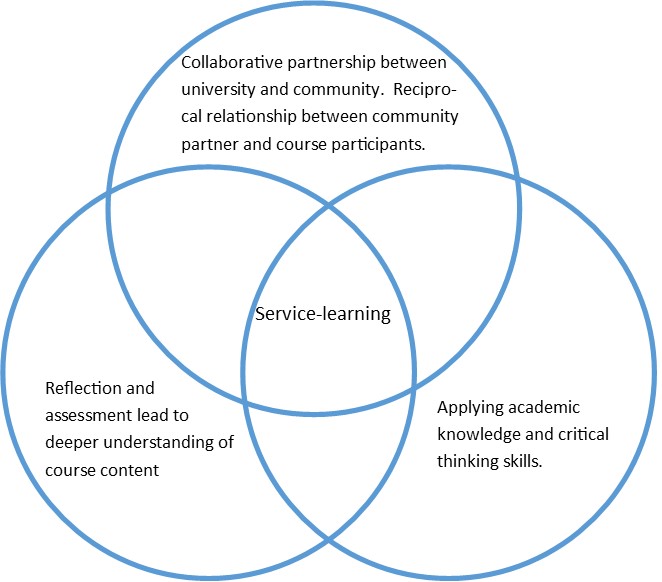 Interested in teaching service-learning at Stockton University? Here are the current steps:
Meet with staff of the Office of Service-Learning to determine the type of project and potential community partners. During this time, faculty will receive an orientation to what service-learning is specific to Stockton, and will receive potential syllabii and any data connected to previous offerings of the course or similar course.
Make contact with the community partner and discuss the potential project. It is important that all projects are reciprocal for community partners and not a way to integrate essential learning outcomes. Projects should not be a burden to community partners and community partners should be considered co-educators in any service-learning course.
Finalize the syllabus and project plan. Meet again with the staff of the Office of Service-Learning to review it and consider any needs that will be supported by the office, such as transportation, space requests, or the support of a Bonner Leader.
Request that the SLRN attribute be added in Banner to the course, designating it a service-learning course. These requests can be made to the Assistant Deans of the relevant school.
It is recommended that during the first semester that service-learning is taught that additional communication be made with staff from the Office of Service-Learning. This can be email check-ins or stops by the office. This helps to ensure that any challenges are addressed and any successes are celebrated.
Attending the Faculty/Community Partner Reflection Luncheon at the end of the semester is always recommended. This provides a chance for the new (or veteran) service-learning faculty member to assess their experience and consider whether any changes are warranted. This is also a time to hear from the community partner about their experience and to connect with additional community partners.
Questions about service-learning?
Email us at servicelearning@stockton.edu or call 609.652.4256