A Force for Change
A Force for Change
Stockton senior Danielle Combs gives voice to those felt unheard.
By Stacey Clapp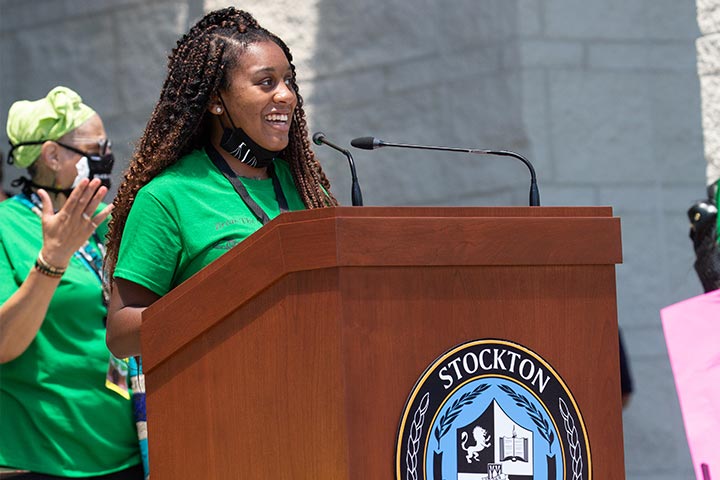 Danielle Combs has been an activist most of her life. Now, the Stockton senior plans to channel her energy to protect people from abuses of the law once she completes her degree in political science and law school.
"I will be the strong voice and representative for individuals who feel as though their voice doesn't have any power," said Combs, of Berlin, of her decision to pursue a legal career.
Fueled by this passion to push back against injustice and the murder of George Floyd in May, Combs reached out to join Stockton University's NAACP Chapter. "I wanted to join this organization specifically to aid in raising awareness and take a strong stance against racism and police brutality."
First, she learned she had to reactivate the Stockton chapter, with the assistance of Dianne Stalling, assistant director of Student Development, and Louise Gorham-Neblett, adjunct faculty member, and assumed the role of president. Then Combs got to work planning the Juneteenth March for Justice at the Galloway campus. The event drew about 400 people and provided an outlet for student voices and peaceful protest.
"Due to the current climate of our nation and even racial incidents that have happened right on campus, a lot of students feel that they aren't being heard when it comes to racial injustices," she said. "This protest helped to raise awareness as well as spark a discussion surrounding the current injustices heavily facing people of color and the African American community."
Combs said her path toward activism began at age 4.
"I witnessed my father being handcuffed and put into the back of a cop car just for looking at a white police officer in the eye. At that moment, I experienced feelings of fear, hurt, disappointment and helplessness," she recalled. "I remember having a conversation with my parents about the situation and telling them that this is not right. The color of my dad's skin was seen as a threat to this officer and led to his unjust arrest. This is not and will never be OK.
"My parents encouraged me to continue speaking out against injustices like this and told me to never let anyone try and silence my voice. My activism has only grown stronger since this moment, and every time another unarmed African American man, woman or child is killed at the hands of police I am reminded of these same feelings. This is why I continue to fight for Black lives. This is why I will not be silenced when it comes to the systemic racism that still persists in our country."
Already active on campus as secretary of Stockton's Mock Trial Club, a member of the National Honor Society of Leadership and Success, correspondence officer for Alpha Kappa Alpha Sorority, Inc., Pi Chi chapter, and a note taker for the Learning Access Program, she knew it was critical she revive Stockton's Chapter of the NAACP.
I will be the strong voice and representative for individuals who feel as though their voice doesn't have any power."
Combs hopes her own efforts and the larger Black Lives Matter movement will lead to change and unity.
"I hope to see our country united and not divided. I hope to see racism and senseless acts of police violence reprimanded accordingly," she said. "I hope to see African Americans treated equally in America. The Black Lives Matter movement is much bigger than being against police brutalities. It is also taking a stand against the systemic racisms that are embedded in our country."
Growing up, Combs and her father spent hours together watching the news and analyzing politics. "We tuned into many political debates during the election seasons and had discussions on it frequently. We also constantly discuss topics of race, gender and class together and watch lots of historic documentaries together," she said. "These were my first interactions with politics and sparked my initial interest. I chose my major to study and gain a deeper understanding of the politics surrounding the laws that govern our society."
A Dean's List student, Combs is taking an LSAT prep course this summer with the goal of applying for admission to law school starting in fall 2021. She was a recipient of the Alan F. Arcuri Pre-Law Award, which provides a stipend to cover the cost of a prep program for the LSAT exam and a mentor for the law school application process.
Combs shared her poem "I Can't Breathe" at the Juneteenth March for Justice and you can hear her recite it in the video below.
Combs would like to continue her education at Howard Law School, Harvard Law School, or Rutgers Law School and become a prosecutor. Later, her goal is to become a justice on the Supreme Court of the United States.
"The current climate of our nation shows that we have a criminal justice system that treats privileged, but guilty individuals better than it treats underprivileged, but innocent individuals," Combs said. "As a lawyer, I will protect the people who are abused by the law and protect the public from those that abuse it."
View more photos from the Juneteenth March for Justice
Learn more about Stockton's School of Social & Behavioral Sciences