Living History
Living History
Doug Cervi '02 leads N.J. effort to teach Holocaust history
By Diane D'Amico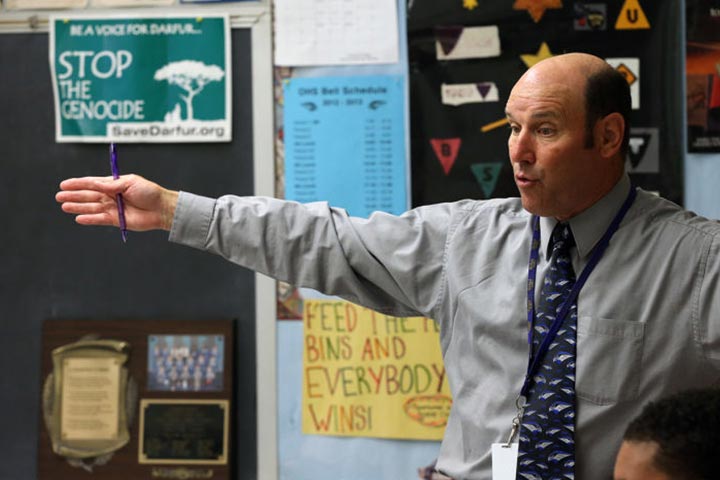 When Doug Cervi M.A. '02 was a senior in college, a professor in his teaching methods class showed the 1956 French documentary, "Night and Fog." The film showed the grounds of Auschwitz and Majdanek concentration camps in Poland and described the lives of the prisoners who lived and died there.
"I watched the film and did not know what it was about, so I asked," Cervi, 67, said. "The professor was angry that I didn't know, but when he asked the class, no one knew about the Holocaust except for one kid who was Jewish. I couldn't believe that I was a senior in college before I first learned about this."
That class inspired Cervi to ask more questions and really think how he was going to teach history. Today, more than 45 years later, Cervi, the new executive director of the New Jersey Commission on Holocaust Education, is still asking questions and thinking about how to teach the Holocaust.
Kerlyn Espinal, deputy assistant commissioner of Cultural and Historic Commissions for the New Jersey Department of Education said Cervi will continue with the mission of the Commission on Holocaust Education by ensuring educators have the tools andsupport they need to teach students about the Holocaust and genocide."He will serve as a valuable resource for communities throughout the state as he raises awareness of the work of the Commission," Espinal said.
Cervi, who got his master's degree in Holocaust and Genocide Studies at Stockton in 2002, said one of his major goals is to update the curriculum offered by the Commission. Developed in 1995 by a group of Vineland educators, it was last updated by former director Paul Winkler in the early 2000s. Cervi said there has been a lot of new content and technology since then that will become increasingly important as fewer survivors of the Holocaust remain to tell their stories.
As he thinks about the curriculum, Cervi refers to his own 41-year career as a history teacher at Oakcrest High School in Mays Landing and another seven years as an adjunct professor at Stockton where he still teaches about the Holocaust.
"When I went for the interview (with the Commission) I told them I also needed to stay in the classroom, to have that connection to students," Cervi said.
It's a connection he first forged at Oakcrest, where he spent three weeks teaching just World War II and taking the time to tell the stories of people who fought, were captured, survived, and gave their lives. He brought in survivors and expanded the discussions to genocides in other countries.
"The student interest was unbelievable," he said. "It wasn't about memorizing battles. It was personal."
I want to do more professional development to show teachers how to use the curriculum. And I want more people to know that the Commission exists and that we have resources to help them."
Cervi also had the occasional student who still questioned whether the Holocaust really happened, making him all the more determined to have survivor stories told. He developed a special friendship with survivor David Wisnia, who was imprisoned in Auschwitz-Birkenau for three years, escaped, and became a U.S. soldier with the 101st Airborne Division. Cervi collaborated with Wisnia to write his story "One Voice, Two Lives" and traveled with him to a ceremony for the 75th Anniversary of the liberation of Auschwitz last January.
Cervi said New Jersey is ahead of most of the country in teaching Holocaust and genocide studies because the state passed a law mandating it in 1994. Only 12 states have some type of mandate, but Cervi said the federal Never Again Education Act, signed into law in May 2020, will help expand Holocaust education nationally. Cervi said he has already been getting calls from other states interested in New Jersey's curriculum, but his first priority is reaching out to teachers in New Jersey. He recognizes that the topic is difficult, and many teachers do not know how to approach it. He plans to work with the 30 Holocaust Centers in the state to connect with teachers and the public.
"I want to do more professional development to show teachers how to use the curriculum," he said. "And I want more people to know that the Commission exists and that we have resources to help them."
Gail Rosenthal, executive director of the Sara and Sam Schoffer Holocaust Resource Center at Stockton, said Cervi is a perfect choice for the position because he is so passionate about the subject and its impact.
"He is truly a leader," she said. "He is respected by survivors, their children, students and educators. He has truly changed many students' lives. He is kind and he is caring. He wants to remember the past to make a better future."
Holocaust Center Seeks Survivor Stories
The Sara and Sam Schoffer Holocaust Resource Center at Stockton University is looking for area Holocaust survivors and their family members for a major new project to compile and create a digital archive on the lives of Holocaust survivors who settled in South Jersey.
The "South Jersey Holocaust Survivor Digital Archive and Exhibition" will focus on survivors from Atlantic, Cape May, and Cumberland counties. Stockton faculty, staff and students are identifying and interviewing survivors and/or their family members, and reviewing memoirs written by survivors through the center's Memoir Project.
The archive and exhibition will be an enduring resource for students and the public to learn about the history of the Holocaust and Jewish life in Europe before World War II. One often overlooked matter aspect of this history concerns the months and years many survivors spend as refugees, or in the parlance of the time, "Displaced Persons," (DPs) after World War II. The project will also focus on several topics that are of special interest to our region: immigration to the United States; the Jewish chicken farms of South Jersey; and contributions to southern New Jersey.
Anyone with information can contact Gail Rosenthal, executive director of the Holocaust Center, at 609-652-4699 or at gail.rosenthal@stockton.edu.