Osprey News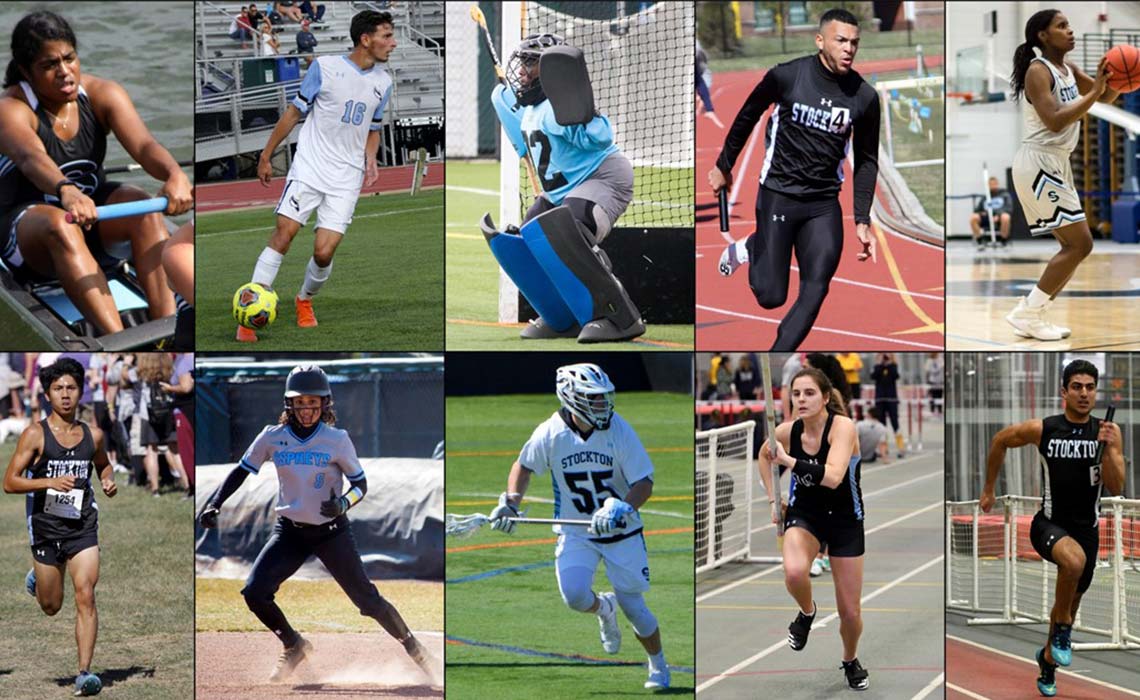 Ten Ospreys Selected Arthur Ashe Jr. Sports Scholars
Ten Stockton University student-athletes were recognized as 2020 Arthur Ashe Jr. Sports Scholars by the publication Diverse: Issues in Higher Education. The total is double Stockton's previous high of five honorees in 2018.
The five male selections were soccer player Joel Burgos, track & field competitors Cedric Cook and Qudratullah Qadiri, cross country and track & field runner Daniel Do and lacrosse player Will Pellicier.
Stockton's five female recipients were rower Catelyn Andrews, field hockey goalie Niya Calloway, basketball player Raquel Harris-Scott, softball player Meg Murzello and track & field competitor Lauren Preston.
To qualify, student-athletes must be persons of color with a minimum 3.20 grade point average after at least one year of college. The awards are inspired by tennis legend Arthur Ashe Jr.'s commitment to education, and they celebrate the accomplishments of hundreds of student-athletes nationwide.
Learn more about Catelyn Andrews, Meg Murzello and Niya Calloway.
---
Kohlhoff & Swedlund Chosen Athletes of the Year
Stockton Athletics saluted its student-athletes with a virtual awards recognition ceremony after the annual awards brunch was cancelled due to COVID-19.
Men's lacrosse player Luc Swedlund was chosen Stockton Male Athlete of the Year and volleyball player Julie Kohlhoff was chosen Stockton Female Athlete of the Year. Both Ospreys led their squads to conference championships.
Swedlund was named a USILA Honorable Mention All-American after scoring 100 goals and dishing 18 assists for 118 points, setting new school records for goals and points in 2019. He became the fifth Osprey to achieve All-American status and also was selected as CSAC Player of the Year, CSAC First Team, ECAC Offensive Player of the Year, ECAC First Team, CoSIDA Academic All-District and MVP of the CSAC championship game.
Kohlhoff received AVCA All-American Honorable Mention, AVCA All-Northeast Region and NJAC First Team recognition in Fall 2019. The middle hitter led the NJAC and finished seventh in NCAA Division III in hitting percentage (.408). Kohlhoff also finished fourth in the NJAC in blocks (team-high 0.79/set) and led the Ospreys with 329 kills.
Visit the Virtual Awards Recognition site to view video highlights of all Stockton teams with an introduction from Athletic Director Kevin McHugh.
---
133 Ospreys Earn Spots on NJAC All-Academic Team
A total of 133 Stockton University student-athletes earned spots on the 2019-20 New Jersey Athletic Conference (NJAC) All-Academic Team for their work in the classroom. Track & field competitor Qudratullah Qadiri collected NJAC All-Academic First Team honors for the second straight year. Qadiri was joined on the First Team by field hockey goalie Emily Gilligan.
Juniors Daniel Do, who competes in men's cross country and track & field, and women's soccer player Dasey DiElmo were NJAC All-Academic Second Team selections. In addition to Qadiri, Gilligan, Do and DiElmo, 129 Ospreys snagged NJAC All-Academic Honorable Mention spots.
To be eligible, student-athletes must be sophomores, juniors or seniors from the 10 NJAC institutions and its affiliate members who compete in a conference-sponsored sport with a minimum 3.20 grade point average. Stockton is an NJAC member in 16 of its 19 sports, all except men's lacrosse, women's golf and women's rowing.
---
Stockton, NJAC Cancel Fall Sports Season
After months of deliberation, the New Jersey Athletics Conference concluded that the most effective way to mitigate the risk of COVID-19 exposure to athletes, staff and the campus community is to suspend fall competitions.
Athletic Director Kevin McHugh informed the Stockton athletics community with the news but also offered hope for some athletic opportunities during the Fall 2020 semester.
"Despite this announcement, we intend to provide meaningful opportunities for student-athletes to engage with their coaches and teammates, to practice together, to take part in strength and conditioning workouts, and to benefit from all the resources and support afforded by Athletics," he said. These opportunities will continue to be guided by the protocols of the CDC, state and NCAA recommendations.