Niya Calloway '20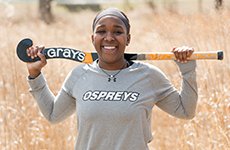 Why did you choose Stockton?
I chose Stockton because when I arrived on campus for a recruit visit I truly felt at home. The campus in Galloway was very warm and welcoming, and I fell in love with the scenery that came with it. The friendly environment and small class sizes made me feel as though Stockton would be the perfect fit for me.
Why did you choose your major?
I decided to become a Communication Studies major after realizing the passion I had for being creative and creating content. I wanted to pick a major where I would have the opportunity to create and expand my knowledge every day and the Communication Studies program at Stockton has given me that opportunity.
What are your career goals?
My goal for the future is to have a career creating content for television, film or radio. I'd love to produce content for MTV.
What have been your most memorable experiences at Stockton?
One of my most memorable moments at Stockton was breaking school history with my field hockey team and winning the ECAC Championship on our home turf. I was so proud to be an Osprey and represent my school and win at the place where I have made some of my best memories. Another one of my most memorable experiences was attending all the campus activity nights when I was a freshman. Having those events gave me the opportunity to take my mind off being homesick and allowed me to just have fun and make memories that I'll never forget and meet new friends.
What do you hope to get out of your academic program?
I hope to get the knowledge and the experience that I need to be successful in the world of communication. I also hope to make connections that will last a lifetime.
What are you up to?
I'm currently enjoying my offseason and interning at Townsquare Media, where I am expanding my skillset in the field of communication. For my internship, my responsibilities entail creating new segments and blogs weekly for a health show called Living Well with Robin Stoloff. I also have the responsibility of finding guests for Robin to interview every week. My internship shows me the importance of a deadline and how to create content that will interest listeners to tune in.
Extracurricular Activities:
I play field hockey for Stockton, manage the Women's Lacrosse team and have a radio show on WLFR called gr00vy g00dness that airs on Thursdays at 10 p.m. I have been working at WLFR since last year and I absolutely love it. My partner and I have a show where we infuse positivity and house music together, creating a positive and relaxing environment for our listeners. By working at the station, I have learned how to work the boards on the radio, problem solve on the fly, and how to just have fun doing what I love.
---