Communication Studies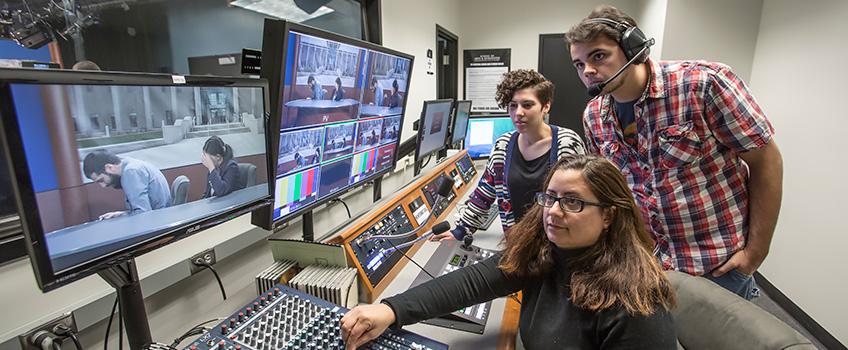 Communication Studies focuses upon the ways in which culture communicates information through book, newspaper, memo, telephone, radio, television and cinema, computer, Internet and fiber optics, conversation, and conference in order to help students determine their relationship to the world and understand the information society in which they live.
---
About the Program
Communication Studies is both theoretical and practical. Students are expected to understand a set of interlocking concerns: how institutions shape the message and how people interpret the message; the possibilities and the limits of particular media; the influence of culture upon communication technologies; and the effects of technological change upon society as a whole. Additionally, students are expected to manage the tools of their discipline: computers, video, radio, print, and spoken discourse.
The program in Communication Studies is open to any student with an interest in the discipline. A distinctive feature of Communication Studies is its preceptor/preceptee collaboration. Students' cognate choices are the result of a careful negotiation between students and preceptors. Students wishing to major in the program are encouraged to declare their intentions no later than the beginning of their junior year. Intended majors must consult with a Communication Studies faculty member, who will explain the nature of the program and its specific requirements.
Program Chair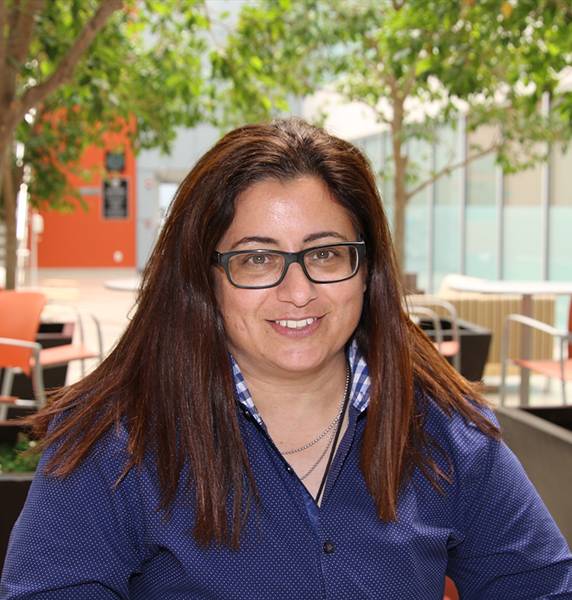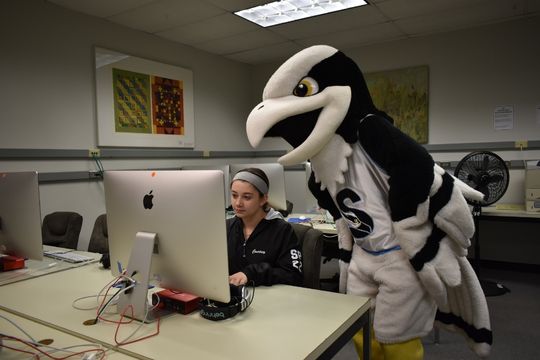 Photo Credit: COMM Social Media Internship
---
Communication Skills
Communication Studies is a growing and rewarding field of study. Communication Studies at Stockton is a dynamic multidisciplinary program exploring a wide range of interests in contemporary global and popular culture, including radio and television, advertising and public relations, digital communication, film and cinema, visual communication, international communication and more. The thread that runs through all of our tracks, and hence the tie that binds the program, is the dual premise that a Stockton Communication Studies graduate should be able to: 1) Critically interrogate media messages from a variety of angles, and 2) Produce effective media messages in a variety of contexts. These two premises underscore the core classes that all of our majors are required to take. The specific applications of these premises are honed in the track-specific curricula.


Adapting to Change
Our program prepares students for careers in diverse fields. In recent years, our alumni have gone on to work at

The Press of Atlantic City, ESPN, MTV, Clear Channel Radio, Equity Communication, Suasion Communications Group, NBC40 WMGM-TV, and a host of other companies.


Program Competence
A collection of scholars, artists, and media professionals, Communication Studies Program faculty are engaged in developing a rigorous program of study in the liberal arts tradition. The program strives for graduates who are able to think critically about media messages, and to apply varied and interrelated media studies concepts (including media literacy, critical media analysis, cultural studies, media writing, and media production) toward the effective production media messages.


Teamwork & Collaboration
Our students get hands-on experience right on campus, with opportunities to participate in Stockton Student Television (SSTV), the Stockton radio station (WLFR, 91.7 FM), the Community TV Partnership, and Stockton's chapter of the Public Relations Student Society of America (PRSSA). They also gain real-world production experience interning for companies such as CNN, MTV, and NBC; they gain PR experience working for various local politicians and also with various PR firms.


Creativity & Innovation
Our students work with state-of-the-art equipment and facilities, such as our HDTV Studio.
Curriculum
Program Organization
The Communication Studies Program is divided into three tracks—Public Relations & Advertising, Media Production, and Journalism & Media Studies. In Public Relations & Advertising, students learn multifaceted aspects of the field and how to strategically manage, design, and disseminate effective messages to target audiences. The Media Production concentration focuses upon behind-the-scenes skills and offers students a more hands-on approach to learning the media production field. The Journalism & Media Studies concentration offers both skills-based journalism courses and a broader theoretical understanding of the field to allow students both to critically analyze and effectively produce media texts. The program also requires core courses in communication theory and media writing, as well as a senior seminar. Students are also required to participate in a professional internship.
2022-2023 Curriculum Worksheets
Careers
Students pursuing degrees in Communication Studies may prepare themselves for careers in teaching, law, journalism, technical writing, speechwriting, radio and television production, public relations, advertising, marketing, consulting, government, civil service, administration, and the ministry. A Communication Studies degree can lead to opportunities in private organizations, media outlets, non-profit institutions, and government agencies. Majors who wish to pursue graduate school in Communication Studies or related areas of study should inform their program preceptors of their plans as early as possible.
Internships

COMM 4901 Communication Internship: Steps to Take
The semester before you want to enroll in the internship, begin the following process:
Step 1: Create a Handshake account.
Handshake is where all of the Stockton-vetted current internship and job listings are posted.
Feel free to pursue opportunities not listed, but it's best to first talk to the Internship Coordinator.
Some internship application processes take longer than others.
Step 2: Create a Resume.
Go on the CED website

○ Search resume resources.

Create your own resume.
Make an appointment to take your resume to CED for revisions and packaging.
Step 3: Set up a meeting with the internship coordinator.
The paperwork for an internship can take many weeks to go through Stockton's clearances.
Step 4: Once you're hired, paperwork must be completed by all parties.
Step 5: YOU MUST ENROLL IN COMM 4901 BEFORE DROP/ADD ENDS.
Special Opportunities
Qualified students may be assisted in obtaining pre-professional experiences in their fields of interest by means of internship opportunities with local and regional corporate, media, and nonprofit organizations. The proximity of Stockton University to Atlantic City and Philadelphia and major radio, TV and print media markets makes possible internship opportunities in the media and in other areas, such as public relations, advertising, and promotions for commercial, political and/or social programs and events.
Students can also opt for an on-campus internship with the university radio station, WLFR, the Community TV Partnership Internship, the Social Media Internship, or the Editing Internship, and can gain hands-on journalism experience through an engaged community journalism partnership with the Atlantic City Press in the newly launched Community Reporting Innovation Lab (CRIL) in Atlantic City. Students can also get involved with Society of Professional Journalists (SPJ), our award-winning Public Relation Student Society of America (PRSSA) chapter, host their own radio show with WLFR, gain hands-on TV production experience through the Community TV Partnership Internship in our HD TV studio, and contribute to Stockton University's student-run newspaper, The Argo.
---
WLFR
WLFR 91.7 FM has been in operation for more than 30 years! We take pride in our diversity of music and shows and strive to bring you programming not found on commercial stations. Students can participate in the WLFR Internship to gain handson experience on the air as well as behind the scenes. Students will also learn about the day-to-day operations of a radio station. WLFR can be found on the web at www.wlfr.fm.
---
Society of Professional Journalists - Collegiate Institutional Member
Stockton's Communication Studies Program is a Collegiate Institutional Member of the Society of Professional Journalists.
The Society of Professional Journalists is the nation's broad-based journalism organization, dedicated to encouraging the free practice of journalism and stimulating high standards of ethical behavior. The COMM Program hosts innovative student workshops each semester to support professional development.
---
PRSSA
Stockton's Public Relations Student Society of America (PRSSA) Chapter was established in May 2013. Since that time, under the guidance of Dr. Ai Zhang, Stockton's PRSSA chapter has become a powerhouse, providing a range of professional enrichment and community engagement opportunities. Each year, PRSSA students organize a series of successful events including industry tours, guest speakers, workshops, career and alumni panels, and large-scale networking events.These events have helped quickly establish Stockton PRSSA as a strong organization on campus, in the community, and of the national body. PRSSA students also have the
opportunity to participate in national conferences. PRSSA is open to all Communication Studies students, and students across campus.
Now is the time for Journalism@Stockton.
There are more student-centered storytelling opportunities on and off campus.
We offer new platforms and methods to engage and produce impactful content, from reporting and writing to getting published.
Why Now? Our democracy depends on journalism. We need truth-tellers who are ethical and honest. Consumers need to know what good journalism is. It will make you a better analyst, evaluator, and practitioner.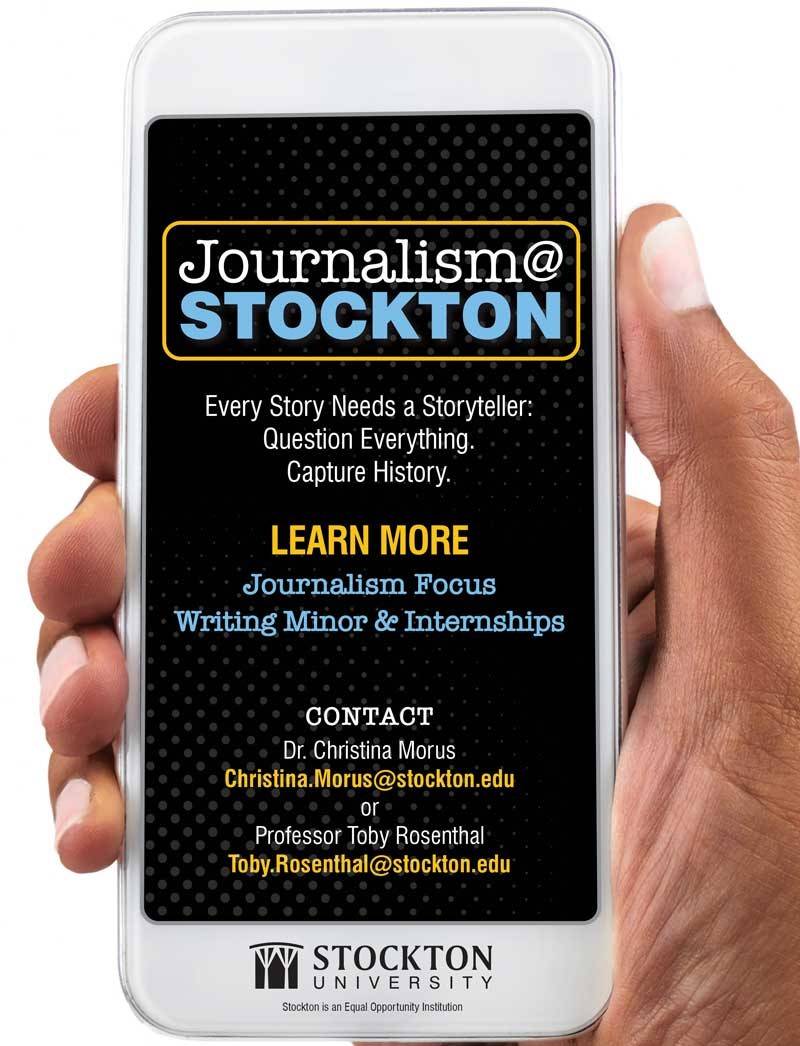 Student Magazine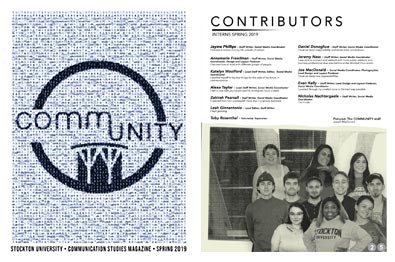 Spring 2019 Edition
Featured Stories:
Dr. Christina Morus on COMMUnity
President Kesselman talks COMM
COMM Awards
Club Updates
COMM through the years