Meet Christopher Catching
Meet Christopher C. Catching
Stockton's new VP for Student Affairs reflects on his journey.
by Samantha Cary '13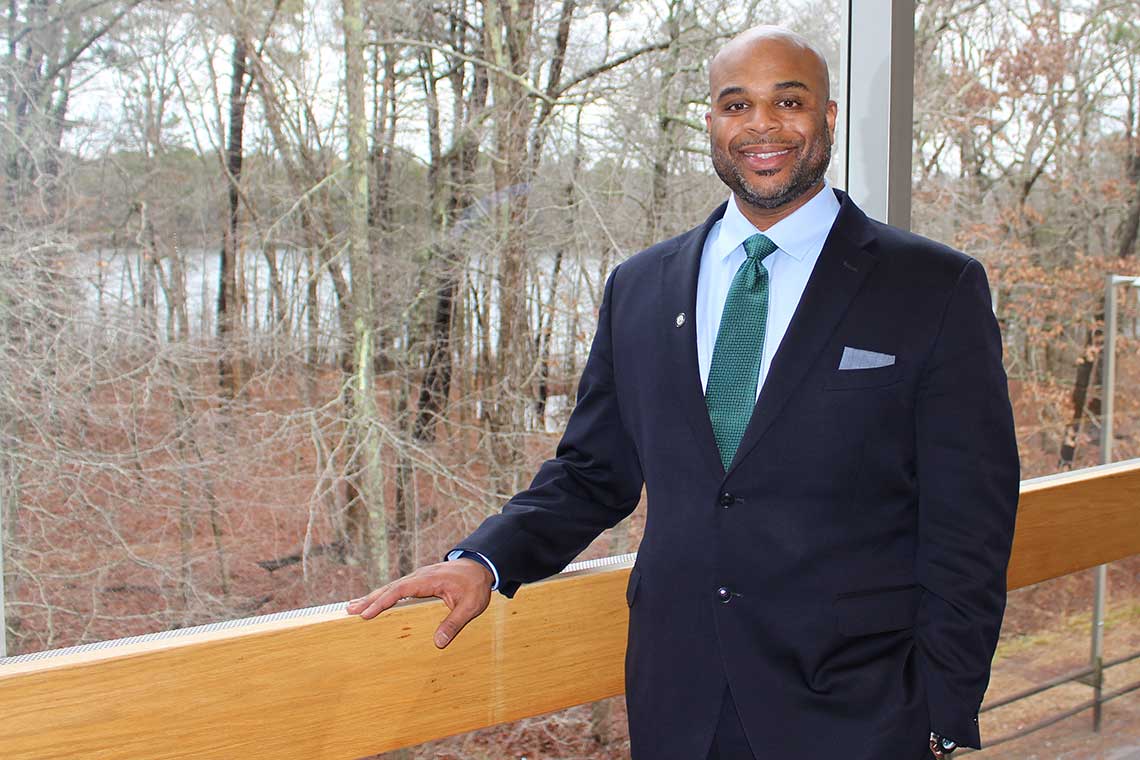 Stockton welcomed Christopher C. Catching as the new vice president for Student Affairs on Feb. 6. Catching, who previously served as the assistant vice president for Students Affairs at Southern Connecticut State University, replaced Thomasa Gonzalez, who retired after more than 30 years at Stockton.
Catching received a Bachelor of Arts from Montclair State University, a Master of Arts in Higher Education from New York University and a Doctorate in Education from Rutgers University.
As an alumnus of the Educational Opportunity Fund Program (EOF) at Montclair State University, Catching is passionate about providing students with access to transformative learning experiences. In the following Q&A, Catching reflects on the opportunities he pursued to emerge as a leader in higher education.
Q: Tell me about your experience as a student in the EOF program at Montclair State University. How did you learn about the program? What kind of influence did the program have on your undergraduate career?
A: I found out about the EOF program at Montclair State University as a senior at Essex County Vocational Technical High School in Newark when the associate director of the EOF program visited my English class and talked about the program. She sort of "adopted" our high school, but more importantly she said to me, "Young man, I am going to carry your application in myself." That made all the difference because she was committed to giving me the opportunity but also putting her stamp of approval on my application. I gained entry in the program in the summer of 1995 and that experience was the foundation for my success as a student and sparked my interest in working in higher education. Without the EOF program, I would not have had the support, or the initial awareness that I needed, nor the opportunity to build the confidence that I needed to be able to be successful in my college career. The other piece was the encouragement that I got from my academic adviser who was my first college role model – I wanted to be in his role. When I realized I needed a master's degree to do the work he was doing – that became part of the goal, and he encouraged me to apply to programs beyond what my own expectations were.
Q: Describe your career in higher education. How did you become interested in Student Affairs?
A: It evolved over the course of my career. It started with wanting to be an academic adviser and working with EOF students. Through my experiences, I met people who would become mentors and role models for me. The associate dean of students [at Montclair] was a mentor of mine, and I saw the work he was doing with students and thought, "I want to be like Dean Harris." I met the vice president for Student Affairs Karen Pennington and thought, "I want to get a doctorate; I want to be a vice president for Student Affairs; I want to teach and help students in the classroom." I was a late bloomer and didn't start to become involved on campus until the end of my sophomore year. I was a charter member of a fraternity on campus, an admissions ambassador, had three work-study jobs and was part of a mentoring program for underrepresented students through the Dean of Students Office. During my senior year, I had an internship in the Dean of Students Office sponsored by NASPA (National Association of Student Personnel Administrators). Becoming involved on campus as a student leader set the stage for my career because connected me to other students. It also helped me see my potential as a leader and that has continued throughout my career.
Q: You're passionate about providing students with transformative learning experiences. What are some initiatives that you have worked on?
A: When I was the coordinator for Greek Leadership Development at Seton Hall, I had an eye toward helping strengthen multicultural Greek organizations because I knew they had a huge impact on recruitment and student success. At Rutgers, I worked in student leadership involvement programs, advising a portion of the cultural, social justice and LGBT organizations, and cultivating social justice education programs. I also taught at Rutgers and most of my courses focused on diversity issues in education. I had the opportunity to create inclusive and educational spaces for students both inside and outside the classroom. Most recently, I worked on the President's Commission on Social Justice at Southern Connecticut State University, which created a space for faculty, staff and students to work on cultivating social justice on campus and included an analysis of the policies and procedures that impacted the university's climate.
"

Becoming involved on campus as a student leader set the stage for my career."
Q: What first drew you to Stockton?
A: One of the things that drew me to Stockton was that it was excelling and growing at a time where a lot of colleges and universities that are similar to it and in this region are struggling. That showed me that there's something really good happening here if the University is experiencing growth in not just enrollment of students but the success of students. I was familiar with Stockton to a certain extent being from New Jersey but that prompted me to take a closer look at the University and the leadership opportunity that emerged as vice president of Student Affairs. I know some successful alumni, which made me think Stockton might be a good place to consider.
Q: What do you hope to achieve as the new vice president for Student Affairs? How will you build relationships between Academic Affairs and Student Affairs? How do you plan to engage communities on the main campus and the new campus in Atlantic City?
A: I definitely want to contribute to the great work that is already happening here and is impacting the lives of students – partnering with colleagues and students to enhance the student experience at Stockton and help them prepare for success throughout the course of their lives to achieve their goals.
Identifying where there is overlap between Academic and Student Affairs in impacting student success is a good place to start. While Student Affairs mostly focuses on the student experience outside of the classroom, we do impact their experience in the classroom by virtue of supplying the resources and tools and support that help them become successful students. I am a passionate teacher and many of my colleagues contribute to the academic success of students by teaching at the university as well; I hope to join the ranks of colleagues and contribute in the classroom as well.
The best way to engage the community is by being visible, accessible and responsible and I've already begun to do this on campus. You build relationships by walking around campus and going to spaces where students, faculty and staff are, like the Campus Center, but also going to the residence halls, attending campus events and programs and spending time at other campus locations. Stockton is a family and that's what you do when you're family – you build relationships.
Learn more about Stockton's Vice President for Student Affairs Office.