Students First
The Division of Student Affairs is comprised of offices that collaborate with University and community partners to help students successfully navigate their initial enrollment and financing of their education; academic and social transition to Stockton; connection in residential learning communities; holistic health and wellness; and leadership, professional and career development.


Engagement & Community Development
Health, Wellness & Safety
Student Transitions, Access & Retention
Connect with Us!
Navigate Stockton!
Division of Student Affairs Annual Impact Report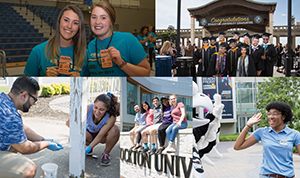 The Division of Student Affairs plays a vital role in the success of Stockton students.