Casey Berchtold - Choose Stockton
Casey Berchtold
Class of 2022/2025
Why did you choose Stockton?
When I was a junior in high school I had about 50 colleges on my list, ranging from California to Florida to Maine. I saw that Stockton offered an Instant Decision Day where I could receive an admissions decision on the spot, and I was accepted to Stockton as an incoming high school senior at the IDD! I knew pretty quickly after attending the IDD, visiting campus, and meeting professors and faculty that Stockton University was the right school for me. I fell in love with Stockton's location nestled within the Pine Barrens, the "schmedium" campus size, and how incredibly kind and caring everyone was. It was an added bonus that I have a plethora of family in the Galloway area, and that my uncle and cousin both graduated from Stockton!
Why did you choose your major?
As a kid, I always loved learning about crimes and laws - one summer I attended a CSI camp, and another summer I binged every single Law & Order spinoff and their respective seasons. As I got older, I saw that there were deep flaws within our criminal justice system such as disproportionately incarcerating certain populations and severe evidence backlogs. I felt a need to make a difference and work to find solutions for the issues in our criminal justice system. I have probably changed what I want to do with my degrees about 20 times, but all of the career goals I have set for myself include helping the people who need it most and ensuring that the system is fair for everyone.
What opportunities have you had at Stockton?
The summer after my first year at Stockton, I worked as a Grants Intern with the Delaware Department of Safety and Homeland Security, where I reviewed grant final reports that were submitted, compiled information on police training statistics, and drafted legislation. It was such an awesome experience to work with the state's top leaders in criminal justice! Additionally, I had the amazing opportunity to work as an Admissions Ambassador for all 4 of my undergraduate years, and I even served on the Executive Board my junior year. I loved giving campus tours and working with high school students searching for something more. As a graduate student, I now serve as a Fraternity & Sorority Life graduate coordinator in the Office of Student Development, and as a graduate assistant in the Office of Graduate Admissions.
What organizations and activities are you involved in?
During my undergraduate years, I was involved in many student organizations! I am a sister of Delta Delta Delta women's fraternity; as an active collegiate member I served in many leadership roles, including on the Executive Board. I met my best friends for life in Delta Delta Delta and I was a part of an organization that aligned with my values and philanthropic passions. I was also a member of the Order of Omega Honor Society for Greek Leaders, and I served as President my senior year. Aside from those organizations, I was also a member of Alpha Lambda Delta honor society, Alpha Phi Sigma honor society, and Omicron Delta Kappa Honor Society. My graduate career has just begun, so my involvement is still unwritten, though I am sure I will be just as busy. It's easy to get involved at Stockton - the campus community is so welcoming and has student organizations for every interest!
What has your experience been like at Stockton?
My Stockton experience so far has been unique, but I'd like to say that everyone's Stockton experience is unique because there are so many ways to tailor it to you! I was able to make a campus of 1,600 acres my home away from home, and I even spent 1 year in breathtaking oceanfront housing on the Atlantic City campus. I took 32 different undergraduate classes, ranging from sexism in professional sports to serial killers to the Vietnam War. I gained 80 sisters by rushing a sorority, where I spent hundreds of hours giving back through community service and together we raised thousands of dollars for St. Jude Children's Research Hospital. I have had countless opportunities at Stockton where I was able to build my college experience into what I wanted out of it, and that's hard to do at other schools. Reflecting on these opportunities pushed me to continue my studies at Stockton in a graduate program, where I know I will be able to have new and exciting experiences!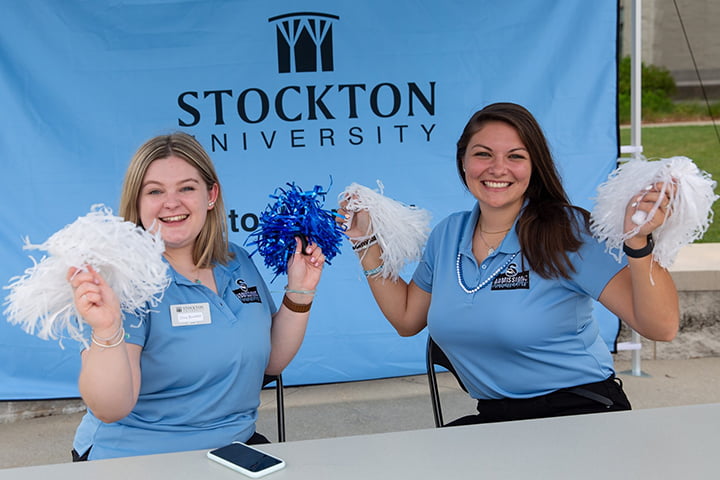 ---