Sabiha Mim - Choose Stockton
Sabiha Mim
Class of 2023

Major: Biology

with a concentration in pre-professional studies.

Hometown:

Atlantic City, New Jersey
Why did you choose Stockton?
When I started searching for colleges to attend during my senior year of high school, Stockton was one of my initial choices. Given that I'm from Atlantic City, it would've been the most convenient location wise. I was also looking to enroll in a university that had a relatively lower student to faculty ratio; I value being able to form those close, working relationships with my professors and as a tactile/visual learner, I was looking for a university that could provide a more interactive learning environment so I thought that smaller, average classroom sizes would be the most beneficial for me. I also fell in love with the campus layout during my freshman tour; it was so accessible and at the same time, the surrounding foliage and well-kept reserve were so beautiful that I couldn't help but commit on the day that I was there. I have never regretted that decision since and if I had the opportunity to continue pursuing a higher education at Stockton after the completion of my undergraduate studies, I wouldn't hesitate to do so.
Why did you choose your major?
For me, the next step post undergrad is to apply for medical school and in order to do that, you need to perform well on the MCAT. The curriculum in the Biology program lined up with what I would need to know to pass the exam, and biology itself is also broad enough that if I decided that the clinical aspect of healthcare was not the most ideal fit for me, I could still pursue so many different careers that aren't directly related to patient care, but still have relevance to that interest. I could pursue a career in epigenetics, or even education where I foster that same love for the sciences in other students. Although it's a challenging major, I feel that biology, in general, is broad enough that it creates a crossroads where a singular path has the potential to diverge into so many different paths at any point in your career that, in essence, stretch under the same horizon.
What opportunities have you had at Stockton?
Stockton has helped me to nurture the confidence that I couldn't muster in high school. I've been fortunate enough to meet so many driven and committed individuals, as well as reconnect with some of my now dearest childhood friends who have all been incredibly supportive of the different stages of my personal growth; they have helped to me step into leadership positions and pursue opportunities that I'd never have the courage to face on my own. Everyone in the student body that I've ever come across is a team player. You'll seldom cross paths with an individual that isn't willing to go out of their way for you. This close-knit community, and the accessibility of resources designed to help you tap into your inner potential has enabled me to further my professional and interpersonal skills. I've also been able to readily embrace my diverse background in a community that recognizes and celebrates the unique heritages of its student body.
What organizations and activities are you involved in?
During my junior year, I became a student mentor in the Student Success Scholars Program. This has been an incredibly rewarding experience for me, as someone who has already benefitted from Stockton's resources because I was able to utilize the knowledge that I had previously acquired to assist my fellow Ospreys in navigating the wide variety of tools that Stockton has to offer for their own academic and career advancement! I have also been an active member of Delta Epsilon Mu, the nation's premiere professional pre-health fraternity for three years now. During these three years, I've had the privilege of serving as the chapter's historian and documenting all of our collective and individual milestones. It's been incredibly thrilling for me to have watched this community grow from just a few members at a time to now, over 100 members altogether. Through this community, I've had the opportunity to jumpstart my own career in the health field, network with incredibly hard working and like-minded individuals who all share a common end goal, and truly give back to our community through our involvement in community-wide service projects and the chapter's local philanthropy, Field of Dreams. I have also been a part of the Asian Student Alliance and the Gerontology Club, for which I'll be serving as the historian and public relation officer, respectively!
What has your experience been like at Stockton?
Stockton has become a second home for me. I've built the most meaningful relationships with my peers and have evolved from a student that was constantly averting others' gazes and looking down to one who's now looked up to by others. I came in as an awkward and introverted teenager who didn't know where she was going, or what she was working towards. Now I'm a confident, young woman with an impassioned dream for herself and the confidence to pursue it. They say that the best four years of your life happen in high school, but for me it was definitely in college and I think that being an Osprey was definitely what made that experience so great. It makes me feel a bit sad looking back and realizing that, as of 2023, I'll be leaving this nest but with the wings that I've been given, I'm sure that once I take flight, I'll truly be able to touch the stars.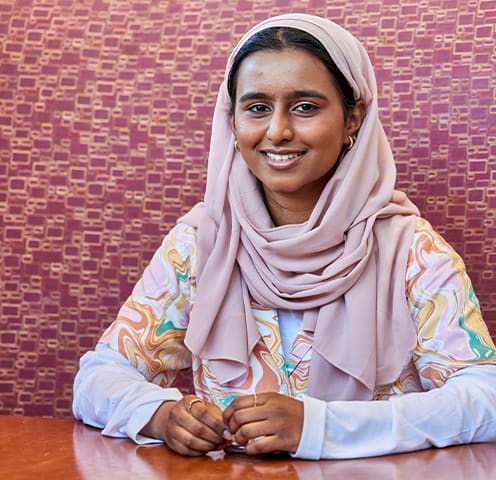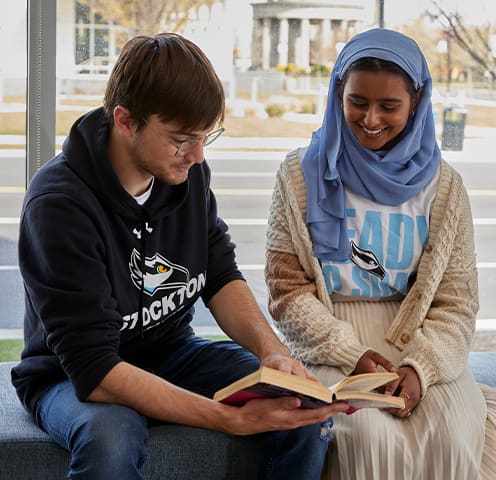 ---