The Paul Lyons Memorial Lecture Series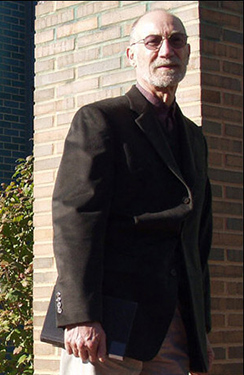 Stockton University has established an annual lecture series in honor of Professor Paul Lyons. This series brings to Stockton leading regional, national, and international scholars in American Studies, the area in which Paul undertook most of his interdisciplinary work. Intended for general audiences, the lectures would draw on the scholars from the Humanities and the Social Sciences, and appeal to students in a wide range of undergraduate programs (History, Literature, Philosophy, Sociology/Anthropology, Political Science, Economics) as well as graduate ones (MAED, MAHG, and American Studies). It is also intended that some speakers will address issues relating to music, one of Paul's loves.
Professor Lyons published five books during his distinguished career. His first book appeared in 1982 and was entitled, Philadelphia Communists, 1936-1956; this was followed by Class of '66: Living in Suburban Middle America in 1994, and New Left, New Right and the Legacy of the Sixties in 1996. After publishing these three volumes with Temple University Press, Paul moved on to the University of Pennsylvania Press, where he published The People of this Generation: The Rise and Fall of the New Left in Philadelphia in 2003. The most recent volume, American Conservatism: Thinking it, Teaching it, was published in 2010 by Vanderbilt University Press.
The first speaker in the lecture series was the very distinguished American historian from Columbia University, Eric Foner. Professor Foner has published innumerable volumes on 19th and 20th-century American history, and was someone whom Paul respected as a historian.
Robin D.G. Kelley was the second speaker in the series. His work and interests overlap with Paul's in many ways, and he is currently one of the most prominent African American historians and scholars working in American Studies in the United States. His topic was, "Africa Speaks, America Answers: Modern Jazz in Revolutionary Times."
The third speaker was Amy Kaplan, the Edward W. Kane Professor of English at the University of Pennsylvania. The title of her presentation was, "Zionism as Anti-Colonialism: the Case of Exodus."
We hope that you will support this endeavor so that we can keep Paul's spirit alive on campus!
Paul Lyons Tribute Page
Make an Online Gift to the Paul Lyons Lecture Series Fundraiser