University Resilience Operations Committee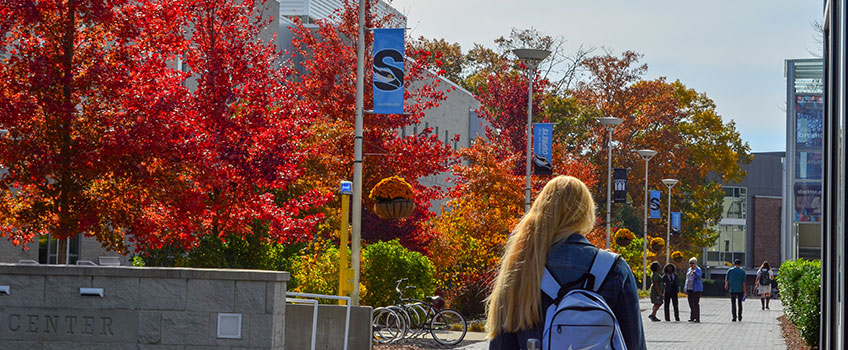 The University is now preparing for the Fall 2021 semester using a deliberate and thoughtful approach to examine our options to provide a safe educational and operational experience for everyone. Our goal is to welcome students back on campus for the fall 2021 semester, following federal and state COVID-19 guidelines to ensure the health and safety of our students, faculty and staff.
Updates on Stockton's plan for the fall 2021 return to campus can be found here.
---
UROC Membership & Charge
Stockton's University Resilience Operations Committee (UROC) is an institution-level team whose mission is to research, analyze, prepare and recommend a set of operating principles to help guide the University during the COVID-19 pandemic – in compliance with all necessary local, state and federal health, safety and education guidelines.
---
UROC Team
Emari DiGiorgio, Professor of Writing and First-Year Studies (co-chair)
Peter Baratta, Chief Planning Officer and Deputy Chief of Staff (co-chair)
Michael Angulo, Vice President for Personnel, Labor & Government Relations
Dr. Brent Arnold, Dean, School of Health Services
Ellen Bailey, Deputy General Counsel
Dr. Haley Baum, Dean of Students
Katharine Campion, Student Senate President
Dr. Tara Crowell, Professor of Public Health
Dr. Zupenda Davis-Shine,

Associate Director of Health Outreach, Promotion & Education

John Fritsch, Assistant Vice President for Facilities and Operations
Dr. AmyBeth Glass, Interim Assistant Vice President for Academic Affairs
Laurie Griscom,

Asst Dean of Students and Director of Event Services and Campus Center Operations

Dr. Robert Heinrich, Chief Enrollment Management Officer
Christopher Howard,

Director of Procurement, Contracting & Risk Management

Scott Huston, Chief Information Officer
Audrey Latourette,

Distinguished Professor of Business Studies, Law

Esther Lawrence, Assistant Dean, School of Business
Dr. Marissa Levy, Dean, School of Social and Behavioral Sciences
Dr. Michelle McDonald, Chief Academic Officer, AC Campus & Associate Vice President for Academic Affairs
Brittany Medio, Associate General Counsel
Daniel Nugent, Chief Development Officer and Executive Director of the University Foundation
Geoffrey Pettifer, Executive Director, University Relations and Marketing
Dr. Steven Radwanski, Executive Director, Residential Life
Dr. Ashlee Roberts, Executive Director of Student Affairs Planning and Operations
Dr. Margaret Slusser, Dean of the School of Health Sciences & Tenured Associate Professor of Health Science
Craig Stambaugh, Assistant Vice President Engagement and Community Development
Nicole Suprun, Executive Assistant to the Chief Planning Officer and Deputy Chief of Staff
Jeffrey Wakemen, Director of Student Development
Robert Wallace,

Assistant Supervisor 2, Facilities NL

Adrian Wiggins, Director of Campus Public Safety
Dr. Tina Zappile, Associate Professor of Political Science