The Center for Community Engagement and Service-Learning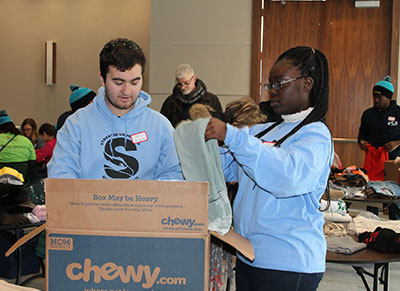 Service-Learning provides Stockton the ability to work with our communities and neighborhoods through classroom and co-curricular activities. Through Service-Learning, Stockton's students, faculty, staff and community partners have opportunities to engage in "Service with a Purpose".
Learn more about Service-Learning opportunities for: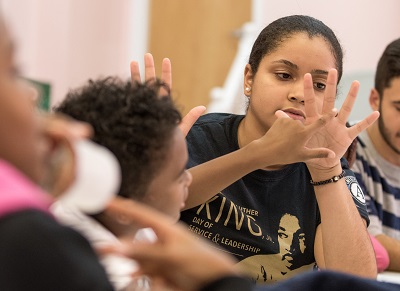 Getting personally involved with our neighbors is a critical part of our Stockton mission. Community Engagement homegrown programs are not tied to a class or a club and are open for participation from all students, faculty, staff, and alumni. Learn more about the opportunities to contribute in the community.
Register to Volunteer
Please be sure to complete a different form for each date on which you intend to participate. Please fill these forms out at least 24 hours before the service project.
Engagement is a fundamental value at Stockton University. Students, faculty, staff and community partners can learn more about opportunities to serve the community and to partner with other organizations. Stockton encourages students to excel academically and to be engaged in student life, the community and the world. Stockton is an active participant in Campus Compact and earned the Community Engagement Classification from the Carnegie Foundation.
SCCESL Vision
The Stockton Center for Community Engagement and Service-Learning promotes the ideals of public service and social responsibility, and serves the public good.
SCCESL Mission
Community Engagement co-sponsors programs in the community, opens doors and creates connections for new and improved collaborations, maximizes resources to maintain and establish mutually beneficial relationships with the community, and assists our internal and external partners with research activities to deepen the scholarship of engagement.
Service-Learning is a pathway for social change through community-based learning, via curricular/co-curricular opportunities, sustaining civic engagement, enhancing reciprocal community partnerships, fostering civic and social agency, and exploring experiences through critical reflection.

Other Ways to Engage!