SCOSA Festival Promotes Being "Engaged at Every Age"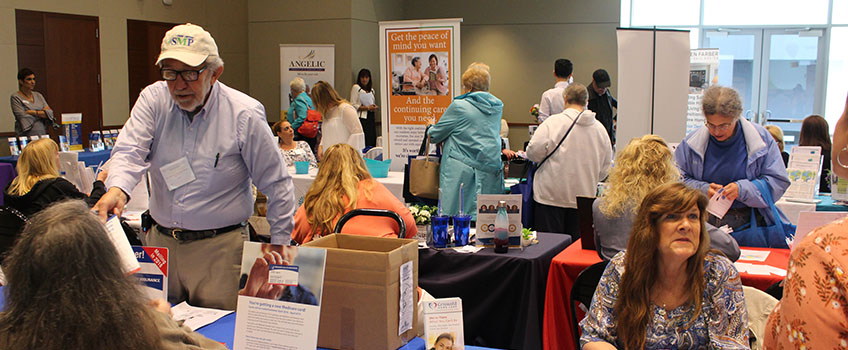 Galloway, N.J. - A poster detailing health and elder care in the Netherlands caught Verna Crabtree's eye at the 11th annual Successful Aging Festival held on May 17 at the Campus Center.
Crabtree, of Millville, attends the fair each year and shares what she learns with family. With ancestors from the Netherlands and an interest in exploring culture, the poster was an added bonus.
The festival, sponsored through the Stockton Center on Successful Aging (SCOSA), welcomed attendees to a variety of sessions related to SCOSA's mission to "Nurture Body, Mind, and Spirit through Research, Education and Service" while encouraging older residents to "age successfully" through vital involvements and engagement in their community.
Mico Lucide, Program Assistant for SCOSA, said this was his second year participating.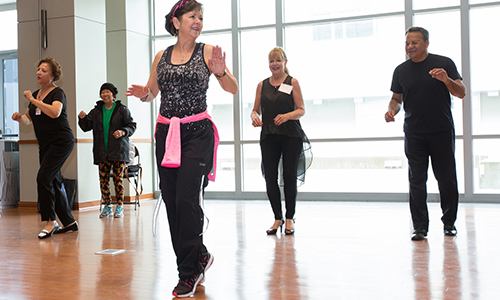 "It's always a most enjoyable chaos in the best way. Our presenters provide such rich and interesting topics to discuss," Lucide said.
This year's theme was "Engage at Every Age," with special focus on educational, wellness, social, and civic engagement. Festival attendees changed the conversation about aging from a burden to a benefit by participating in activities like a food drive, Bachata dance instruction, prize drawings, and Zumba. The festival also included a guest appearance from Ms. Senior America 2017, Carolyn Slade Harden.
"We put an incredible program together this year thanks to our staff. It's a vital opportunity for us to raise funds and make friends that support SCOSA throughout the year," said Dr. David Burdick, Professor of Psychology and Director of SCOSA.
The festival included sessions on topics like resilience and reinvention in retirement, diversity in aging, connecting with elected officials, navigating the county government, volunteerism and more. Exhibitors at the festival included the American Red Cross, Brandywine Living, Ellen Farber Interior Design for Seniors, Family Resource Network/Caregivers of New Jersey and Gilda's Club.
"Every year it gets better working with SCOSA. We definitely see an outcome with calls and referrals from new clients after every festival. It is an event we look forward to every year," said Melanie Crawford, external case manager at Seacrest Village, a health continuum offering short-term rehabilitation, adult daycare services, long-term care, and assisted living.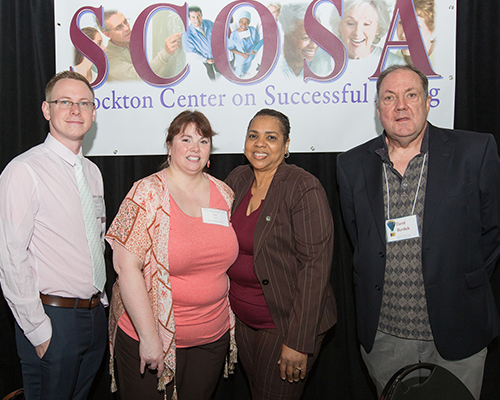 Melaku Lakew, retired Professor of Economics, and William Daly, retired Professor of Political Science were on campus attending the officer nominations for the Stockton University Retirees Association (SURA), a festival sponsor dedicated to providing meaningful opportunities for Stockton retirees to stay in touch with colleagues, enjoy social interactions, and learn about opportunities for volunteering at Stockton.
Visiting Angels of Egg Harbor Township has also been an active participant in the festival since the beginning. Pat Laychock and her sister have owned Visiting Angels for 13 years.
"This is a really good year for the festival. It is an excellent opportunity to promote services to our clients, answer questions, and network," said Laychock. Visiting Angels offers senior life care for various situations, such as end of life care, palliative care, and companion care.
Donna Butts, Executive Director of Generations United, was the keynote speaker for the festival and discussed intergenerational connections, grandparents raising grandchildren and policies effective across lifespans.
"Younger serving older. Older serving younger, and serving together under one roof is so important to the benefit of engaging across generations," said Butts. Intergenerational programs reduce social isolation, increase opportunities in community life and improve health outcomes she said.
Gina Maguire, Program Assistant for SCOSA, interned with the center when she was both an undergraduate and graduate student before she started working at Stockton in 2012.
"This event is always very exciting for us because older adults have expressed feeling appreciated by us and appreciating the services offered," said Maguire. "Having the exhibitors here and trying to be mindful of sessions geared towards everyone is important to us."
"We can put our dreams on the backburner as long as we don't forget to go back and turn on the flame," said Carolyn Slade Harden, Ms. Senior America 2017. "It is never too late for anyone."
"I excelled despite the challenges," she said. "Don't you ever feel like you are too old to pursue your dreams."
Additional sponsors of the festival and sessions were AtlantiCare Health Systems, the William J. Hughes Center for Public Policy, CareOne Management, Alzheimer's Association Delaware Valley, South Jersey Senior Marketing Group, SURA, Southern New Jersey Council on Issues of Aging Endowment Fund and Frances Leonilda Acerra Christopher Memorial Fund, Curexa Pharmacy and South Jersey Gas-Energy Efficiency Department.
_ Reported by Jessica Jacob
# # #
Contact:
Diane D'Amico
Director of News and Media Relations
Galloway, N.J. 08205
Diane.D'Amico@stockton.edu
609-652-4593
stockton.edu/media