The Stockton Center on Successful Aging
SCOSA Mission and Vision

The Stockton Center on Successful Aging promotes research, education, and services to nurture body, mind and spirit of New Jersey's growing population of older adults. SCOSA responds to local, regional, and statewide needs and opportunities related to population aging. We seek to encourage older residents to "age successfully" through vital involvements and engagement in their community.
Quick Links

Program Changes, Event Cancellations:

For University closures check the top of the Stockton Homepage.

COVID-19: SCOSA's programs are offered in-person and/or online via Zoom. SCOSA adheres to Stockton COVID-19 guideline. CLICK HERE for the latest from Stockton.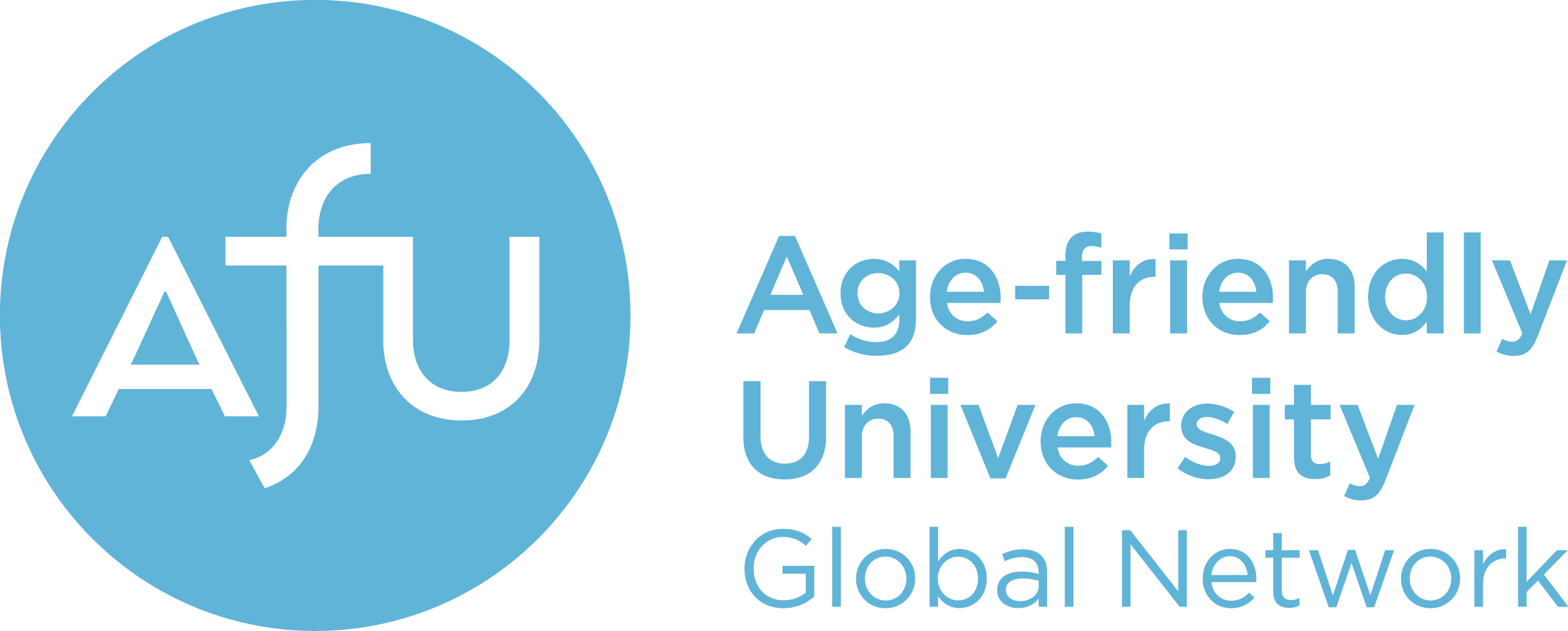 Stockton joined the AFU Global Network and endorsed the Network's Ten Principles. (December, 2018)
SCOSA continues aligning programming with AFU principles and encourage the university to practice Age Inclusivity in programs and services.
Click Here to learn more about the Global Network from the Gerontological Society of America.
Click Here for Press Release announcing Stockton's admission to network.
Learn more about the Age-Friendly Communities initiative by watching Aging Insights #113: Policies and Perspectives on Age-Friendly Communities(March, 2021, 30 minutes.)
---
SCOSA Sponsored Programming On Stockton TV Channel 9: Aging Insights and CMS & You

These informative programs, offered respectively by the New Jersey Advocates for Aging Well, and the Centers for Medicare and Medicaid Services change monthly and offer useful and informative information for older adults on a variety of topics such as choosing the right health care provider, dealing with dementia, and staying active in the retirement years. Click Here to view archived episodes of Aging Insights on your computer, tablet, or smartphone.
Business and organizations wishing to place brief (10-20 second) underwriting spots to raise awareness about their services among viewers should contact the SCOSA Director for details.
Channel 9 Broadcast Schedule *
Aging Insights CMS & You:
Monday 11:30am 5:30pm
Tuesday 5:30pm 9:30am
Wednesday 11:30am 5:30pm
Thursday 5:30pm 9:30am
Friday 11:30am 5:30pm
* Current and past programs are also available on demand by CLICKING HERE, or visiting NJAAW's YouTube Channel.
SILL programs for January 2023:
SILL: American History: Getting Our Minds Around Great Events: World War II
Instructor: Dr. Richard M. O'Meara
Wednesdays 1/4, 11, 18, & 25/202312:30-2pm
Stockton at Manahawkin, MIS-Room 1
Register HERE
The most glaring characteristic of World War II is the sheer vastness of the tallies; the numbers of people killed and wounded, the destruction of cities and whole states, the leaders assassinated and convicted, the amount of equipment first created, then destroyed in battle and ultimately abandoned as the war ended. The loss of it, all-entire generations wiped out, ethnic groups disappeared, cultures disseminated, families separated…starvation, industrialized murder, torture, indiscriminate violence and the infliction of pain. The size of the destruction is so great that it often causes us to ignore it. This course helps the student to organize the information, identify the major trends and ramifications which continue to influence and shape the way global politics and culture operates today.
Dr. Richard M. O'Meara is an adjunct professor at Stockton University and Rutgers University who teaches courses on history and international security studies. He is a retired trial attorney, a General Officer, U.S.A. (ret) and has taught rule of law and international security issues in such diverse locations as Vietnam, Cambodia, Thailand, Philippines, Peru, Moldova, Ukraine, Bosnia, Panama, Sierra Leone, Guinea, Chad, Rwanda, Israel, Iraq and Lebanon. He is the author of Going Home for Apples and Other Stories; The Times of Joy: A Diaspora Narrative; Stepping Out: Tales from the Trail, A Book of Oral Poetry; and Governing Military Technologies in the 21st Century.
Coming in February:
SILL: Telling Stories with Baseball Memorabilia
Instructor: Michael Cagno, Exec. Director of The Noyes Museum of Art
Wednesdays 2/8, 15, & 22/2023 12:30-1:30pm
Noyes Arts Garage in Atlantic City

This course will consider the history of baseball from the perspective of the Nolan Ryan collection of memorabilia donated to Stockton University. Students will learn about the development of the sport, the rise of notable athletes in addition to Ryan, and will also learn about the process of collecting memorabilia and creating exhibits.
The class will focus on elements of exhibition management and introduce students to the process of planning and implementing exhibitions/collections. This includes the roles and responsibilities of staff and community members in exhibition planning, ways to evaluate exhibitions and measure success, exhibition concept development, interpretative planning, exhibition design concepts, and implementation logistics.
Since August 2006, Michael Cagno has served as Executive Director of The Noyes Museum of Art of Stockton University. Today the Noyes Museum operates facilities in Hammonton and Atlantic City. Michael currently serves on the Board of Trustees as Vice-President for the Mid-Atlantic Association of Museum, Cumberland County Cultural and Heritage Commission, Ducktown Neighborhood Association, Chairman of the National Building Museums Symposium and has served as board member for the New Jersey Association of Museums. Having a Bachelor's Degree in Fine Art from Rowan University, Master's Degree in Museum in Management and a Graduate Certificate in Arts Administration from Seton Hall University has allowed Michael to follow his passion for the arts.
The tuition costs for the SILL courses is $30; and Free to residents 60 years old or older of Atlantic or Ocean Counties.
Introducing SCOSA's Alzheimer's Caregiver Support Group


The Stockton Center on Successful Aging (SCOSA) is hosting an Alzheimer's Caregiver Support Group
Wednesdays from 12:00 pm–1:00 pm
beginning on September 28, 2022

Caregivers can attend in-person at the Galloway campus or online via Zoom. Each session will include education and support with SCOSA's experts on caregiving and mental health. The project is funded under The Older American's Act, through a grant by the Atlantic County (NJ) Area Agency on Aging.
Register for FREE at
https://stockton.zoom.us/meeting/register/tJcvd-usrTIjE90xFVrp-YsgtUd37TA6jOQG
You can also register by calling 609-626-5590.

Stockton is an Equal Opportunity Institution
---
For Stockton Retirees: Are you a retired employee of Stockton? If so, the university has compiled a variety of resources and services that you may find of interest. And, there is also an official organization called SURA (Stockton University Retirees Association) that you can join. SCOSA assisted in the formation of SURA and continues to be represented on its Advisory Board. Click Here for more information on retiree benefits and to learn about and join SURA.
---
Financial Support for SCOSA
Click here to donate to SCOSA's Revenue Account through Stockton's secure payment portal. (*This is not a tax-deductible donation). Or, help us to grow by making a tax-deductible contribution to the Teski Gerontology Fund. Your donation will support various SCOSA and Gerontology program activities. Named in honor of Professor Marea Teski, founder of Stockton's Gerontology Program nearly 50 years ago, the fund is a lasting tribute to this early visionary and driving force in the program. Make checks to "Teski Gerontology Fund" and send to SCOSA/SOBL, Stockton University, 101 Vera King Farris Drive, Galloway, NJ 08205-9441.

To discuss other ways of supporting SCOSA, please contact us at (609) 652-4311 or David.Burdick@stockton.edu.
SCOSA's Older Adult Programs are funded, in part, under Title III of the Older Americans Act of 1965, as amended, through grants from Atlantic County, Cape May County, and (beginning in 2022) Ocean County Area Agencies on Aging. Federal regulations require us to inform participants that voluntary donations to SCOSA are welcome. Such donations are not a fee and are not required. Any donations received will be used to develop and operate our programs.
SCOSA encourages fragrance-free environments in all of our programming.
Chemical fragrances in many personal care, household and institutional cleaning products can cause severe reactions for some individuals and can be harmful to everyone in less apparent ways.