The Stockton Center on Successful Aging
Mission and Vision

The Stockton Center on Successful Aging promotes research, education, and services to nurture body, mind and spirit of New Jersey's growing population of older adults. SCOSA responds to local, regional, and statewide needs and opportunities related to population aging. We seek to encourage older residents to "age successfully" through vital involvements and engagement in their community.
Quick Links

Program Changes, Event Cancellations:

For University closures check the top of the Stockton Homepage.

COVID-19: SCOSA's programs are offered in-person and/or online via Zoom. SCOSA adheres to Stockton COVID-19 guideline. CLICK HERE for the latest from Stockton.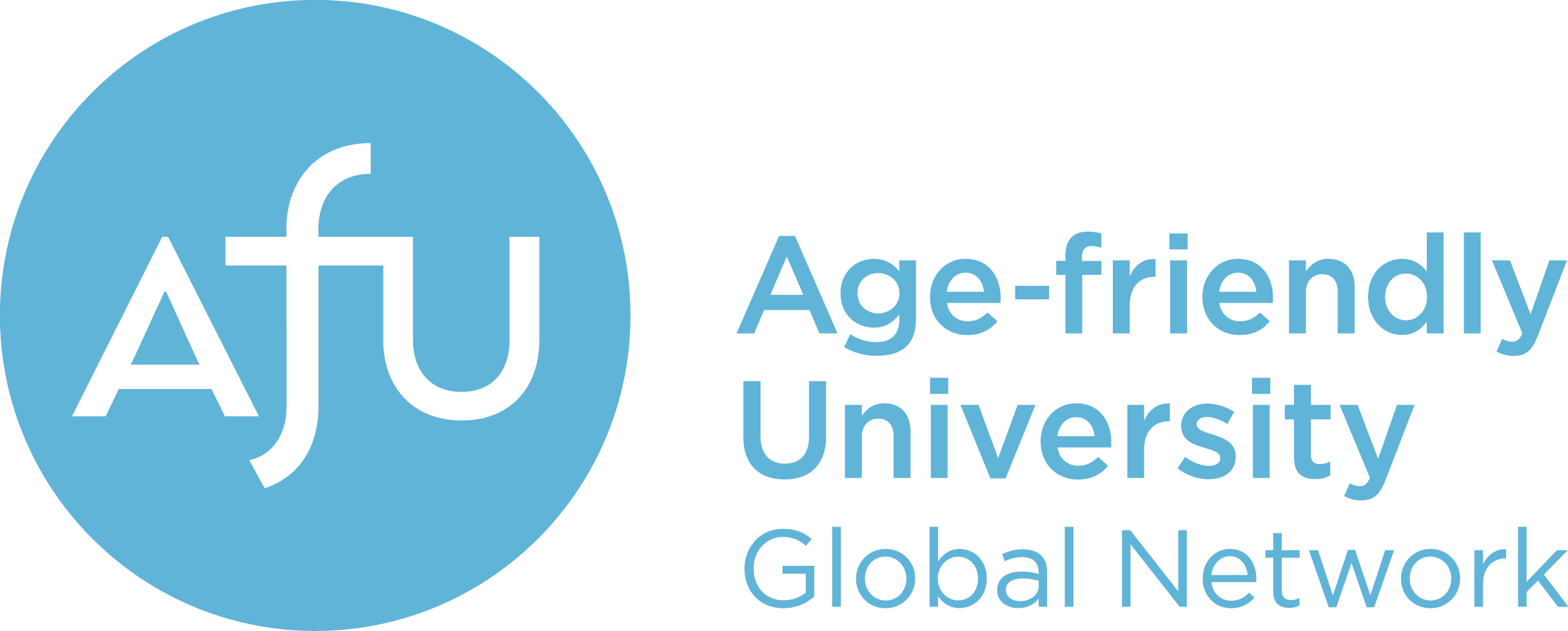 Stockton joined the AFU Global Network and endorsed the Network's Ten Principles. (December, 2018)
SCOSA continues aligning programming with AFU principles and encourage the university to practice Age Inclusivity in programs and services.
Click Here to learn more about the Global Network from the Gerontological Society of America.
Click Here for Press Release announcing Stockton's admission to network.
Learn more about the Age-Friendly Communities initiative by watching Aging Insights #113: Policies and Perspectives on Age-Friendly Communities(March, 2021, 30 minutes.)
---
SCOSA Sponsored Programming On Stockton TV Channel 9: Aging Insights and CMS & You

These informative programs, offered respectively by the New Jersey Advocates for Aging Well, and the Centers for Medicare and Medicaid Services change monthly and offer useful and informative information for older adults on a variety of topics such as choosing the right health care provider, dealing with dementia, and staying active in the retirement years. Click Here to view archived episodes of Aging Insights on your computer, tablet, or smartphone.
Business and organizations wishing to place brief (10-20 second) underwriting spots to raise awareness about their services among viewers should contact the SCOSA Director for details.
Channel 9 Broadcast Schedule *
Aging Insights CMS & You:
Monday 11:30am 5:30pm
Tuesday 5:30pm 9:30am
Wednesday 11:30am 5:30pm
Thursday 5:30pm 9:30am
Friday 11:30am 5:30pm
* Current and past programs are also available on demand by CLICKING HERE, or visiting NJAAW's YouTube Channel.
SILL Programs: Spring and Summer 2023
The tuition costs for the SILL courses is $45; and Free to residents 60 years old or older of Atlantic or Ocean Counties.
The Contemporary American Novel
Instructor: Professor Kristin Jacobson, Ph.D.
Fridays: March 3, 10, 24 and 31, 12:30-1:30 pm, Galloway Campus (Room F-224)
Register HERE
This course will outline the status of the contemporary American novel in the first session. Participants will select one to three recent American novels for the remaining three sessions, with a specific focus on contemporary American women writers as March is Women's History Month. The remaining three sessions will focus on the novel(s) selected, with lectures focused on genre, historical and cultural context, and other writers who explore similar themes. Click on Stockton Institute for Lifelong Learning to get more information about the course to read Dr. Jacobson's bio.
American History: American Foreign Policy
Instructor: Professor Richard O'Meara, Ph.D.
Wednesdays: April 5, 12, 19 and 26, 12:30-2:00pm, Manahawkin Campus
Register HERE
Contrary to popular belief, U.S. foreign policy is not constructed by the party out of power as it waits to take over. This course examines these various threads and applies them to two case studies 1) the decision to leave Afghanistan and 2) the decision to support Ukraine. Click on Stockton Institute for Lifelong Learning to get more information about the course to read Dr. Jacobson's bio.
Baseball: The Early Days       
Fridays: April 7, 14, 21, and 28, 2023 2:30-3:30pm 
Instructor: Dr. Deb Dagavarian
Galloway Campus, Unified Science Center Room 160
Register HERE
This course, led by Dr. Deb Dagavarian, will look at three periods in early Major League Baseball history. We'll start with its beginnings in the mid-19th century. Next, we will examine the "dead ball" era from 1900 to 1920. Finally, we will focus on the second World War period. Click on Stockton Institute for Lifelong Learning to get more information about the course.
American History: Getting our minds around great events: World War IInstructor: Professor Richard O'Meara, Ph.D.
Wednesdays: May 10, 17, 24 and 31, 12:30-2:00pm, Manahawkin Campus
Register HERE
WW1 is often thought of as the end of the long 100-year peace, which stretched from the end of the Napoleonic wars to 1914. During the period, Germany, Italy, Britain, France and Russia all became principal players in imperial competitions one with the other. Click on Stockton Institute for Lifelong Learning to get more information about the course to read Dr. O'Meara's bio.
Enhancing Spiritual Literacy Across 4 Themes: "Things", "Nature", "Our Body" & "Relationships"
Professor Lisa E. Cox, Ph.D., MSW, LCSW
Fridays, June 9, 16, 23, & 30, 2023
Online via Zoom
Register HERE
People enhance the quality of their lives when they pay attention to the preciousness of each moment of the day. In addition, we humans are moved by experiences that include revelations and occasions of powerful insights. Therefore, in this weekly series, participants will explore meaning in life issues and important insight related to the spiritual themes of "Things," "Nature," "Our Body" and "Relationships." Click on Stockton Institute for Lifelong Learning to get more information about the course.
Alzheimer's Caregiver Support Group


SCOSA's weekly Alzheimer's Caregiver Support Group meets on Tuesdays from 12:00 pm–1:00 pm.

Caregivers can attend, free of charge, in-person at the Galloway campus or online via Zoom. Each session includes education and support with SCOSA's experts on caregiving and mental health. The project is funded under The Older American's Act, through a grant by the Atlantic County (NJ) Area Agency on Aging.
RegisterHERE or call 609-626-3591.

Stockton is an Equal Opportunity Institution
---
For Stockton Retirees: Are you a retired employee of Stockton? If so, the university has compiled a variety of resources and services that you may find of interest. And, there is also an official organization called SURA (Stockton University Retirees Association) that you can join. SCOSA assisted in the formation of SURA and continues to be represented on its Advisory Board. Click Here for more information on retiree benefits and to learn about and join SURA.
---
Financial Support for SCOSA
Click here to donate to SCOSA's Revenue Account through Stockton's secure payment portal. (*This is not a tax-deductible donation). Or, help us to grow by making a tax-deductible contribution to the Teski Gerontology Fund. Your donation will support various SCOSA and Gerontology program activities. Named in honor of Professor Marea Teski, founder of Stockton's Gerontology Program nearly 50 years ago, the fund is a lasting tribute to this early visionary and driving force in the program. Make checks to "Teski Gerontology Fund" and send to SCOSA/SOBL, Stockton University, 101 Vera King Farris Drive, Galloway, NJ 08205-9441.

To discuss other ways of supporting SCOSA, please contact us at (609) 652-4311 or David.Burdick@stockton.edu.
SCOSA's Older Adult Programs are funded, in part, under Title III of the Older Americans Act of 1965, as amended, through grants from Atlantic County, Cape May County, and Ocean County Area Agencies on Aging. Federal regulations require us to inform participants that voluntary donations to SCOSA are welcome. Such donations are not a fee and are not required. Any donations received will be used to develop and operate our programs.

SCOSA encourages fragrance-free environments in all of our programming.
Chemical fragrances in many personal care, household and institutional cleaning products can cause severe reactions for some individuals and can be harmful to everyone in less apparent ways.