Stockton Institute for Lifelong Learning
SCOSA is pleased to sponsor the Stockton Institute for Lifelong Learning (SILL), spearheaded by SCOSA Fellow and Associate Professor of Psychology Christine Ferri, Ph.D. SILL's Spring 2021 offerings are listed below, followed by brief descriptions and biographies of the presenters. Space is limited, tuition is reasonable, and we hope to expand this programming that let you learn from and interact with Stockton's accomplished faculty. For further information please contact SCOSA Director David.Burdick@stockton.edu, or Fellow Christine.Ferri@stockton.edu or call 609-652-4311.
For a printable flyer of October Programs CLICK HERE. Feel free to distribute and share.
Fridays: October 15, October 22, October 29, November 5th
2:30-3:30 pm, Galloway F-226 and Zoom
$45 for all 4 sessions
Professor Kameika Murphy
Click here or call (609)626-3591 to register
Fridays: October 15, October 22, October 29, November 5th
3:45-4:45 pm, F-226 Galloway F-226 and on Zoom
$45 for all 4 sessions
Professors Tait Chirenje and Patrick Hossay
Click here or call (609)626-3591 to register
This course offers a Black Atlantic take on the American Revolution. The approach allows us to view the American wars for independence from the perspective of Africans and people of African descent. In so doing, we seek to cast a very familiar topic (the Revolution) into new light. The course traces various developments that resulted from the wars as they were understood and experienced by Afro descendants who participated as central actors shaping its outcome.
The fate of our survival, and that of the planet, is closely related to how we deal with the most pressing environmental challenges facing us. This course covers some of the major environmental issues we face: urbanization, water quality, air quality (including climate change), and loss of biological diversity. We will also examine some of the most promising solutions, including alternative energy, smart community design, and electric vehicles.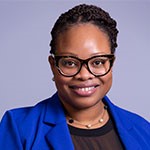 Kameika Murphy is an Atlantic World historian with expertise on the Black Atlantic. She is an assistant professor at Stockton University whose research pays special attention to military communities as a lens through which politics, agency, mobility, and culture in slave societies can be understood in much broader contexts, beyond conflict and war.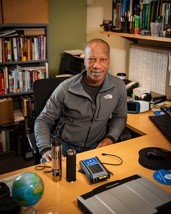 Tait Chirenje is a Professor of Environmental Science and Sustainability. His research focuses on trace metal chemistry, surface water chemistry, indoor air quality assessment, Brownfields characterization, Phase I and II site assessments, and urban geochemistry. Recently, he started Zimbabwe Book Project.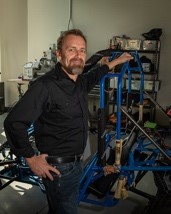 Patrick Hossay heads the Energy Studies and Sustainability programs at Stockton University where he teaches courses in automotive technology, green vehicle innovations, and energy science. He is also an experienced aircraft and automotive mechanic and enjoys restoring classic cars and motorcycles.