Stockton Institute for Lifelong Learning
SCOSA is pleased to sponsor the Stockton Institute for Lifelong Learning (SILL), spearheaded by SCOSA Fellow and Associate Professor of Psychology Christine Ferri, Ph.D. SILL's initial offerings are highlighted in the flyer below. Space is limited, tuition is reasonable, and we hope early successes will lead to expanded programming that let you learn from and interact with Stockton's accomplished faculty. For further information please contact SCOSA Director David.Burdick@stockton.edu, or Fellow Christine.Ferri@stockton.edu or call 609-652-4311.
REGISTER HERE

* For brief Speaker Biographies please scroll to the bottom of this page.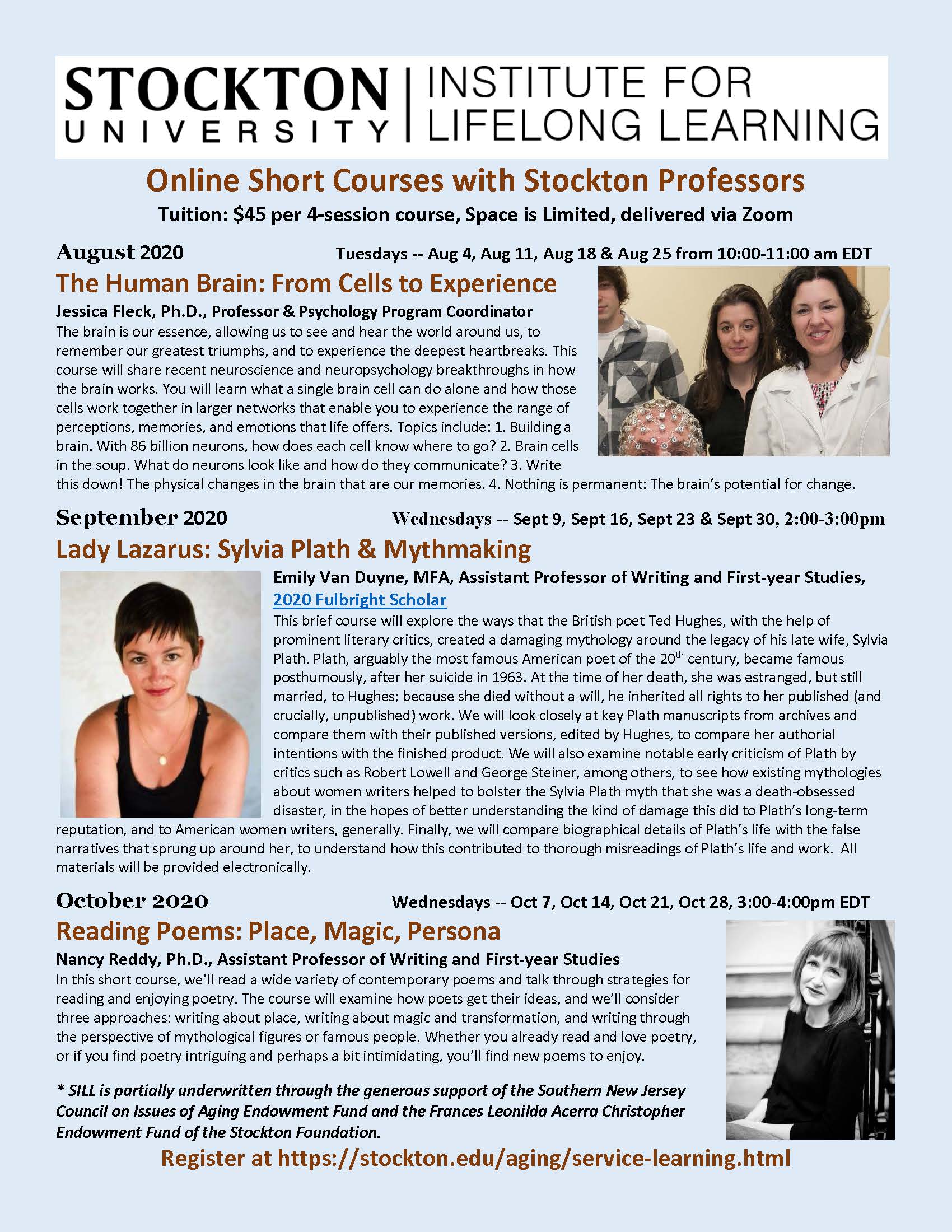 About our Distinguished Speakers:
Dr. Jessica Fleck is an Associate Professor of Psychology at Stockton University, where she offers introductory and advanced coursework in neuroscience. Dr. Fleck earned a PhD in Cognitive Neuroscience from Temple University and completed her postdoctoral training in brain imaging methods at Drexel University. Her research has explored a range of brain-related topics including the neural underpinnings of creativity, the sequence of neural events that lead to sudden insights, and the changes in brain networks during healthy aging and clinical disease. Currently, Dr. Fleck is exploring the role of various lifestyle factors, such as social engagement, education, and exercise on maintaining healthy brain function during aging.
Emily Van Duyne teaches writing at Stockton University, where she is also affiliated faculty in Women's, Gender, & Sexuality Studies. Her current research focuses on the American poet Sylvia Plath, and the ways her biographical and literary legacy has been constructed in the wake of her 1963 suicide through editorial censorship and literary and cultural tropes, such as the unreliable narrator. Her monograph Loving Sylvia Plath (forthcoming with W.W. Norton & Co.) uses intersectional feminist theory ranging from epistemic philosophy to postcolonial criticism to better understand how the world has come to know a mythologized "Sylvia Plath." Her other work on Plath looks at the role of domestic violence and sexual assault in Plath's biography and work, and can be read in the Harvard Review, Literary Hub, and elsewhere.

As a 2021 Fulbright Scholar, Van Duyne will teach a course on Sylvia Plath at Aristotle University, in Thessaloniki, that will focus on Plath's drafting and editorial process, and will make use of archival materials from Smith College's Mortimer Rare Book Room and Emory University's Rose Library. She will also begin research about the influence of the Greek philosopher Plato on Plath's famed Ariel poems, for a new monograph, which will be the first on this particular element of Plath's work. This research combines Greek literature and the history of the Fulbright program, as Sylvia Plath first read Plato while studying at Cambridge University on a Fulbright Scholarship from 1955-1957. It was during this time that she met and married the poet Ted Hughes, who would go onto become Britain's poet laureate; their marriage and creative partnership would change 20th century poetry. Plath's annotations in her editions of Plato from her Fulbright act as footnotes to her early love affair with Hughes, while her Ariel poems, written while her marriage to Hughes collapsed, are heavily influenced by Plato's Republic and Crito, and can be read as a meditation on the end of romantic love, and on suicide. Additionally, Van Duyne will help to organize a "Sylvia Plath & Fulbright" symposium, which will take place at Aristotle University in May 2021. She hopes that these projects will expand international understanding of Plath's wide literary and philosophical influences, and continue to change our limited understanding of her from a psychological case study into the landmark writer she was. (Source: https://www.fulbright.gr/en/grantees/us-grantees/profiles/2020-2021/1272-emily-may-van-duyne)
Nancy Reddy is the author of Double Jinx (Milkweed Editions, 2015), a 2014 winner of the National Poetry Series, and Acadiana (Black Lawrence Press, 2018). Her poems have appeared or are forthcoming in The Gettysburg Review, Pleiades, Blackbird, Colorado Review, The Iowa Review, Smartish Pace, and elsewhere, and her essays have appeared most recently in Electric Literature, The Adroit Journal, and Motherfigure. The recipient of a Walter E. Dakin Fellowship from the Sewanee Writers' Conference and grants from the New Jersey State Council on the Arts and the Sustainable Arts Foundation, she is an Assistant Professor of Writing and First Year Studies at Stockton University.