Service Learning
Recent Service Learning Activities
Freshman Writing Seminar Promotional Flyers
Recently, SCOSA director Dave Burdick and Stockton retirees Barbara Reynolds (Free-To-Be) and Gene Cranmer (Computer & Telecommunications Services) met with a freshman writing class to view and evaluate a writing assignment, which involved learning about SCOSA and then creating promotional flyers that could be used to promote SCOSA activities to retirees.
The assignment was envisioned by associate professor of first year studies and writing Heather McGovern as a way to make the assignment real, thereby raising the bar and fostering civic engagement. Students' assignments were creative and thought-provoking, each with its own unique twist. McGovern later thanked the guests, writing: "Thank you for taking some of your valuable time to help them learn. Some have received mostly negative messages about their writing ability. Knowing that I trust them to produce work for real people outside the classroom, and to have you participate in treating them with respect and valuing their work--and helping to educate them--makes a difference."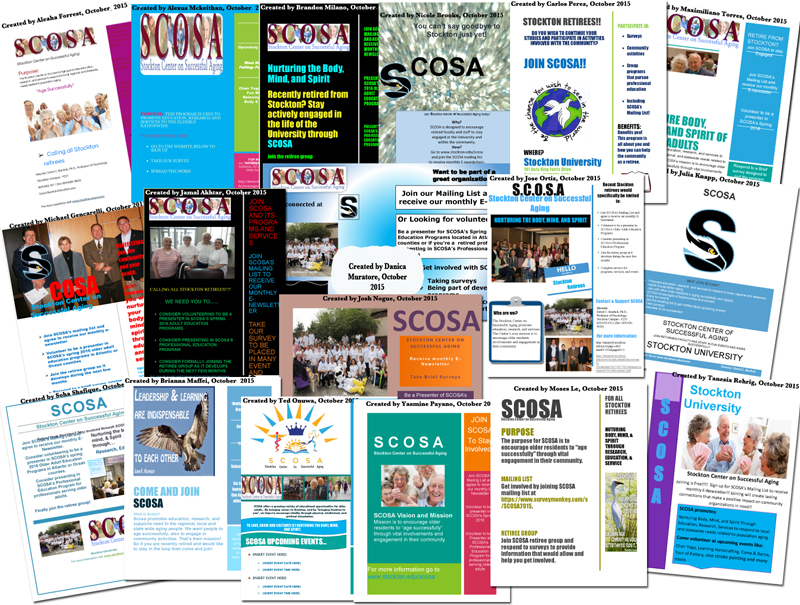 SCOSA's Intergenerational Service Project - Sharing Across Generations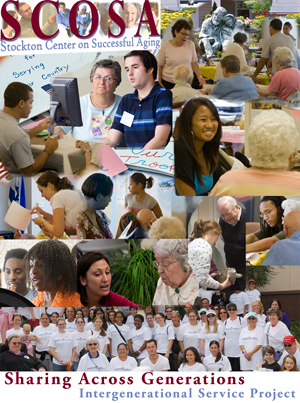 Are you looking for a new way to provide service to our community?

Consider joining SCOSA's Intergenerational Service Project. We'll be pairing older adults in the community with students to work together on different service projects throughout the school year, creating lasting connections that make a positive impact on community organizations and agencies in need.
Contact Christine Ferri, PhD, SCOSA Education Chair for details.