The Stockton Center on Successful Aging
SCOSA Vision and Mission
The Stockton Center on Successful Aging promotes education, research, and services to respond to local, regional, and statewide needs related to population aging. The Center's core mission is to encourage older residents to "age successfully" through vital involvements and engagement in their community.
---
SCOSA News and Events

Click Here to register for our programs and events.
---
Program Changes & Event Cancellations
Check here before you leave!
April 24, 2018 - Merengue
Merengue at Kramer Hall will be rescheduled for a later date. More details will be provided when a new date is selected. Sorry for the invonvenience.
April 25, 2018 - Brain Fitness and Memory Screening
Brain Fitness and Memory Screening at Woodview Estates, originally scheduled for April 25th, has been cancelled.
Check the top of the Stockton Homepage for any campus wide weather-related or emergency closures.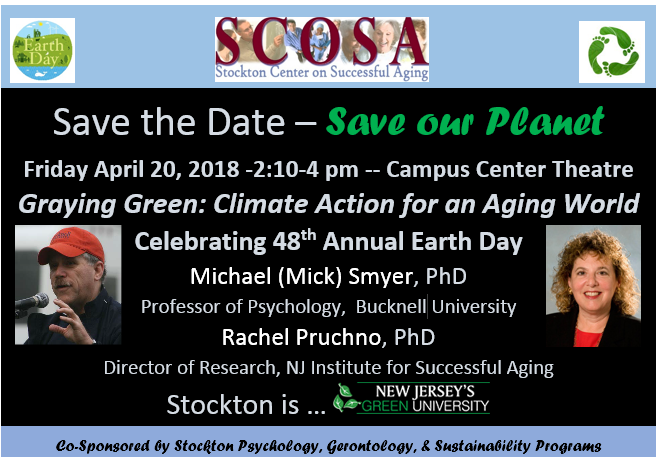 ---
Quick Access to Information
Click Here to join our mailing list to receive montly E-News and occasional mailings or to register for events.
Click Here for a map of Stockton's campus.
Click Here for Pickleball information.
---
Useful Resources for Older Adults
Anti-Fraud Hotline and Web Form for Older Adults
The U.S. Senate Special Committee on Aging has set up a toll-free hotline (1-855-303-9470) to help older adults who suspect fraud or a scam may be occurring. The hotline will make it easier for older Americans to report suspected fraud and find assistance for themselves or for someone they know. A team of investigators will help figure out what steps to take to combat possible investment scams, identity theft, bogus sweepstakes and lottery schemes, Medicare and Social Security fraud, and a variety of other consumer issues.
Anyone with information about suspected fraud should reach out to an investigator by telephone (9:00 a.m.–5:00 p.m. EST) or through a web form that will send an email to the investigative team.
CMS and You on Stockton TV Channel 9 at 5:30pm, with Aging Insights at 6:00pm, Monday through Friday
April 2018 Programs: Diabetes (CMS & You), Art Programs With Purpose (Aging Insights #79)
March 2018 Programs: Community Health Centers (CMS & You), Rx Assistance & Community Services (Aging Insights #78)
February 2018 Programs: Opiod Crisis (CMS & You), Options for Aging in Place (Aging Insights #77)
January 2018 Programs: Fraud - SMP (CMS & You), Don't Be in the Dark - Utility Assistance (Aging Insights #76)
These informative programs, offered respectively by the Centers for Medicare and Medicaid Services and the New Jersey Foundation for Aging, change mid-month, and offer useful and informative information for older adults on a variety of topics such as choosing the right health care provider, dealing with dementia, and staying active in the retirement years. Click Here to view archived episodes of Aging Insights on your electronic device (computer, tablet, smartphone).
Business and organizations wishing to place brief (10-20 second) underwriting spots to raise awareness about their services among viewers should contact the SCOSA Director for details.
---
Financial Support for SCOSA
Click here to donate to SCOSA's Revenue Account through Stockton's secure payment portal. (*This is not a tax-deductible donation).

Help us to grow by making a tax-deductible contribution to the Teski Gerontology Fund. Your donation will support various SCOSA and Gerontology program activities. Named in honor of Professor Marea Teski, founder of Stockton's Gerontology Program, the fund is a lasting tribute to this early visionary and driving force in the program. Make checks to "Teski Gerontology Fund" and send to SCOSA/SOBL, Stockton College, 101 Vera King Farris Drive, Galloway, NJ 08205-9441.

To discuss other ways of supporting SCOSA, please contact us at (609) 652-4311.
We encourage fragrance-free environments in all of our programming.
Chemical fragrances in many personal care, household and institutional cleaning products can cause severe reactions for some individuals and can be harmful to everyone in less apparent ways.