Anyone Can Become a Scientist at Sciencepalooza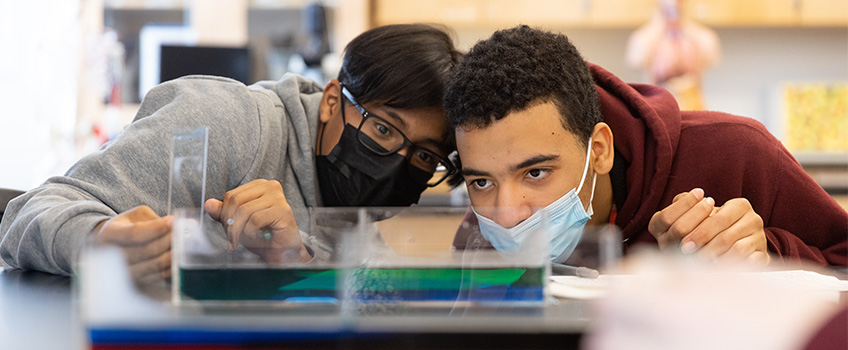 Galloway, N.J. – Freshman and sophomore students from Cumberland Regional High School and Camden County Technical Schools (CCTS) had the opportunity to learn about Stockton University and various careers in the STEM fields as part of Sciencepalooza on Jan. 5.
Students participated in workshops on topics such as marine science and biology, all led by Stockton's School of Natural Sciences and Mathematics (NAMS) faculty. In the workshops, the high schoolers:
Examined the internal and external anatomy of oysters with Christine Thompson, associate professor of Marine Science
Learned how we encounter rocks and minerals everywhere in our daily lives with Matthew "Rocky" Severs, associate professor of Geology
Looked through microscopes and observed the cells of animal brains with Nathaniel Hartman, associate professor of Biology
Diagnosed metabolic diseases of amino acids with Kelly Keenan, professor of Chemistry
Used wave flumes (tanks of colored water) to explore the physics of beach erosion with Anna Pfeiffer-Herbert, associate professor of Marine Science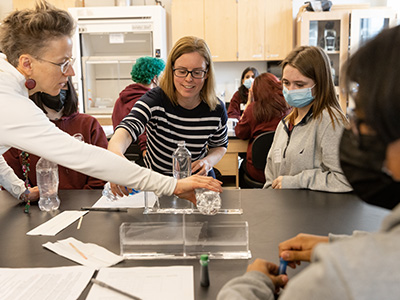 CCTS–Gloucester sophomore Stella Saracanlao, of Lindenwold, attended Pfeiffer-Herbert's workshop, where she tested and calculated the density of cold and warm water, how that connects to the water cycle and why beach erosion occurs during storms.
"In the physics workshop, we went in-depth with what I already know, like, I didn't know that we had local estuaries (freshwater stream/river meeting the salty ocean) in Camden," Saracanlao shared. "I found that surprising."
Saracanlao and sophomore Zyairah Crisdon, of Camden, both attended Sciencepalooza last year and said they really enjoyed it both times.
"It's pretty good; this is my second time here, and if we have the choice to come back here, I definitely would," Crisdon said. "I've even considered making (Stockton) one of the colleges that I (apply to) study at. In the future, I want to be an herbalist and a photographer."
"I didn't really have any high expectations last year and just wanted to attend to see what would happen, but it was actually pretty fun and showed a lot of options of what I can do here," Saracanlao said. "My favorite part of last year was when they let us outside and showed us the Sustainability Farm where there were plants and greenhouses that students made. I thought that was very interesting!"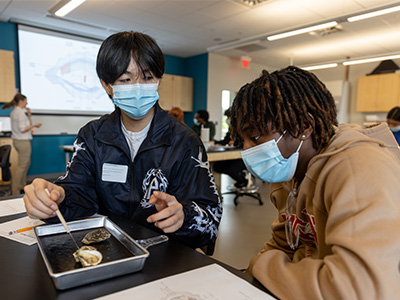 Sciencepalooza was born out of the COVID-19 pandemic. In an effort to connect with students, the NAMS department created a virtual program that allowed professors to "visit" high schools and conduct different lessons in science, technology, engineering and mathematics.
Adriane Sicknick of the NAMS department said the online program was successful, especially after collaborating with Malcolm X. Shabazz High School of Newark for monthly STEM fairs. Once programs began to appear back in person, Sicknick and the NAMS faculty were eager to continue what they started online on campus.
Along with previous science lessons and demonstrations, participating high schoolers across the state are now able to visit the Stockton campus and labs while also learning how to prepare and apply for college.
It's really good to get them here and have them see this environment and getting to see what they can do. It shows them that it's not impossible to get to this level as an adult or professional in science.
"It's evolving, and we hope it continues to grow," Sicknick said. "Although we love to toot our own horn about Stockton's science programs, our Admissions office does a great job of discussing what it's like to prepare for college and making decisions surrounding financial aid for both Stockton and other schools. They give them all kinds of advice, which is nice, especially if those students are first-generation."
According to Sicknick, the point of the program is to have students walk away with the knowledge of different career opportunities in STEM fields and to introduce them to the leaders in those industries that teach here at Stockton.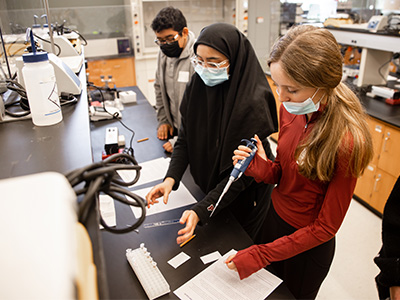 "Sometimes it's not communicated, or it's not easily understood how many careers there are in STEM unless you meet with someone on a higher level that is aware of the industry and willing to give you little feelers of what you can do," Sicknick said. "Just off the top of my head, for example, the Sustainability field. Some people might not know what that is and think that it's just doing things involving recycling and wind turbines, but there's so much more, like creating policies in (environmental) law. There are many career choices that fall within science that you might not be aware of as a young person."
Reaching this goal requires a team; along with NAMS faculty, Stockton students volunteered to help out during the day. Students led experiments with small groups, helped the high schoolers find their classrooms and, overall, showed the students what being a college student is like.
Dylan Caccamesi, Katelyn Brink, Rachel Fisher and Brian Bowen are members of Stockton's Geology Club. The seniors were glad to offer their assistance, especially since Severs is their faculty advisor.
"Rocky's presentation was showing how minerals are used in our day-to-day lives, how they're so important and all around us," Fisher, a Sustainability major, said. "It was interesting to see the kids get interested in that."
"I liked seeing these students getting to understand science in a way that I never got to learn at their age and that they're opening up to it, geology especially," said Brink, who's majoring in Mathematics. "I had very small introductions to geology in high school, but they're getting to actually see the rocks and minerals, which will maybe give them the idea to learn more about geology in the future."
Caccamesi, a Geology major and president of the club, said he appreciated how the students explored different disciplines of science throughout the day. He thinks this experience will help them better conceptualize a day at a college or university.
"In high school, you hear a lot about college from advisors, teachers, parents and counselors, but you get so much information thrown at you at once," Caccamesi said. "It's really good to get them here and have them see this environment and getting to see what they can do. It shows them that it's not impossible to get to this level as an adult or professional in science. Even with us, sometimes, it seems a little far away because we're busy doing homework assignments and papers. But, we do real work that we didn't think we would do at their age, so they get to see that the next step is really on the horizon."
-Story by Loukaia Taylor
-Photos by Susan Allen