Successful Aging Festival Pairs Seniors with Services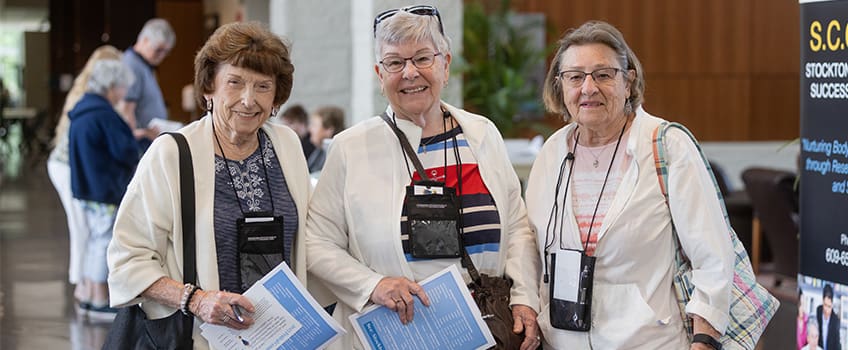 Galloway, N.J. ― By 2030, 1 in 5 adults will be over the age of 65.
The fastest growing segment of the population is those over the age of 85.
Eight out of 10 seniors want to stay in their homes and "age in place."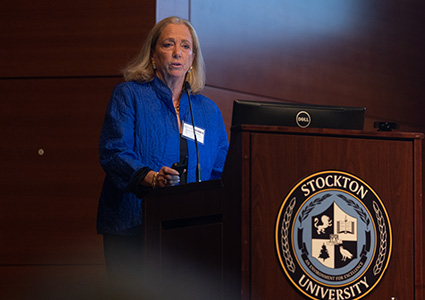 This is the message Barbara Hughes Sullivan, national director of the Village to Village Network, brought to the Successful Aging Festival at Stockton on May 23.
"Technology, smart devices, telehealth — these all help seniors to plan ahead for aging in place," said Sullivan, the keynote speaker.
The daylong event was organized by the Stockton Center on Successful Aging (SCOSA), and drew about 350 seniors from Atlantic, Cape May and Ocean counties. Attendees had the opportunity to attend breakout sessions where they learned tips for healthy eating, exercise and using smartphones. They could also gather information from over 40 exhibitors and vendors, ranging from physical therapy to assisted living to insurance.
"I came out to get information about the different resources available should something happen to me," said Len Walk of Absecon, ticking off the exhibitors he met with. "I got some good information on hospice, cremation, physical therapy. These are not things you look forward to learning about, but at this point I have to start thinking about them."
Luisa Eng and Ursula Potkay, both of Absecon, regularly attend a SCOSA-sponsored support group and came together to the festival.
"Both of our husbands have dementia. We want to gather as much information as we can about available resources," Eng said.
Cindy McNellis, executive director of the Atlantic County Office on Aging, was excited to meet with so many seniors at one time.
"The energy just takes you away," she said of the bustling Event Room. "Most people are interested in how they can remain living in their community with quality of life."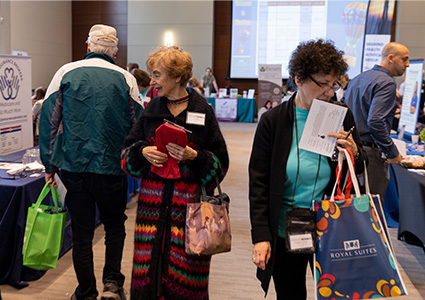 McNellis said the county has a number of programs to assist, including free installation of grab bars and other minor repairs, Medicare counseling, home-delivered meals, transportation and more.
"I have worked in gerontology for four decades," said David Burdick, SCOSA director and professor of Psychology. "There did not used to be so many community-based services, and it is so important to connect our older residents with all of these resources to help them continue leading their lives on their terms. That means 'aging in place' for many of today's elders."
In her presentation, Sullivan emphasized the need for these services and connecting seniors to them at events like the festival. "The components of successful aging include safe, affordable, accessible housing; community engagement; health and well-being; and independence and autonomy."
"We had a great turnout this year and are so grateful to our exhibitors and sponsors," said Gina Maguire, SCOSA's coordinator of Older Adult Programs and lead festival organizer. "After three years of pandemic-related cancellations, even the exhibitors noticed the difference in terms of interest and enthusiasm by our guests."
The Successful Aging Festival also featured performances by Lois Allen and The Silver Tappers, a dance troop featuring 11 women between the ages of 61 and 86, and the band Pan Gravy. The bluegrass quartet includes lead vocalist Sharon Garland and current and former Stockton faculty members Frank Cerreto, Peter Hagen and Rodger Jackson.
May is Older Americans Month. The 2023 national theme of "Aging Unbound" focuses on ways older adults can thrive and advocate for themselves, their peers and their communities and explore other new opportunities.
Kaylee McGuire, deputy director of the N.J. Department of Human Services, read the Governor's Proclamation designating May as Older Americans Month in New Jersey. She also had the opportunity to briefly discuss potential collaborations and funding opportunities with Harvey Kesselman, who is retiring as Stockton's president next month.
SCOSA acknowledged over a century of combined community leadership by Kesselman, '71, and two other Stockton alumni – the Honorable Christopher J. Connors, '75, who has announced he will not seek reelection to the N.J. Senate, and Lori Herndon, '92, president and CEO of AtlantiCare, who retires this month.
Learn more about SCOSA's year-round programming at https://stockton.edu/aging/. View photos of the festival.
--Photos by Susan Allen
# # #

Media contacts:
Stacey Clapp
Director of Strategic Communications
Galloway, N.J. 08205
Stacey.Clapp@stockton.edu
609-626-3645
609-412-8069
stockton.edu/media


Mark Melhorn
Associate Director of News and Media Relations
Mark.Melhorn@stockton.edu
609-652-4593
609-569-6026
stockton.edu/media