Christopher C. Catching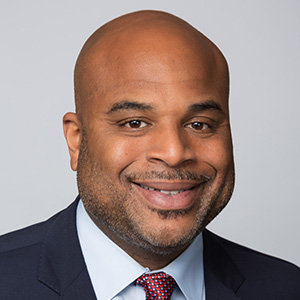 Vice President for Student Affairs
Dr. Christopher Catching is a dedicated educator, passionate about providing students with access to transformative learning opportunities. Dr. Catching was selected as Vice President for Student Affairs at Stockton University in fall 2017, and began his work here in February 2018.
The foundation for Dr. Catching's commitment to educational access was established during his undergraduate experience. A native of Newark, NJ, Dr. Catching pursued higher education through the Educational Opportunity Fund Program (EOF) at Montclair State University and was the first person in his family to graduate from college. He was recognized in 2012 with the Governor Thomas Kean Distinguished Alumni Award from the New Jersey Educational Opportunity Fund Program.
Dr. Catching's experience in strategic planning and student success programs such as EOF, and his interest in social justice and inclusion, mesh with Stockton's mission to develop engaged and effective citizens and provide an environment of excellence for a diverse student body.
The Division of Student Affairs works closely with university and community partners to ensure that all undergraduate and graduate students have access to transformative learning opportunities, programs and services that prepare them for life-long success. Reporting to Dr. Catching are offices led by educators and students that create an environment conducive to student success. These offices work with academic partners to help students with their initial enrollment and financing of their education, academic and social transition to Stockton, connection in residential learning communities, holistic health and wellness, and leadership, professional and career development.
Dr. Catching comes to Stockton from Southern Connecticut State University where he served as Assistant Vice President for Student Affairs. Previously, he served as Coordinator for Greek Leadership Development at Seton Hall University, Director of Multicultural Engagement at Rutgers University and Assistant Provost at Hofstra University.
Dr. Catching earned his Doctorate in Education at Rutgers University, his Master of Arts in Higher Education from New York University, and his Bachelor of Arts from Montclair State University.