Christopher C. Catching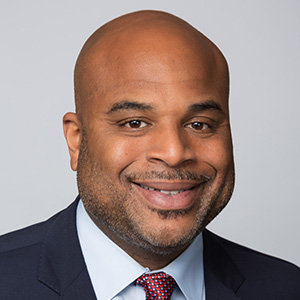 Vice President for Student Affairs
Dr. Christopher Catching joined Stockton as the Vice President for Student Affairs in February 2018, bringing over 20 years of experience in student success leadership in higher education. His interest and commitment to public higher education and equitable student success began during his experience as a first-generation college student. A native of Newark, NJ, Dr. Catching attended college with the support of the Educational Opportunity Fund Program (EOF) a New Jersey state initiative that provides access to higher education for first-generation college students from families and communities disadvantaged by low income and the lack of access to the quality educational preparation necessary to attend college.
As the Chief Student Affairs Officer, member of the University senior leadership team and primary liaison to the Board of Trustees Standing Committee on Student Success, Dr. Catching leads a committed community of educators in the Division of Student Affairs who support student success by providing resources that support students' wellbeing, academic achievement, development and career-readiness. The Division of Student Affairs received national recognition as one of the Most Promising Places to Work in Student Affairs by Diverse Issues in Higher Education in 2022 and by NASPA-Student Affairs Administrators in Higher Education for its support of first-generation student success in 2021.
Dr. Catching's recent leadership roles prior to joining the Stockton community include Assistant Vice President for Student Affairs at Southern Connecticut State University, Assistant Provost and Executive Director for the Arthur O. Eve Higher Education Opportunity Program (HEOP) at Hofstra University, and Director of Multicultural Engagement at Rutgers, The State University of New Jersey. He has contributed to student learning in the classroom and scholarship in the area of student access and success as an adjunct instructor in Social Foundations of Education and through edited publications, peer-reviewed journal articles and national conference presentations.
Dr. Catching is active with several professional and community organizations. He is a member of ACPA- College Student Educators International, NASPA-Student Affairs Administrators in Higher Education, American Association of State Colleges and Universities (AASCU), is a Life Member of Iota Phi Theta Fraternity, Incorporated, where he serves as a member of its Board of Directors, is a Trustee for the AtlantiCare Regional Health Services Board and is a member of the Board of Directors for the African American Heritage Museum of Southern New Jersey. He is the recipient of professional and community awards that include, ACPA-College Student Educators International Diamond Honoree, Governor Thomas Kean Outstanding EOF Alumni Award, and Newark (NJ) Public Schools Principal for a Day.
Dr. Catching received a Doctorate in Social and Philosophical Foundations of Education from Rutgers, the State University of New Jersey, Master of Arts in Higher Education and Student Affairs from New York University and Bachelor of Arts in History from Montclair State University. He completed executive leadership education at the Harvard Graduate School of Education, Institute for Education Management and the American Association of State Colleges and Universities (AASCU) Millenium Leadership Initiative.