Jennifer Potter, CPA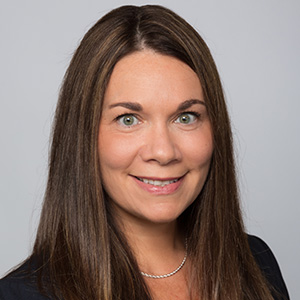 Vice President for Administration and Finance and Chief Financial Officer

As Vice President for Administration and Finance and Chief Financial Officer, Jennifer is responsible for planning, directing and monitoring all the financial activities of the University. Jennifer oversees the following offices: Budget, Financial Planning and Campus Services, Disbursement Services (Accounts Payable and Payroll), Fiscal Affairs and Procurement, Contracting and Risk Management.
Jennifer is a member of the President's Cabinet and she serves as the primary liaison to the following Board of Trustees Standing Committees: Finance and Professional Services, Audit, and Investment.
Jennifer's previous positions include Associate Vice President for Finance and Controller at Rider University, the Associate Director of Internal Audit at Princeton University, and Senior Manager in the Higher Education and Not-for-Profit Practice at KPMG LLP.
She is a Certified Public Accountant licensed in the State of New Jersey and the State of New York. Additionally, she is an active member of the American Institute of Certified Public Accountants, the New Jersey Society of Certified Public Accountants, the National Association of College and University Business Officers, and the Eastern Association of College and University Business Officers.
Jennifer is actively involved in the community. She currently serves on the Southampton Township Board of Education demonstrating her commitment to student success, community engagement, and financial accountability and transparency. She was elected to the Board in November 2015. She served as Vice President during 2017, 2018 and 2019. She has chaired the Budget, Finance and Facilities Committee, the Personnel and Student Services Committee, and the Negotiations Committee.
In addition to her service on the Southampton Board of Education, she was appointed to the New Jersey American Council on Education Women's Network Board of Directors effective July 2020. She also serves as the Treasurer on the Board of Kaleidoscope Therapeutic Riding Program, a small not-for-profit based in Medford, NJ. She is an active member of the Southampton Parent Teacher Association, the Southampton Parent Advisory Group, and the New Jersey Commission on Deaf-Blindness Parent Advisory Committee.
Jennifer earned a Bachelor of Science degree in Accounting from The College of New Jersey and a Master of Business Administration from Stockton University.