Welcome Stockton Community!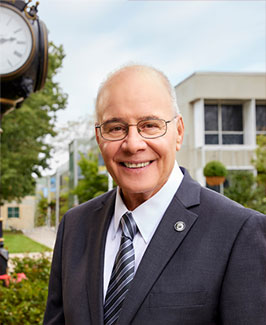 What a wonderful time to be an Osprey! The start of the academic year always ushers in excitement, as we open our doors to new faces, places, and opportunities. This year is perhaps the most significant since the original classes started in the Mayflower Hotel in 1971.
With great anticipation, our Stockton University Atlantic City Campus has opened its doors to receive our first wave of Stockton students, who will experience beachfront living and learning like none other. Moreover, our Galloway campus looks more beautiful than ever, and provides more opportunities for our students to lead in areas including sustainability, chemistry and physical therapy with the Academic Quad expansion as well as our newly renovated classrooms.
But no matter which Stockton campus you choose to call home, our pursuit of scholarly excellence is full of hope and optimism. You see, we are more than our location. Stockton is our students, faculty and staff. From the sandy pines to the sandy beach, we are more the same than we are different. We are connected...connected in our vision for the future, connected in our core values, and connected in our commitment to Stockton's guiding principle: Students First.
Stockton University cares for our students as cherished members of the community. This is why we are taking the opportunity to redouble our commitment to civility, safety and community in a Culture of Respect. During Welcome Week, orientation sessions emphasized our ongoing and increasing responsibility to respect each other and to look out for one another. But we won't stop there. We are going to increase and enhance our efforts to promote a Culture of Respect every day in both small and large ways.
To kick off this initiative, Stockton will host a town hall meeting on the Culture of Respect on Thursday, September 13, 2018, in the Campus Center Event Room at 4:30 p.m. We invite all of you to attend and participate in this critical dialogue. But be assured, this event will focus on more than just a conversation. This event will be a call to action for everyone, our entire Stockton community, to continue in our pledge to champion civility, reinforce campus safety, and promote our connectedness in community.
So as we begin this new chapter in the history of the university, please join me in standing firm in our commitment to strengthen and augment a Culture of Respect, as we strive every day to cultivate and encourage a diverse, inclusive campus environment where we can proudly proclaim, "We are Osprey strong."
Dr. Harvey Kesselman
President