New Initiative Seeks to Empower Women
New Initiative Seeks to Empower Women
The Stockton University Foundation recently introduced the Stockton Women's Leadership Council.
by Stacey Clapp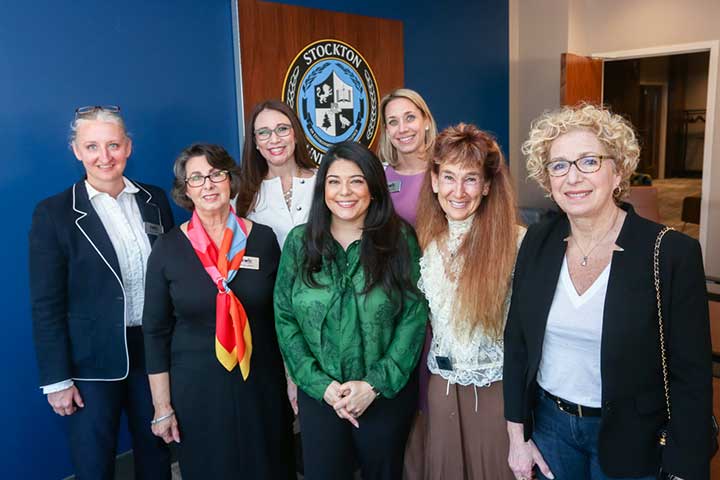 Cristina Stummer '98 says Stockton University had a huge impact on her life, setting the stage for her to become a successful environmental lawyer.
"It was where I learned to be an environmental scientist," said Stummer, who went on to attend Vermont Law School and is now a partner at Saul Ewing Arnstein & Lehr in Princeton.
Stummer fondly recalled the support she received as a student and is now championing a new initiative conceived by the Stockton University Foundation. She is a founding member and first chair of the Stockton Women's Leadership Council (SWLC), which is committed to the empowerment of women and seeks to promote networking among women and the community.
"I understand the struggles of women going through undergrad to law school and trying to make it in the world," Stummer said. "The council is giving me an opportunity to give back, make future business leaders and continue to move the bar for women."
The SWLC offers a platform for professionals to build relationships, discuss issues related to women, engage in mentorship opportunities, and explore ways that relevant program events and leadership development opportunities can be supported by enhanced philanthropy.
The council has about 20 members, including Stockton staff, faculty, alumni and foundation members.
To support the mission, SWLC members who join the Scholar Program will provide their time and talent through mentoring female Stockton students, instruction, and personal and career development. A pilot program is running with four mentors and mentees.
One goal is to further develop and strengthen this mentorship program.
"We hope to develop relationships between business women and young women to foster them in all aspects from résumé—how to dress, how to succeed in corporate America," Stummer said. "We want to make sure they have the basics of life. What does it mean to start your own biz, file tax returns or purchase real estate?"
The pilot program is already having an impact.
"This program has helped me step out of my comfort zone in a variety of ways. From public speaking at meetings, to networking with notable women in the council, I have seen significant progress in my ability to communicate effectively and confidently," said Tina Byrne, a sophomore majoring in Communication Studies and minoring in Business Studies. This semester, Byrne worked with mentor Susan Adelizzi-Schmidt, an adjunct instructor at Stockton and president of Suasion Communications.
"

The council is giving me an opportunity to give back and continue to move the bar for women."

"My mentor and I have developed a relationship that has provided me with an incredible amount of confidence, security and support. Susan has helped me perfect my résumé, cover letter, LinkedIn profile and interview skills in order to obtain internships and jobs in the future," Byrne said.
Among its initiatives, the council plans to bring in multiple speakers each year, offer professional development opportunities and create a philanthropic component to support scholarships.
In April, Ferial Govashiri, former personal aide to President Barack Obama, was the inaugural speaker, for the "Distinguished Women. Distinctive Voices" series, sponsored by the SWLC.
Govashiri's talk, Tiny Cracks: Breaking the Glass Ceiling, offered her unique perspective on how women can be successful and achieve positions that have been traditionally dominated by men, while expanding on themes such as the power of confidence, determination and risk-taking in decision-making.
Students also had the opportunity to ask Govashiri directly for advice. Networking and locating a mentor were high on her list of tools to succeed.
"It's good to have somebody who has a different perspective to help you make decisions," Govashiri said; although she admitted she is still searching for the right mentor in her own life.
She also encouraged students to be adaptable. "Know that along the way other opportunities will come along and you have to be nimble and open to them. Your goals change, and that is okay."
Stummer has her own tips for young women about to enter the workforce.
"Always believe in yourself. Look for allies at all opportunities. For the most part, people want to help," she said.
And while still at Stockton, "Take advantage of university resources and maximize your education to get tools to do whatever you want in life."
For information about the SWLC, call Associate Director of Special Events Alicia McMackin '03 at 609-652-4861 or visit stockton.edu/swlc.