Weather Enthusiast's Hobby Springs into Much More
Weather Enthusiast's Hobby Springs into Much More
Jonathan Carr '07 focuses on forecasts.
by Mandee McCullough '04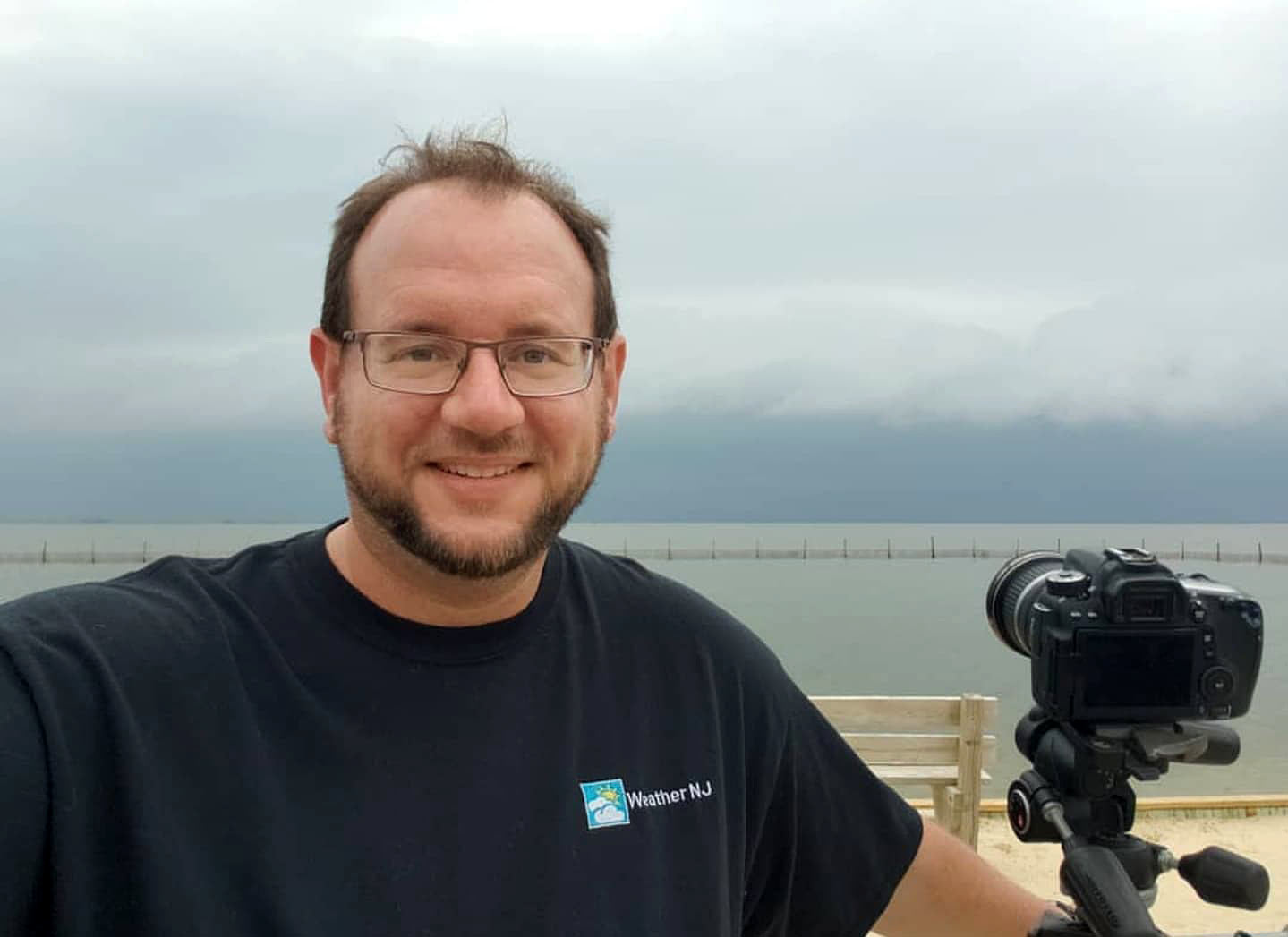 As spring arrives, Jonathan Carr '07 of Ocean County shifts his focus to April showers, rising temperatures and a moment to catch his breath. Why? Because the long winter is by no means quiet for him, with over a quarter-million followers across Facebook, Twitter, Instagram and YouTube waiting with baited breath for him to post the word "KABOOM" when the temperatures drop. Carr, founder and forecaster at Weather NJ, coined the phrase to indicate the potential for a hazardous snow event. With the onset of summer now beckoning, followers will look to him for when lightning may strike, or a hurricane may blow in.
In addition to his social media following, Carr developed a website that received 18 million pageviews from 4 million unique people since July 2014 and a mobile app that has been downloaded 24,000 times.
Carr, who has a B.A. in Computer Science and Information Systems from Stockton University and an M.A. in Information Systems, has no formal meteorological training. He refers to himself as a "weather enthusiast" as to not disrespect those who have been educated in meteorology. That being said, his carefully mapped-out forecasts and candor on social media have become a "go-to" for many in the tri-state area.
When Carr is not knee-deep in forecasting, he is the manager of information technology and lead solutions architect for research and development programs at Envision Innovative Solutions. He works on developing mixed reality, including augmented or virtual reality for various customers and academic institutions.
"My career has been strongly aligned with the bachelor's degree from Stockton University. I still use knowledge learned from my programming classes in my daily work. I operate in a deadline-oriented software production environment the same way I managed Stockton software assignments. It was a direct and near-seamless transition from Stockton into my software career," Carr said.
"

"The centralized web presence (WeatherNJ.com) has been visited almost 100 million times by 10 million unique people—from all seven continents of the world."

So where did his love for weather come from? "As far as I can remember I have always been fascinated with severe weather events. My all-time meteorologist role model and now somewhat of a mentor, Jim Cantore, had a lot to do with my motivation. He made telling the weather cool and brought excitement to the living room via storm chasing," Carr explained. "In 2007, I began a self-taught journey into meteorology after finishing my Computer Science degree at Stockton. I had taken a lot of advanced math already and filled my electives with Earth Science and Astronomy courses. So, I had a basic idea of the atmosphere and the physics that drive it."
Carr's computer science background helped him understand and interpret computer weather models and by February of 2010, he was ready to launch his forecasting Facebook page. It was then that Bobby Martrich of EPAWA Weather Consulting became a great friend and mentor, exposing him to the serious concepts of meteorology that one would find in an atmospheric science degree.
"A few huge forecasting wins later including several blizzards, Irene, Sandy, etc. and my page really took off. The centralized web presence (WeatherNJ.com) has been visited almost 100 million times by 10 million unique people—from all seven continents of the world," Carr said.
Carr also uses the leverage of his social media following as a philanthropic tool. In October 2018, he hosted the "Haunted Carousel Halloween Party" in Asbury Park that raised over $8,000 which was distributed to families navigating the hardships of cancer; and in August 2016, Weather NJ & Friends raised $3,135 for Long Beach Island Foundation of the Arts and Sciences through a fundraising eco-friendly event.
In 2014, Carr won the New Jersey Citizen Journalism Award, which was the first time he realized the magnitude of what he created from just a laptop in bed. "It was surreal to accept the award from Jersey City Mayor Steven Fulop and former New Jersey Governor James Florio," he said.
Carr also was invited to the 2015 NASA Social event in Seattle, Washington, which he said was "simply amazing" and one of the most rewarding experiences he had since creating Severe NJ Weather/Weather NJ.
Two major highlights in 2017 included the Press of Atlantic City hiring him to provide forecasts for several months, and to guest lecture in Environmental Studies adjunct instructor Chris Huch's Coastal Processes Class at Stockton. "To graduate from Stockton and then come back to guest-lecture just felt like a full-circle completion of something great," Carr said.
What's on the horizon for Carr in the future? "I would like to keep growing and somehow combine my computer science knowledge and my atmospheric knowledge into a digital product. I don't know what exactly that will be. But I expect it to be cool," he concluded.