University News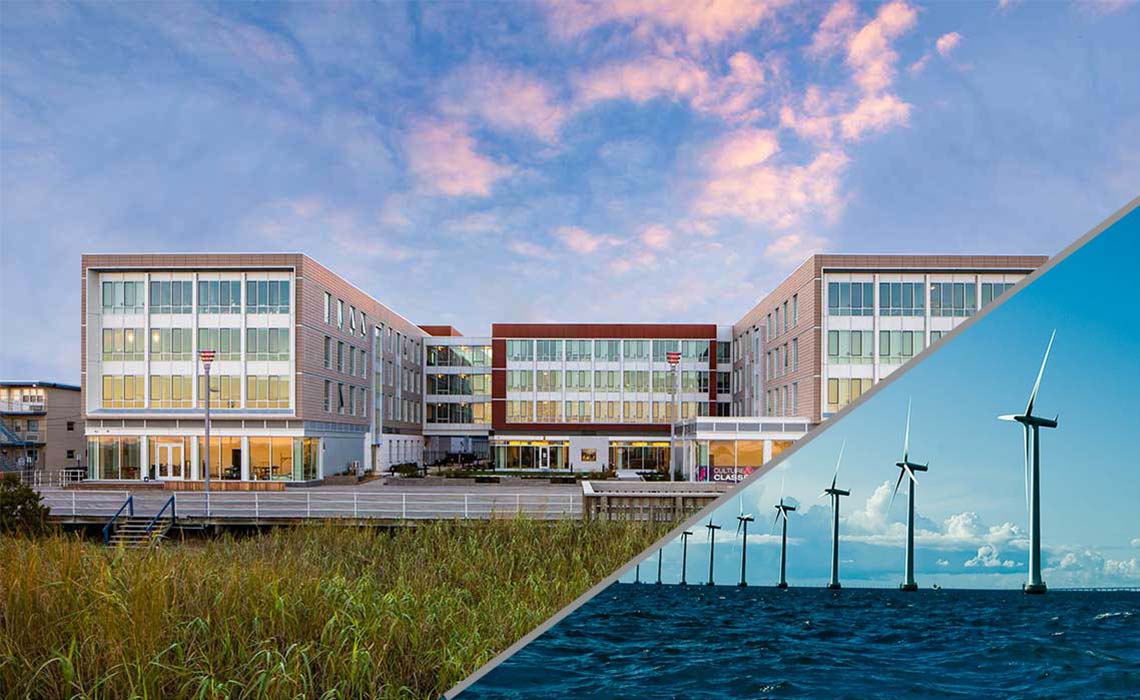 Offshore Wind Company Leases A.C. Site
Stockton University has entered in a sublease agreement with Atlantic Shores Offshore Wind, LLC of Brooklyn, N.Y. to lease 1,940 square feet of commercial space located on the Boardwalk and Roosevelet Avenues in the Stockton Atlantic City Residential Complex.
Atlantic Shores Offshore Wind will dedicate the space as a new Educational and Community Outreach Center, serving as its primary location to host informational events for the local community around its upcoming offshore development plans.
Stockton Vice President for Facilities and Operations Don Hudson said the agreement represents an ideal partnership opportunity for Stockton.
"We are delighted to welcome Atlantic Shores Offshore Wind to Stockton University," Hudson said. "They are a perfect addition to the University District, represent another step in diversifying the economy of Atlantic City and will provide opportunities for our students to intern in the field of renewable energy and offshore wind on our campus."
Above photo courtesy of Dinofa Photography
---
Stockton Productions Wins 13 Telly Awards
Videos produced by personnel at Stockton University earned 13 awards from the 41st Annual Telly Awards Judging Council.
The Telly Awards showcases the best work created in television and video. The competition receives 13,000 entries from all 50 states and five continents. Telly Award winners represent work from advertising agencies, television stations, production companies and publishers from around the world.
Seven awards went to the film "There Were Good People ...Doing Extraordinary Deeds: Leo Ullman's Story," produced by the Sara and Sam Schoffer Holocaust Resource Center at Stockton. The film told the life story of Leo Ullman and his family who were hidden in the Netherlands and saved by Righteous Gentiles during World War II.
Stockton's Production Services team received six Telly Awards for various video projects, including the Ospreys Give 2019 hype video.
"This accomplishment is a testament to the hard work, creativity and professionalism of the entire Productions Services team, as well as University Relations & Marketing and all of the partners that play a role in our production of high quality, impactful videos," said Director of Production Services Mark Jackson.
View a full listing of the awards with links to watch the videos here.
---
Hughes Center Hosts 2nd District Online Debate
The William J. Hughes Center for Public Policy at Stockton University hosted an online debate among democratic primary House candidates in the 2nd Congressional District on June 25.
Candidates Will Cunningham, Brigid Callahan Harrison and Amy Kennedy debated for one hour.
John Froonjian, executive director of the Hughes Center, moderated the event. Each candidate had 90 seconds to answer questions. If a candidate criticized another participant during their response, that other candidate received a 30-second rebuttal.
Candidates answered questions that covered a range of topics including the coronavirus pandemic, social justice issues and protests following the killing of George Floyd, health care, economic opportunities for South Jersey and climate change.
---
Holocaust Center Creating New Digital Archive
The Sara and Sam Schoffer Holocaust Resource Center at Stockton University is looking for area Holocaust survivors and their family members for a major new project to compile and create a digital archive on the lives of Holocaust survivors who settled in South Jersey.
The "South Jersey Holocaust Survivor Digital Archive and Exhibition" will focus on survivors from Atlantic, Cape May, and Cumberland counties. Stockton faculty, staff and students are identifying and interviewing survivors and/or their family members, and reviewing memoirs written by survivors through the center's Memoir Project.
Some 250 area survivors have already been identified, and about 20 have been interviewed through Zoom since the spring, said Gail Rosenthal, executive director of the Holocaust Center.
"It is essential that we collect the documents and testimonies now," said Associate Professor of History Michael Hayse, who is curating the project. "The number of Holocaust Survivors who are still with us is quickly dwindling. Several local Holocaust survivors have passed away since we started the project seven months ago."
Read the latest news from Stockton online and follow us on Facebook, Twitter, YouTube, Instagram and Snapchat.