Stockton Atlantic City Summer Experience: Live-Work-Learn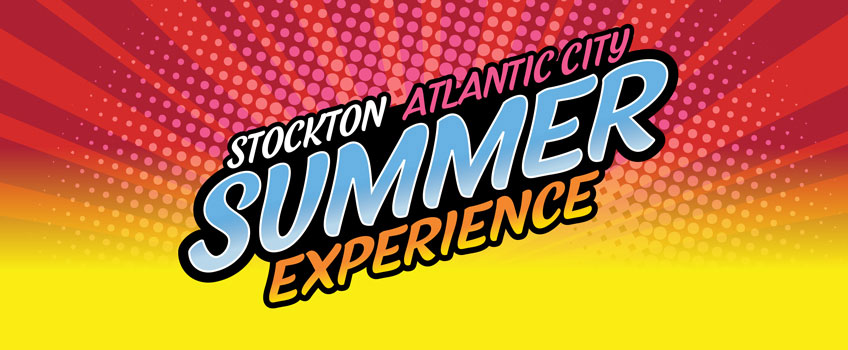 A unique opportunity for Stockton students to
Live
Live at Stockton's Atlantic City Campus on the Boardwalk for free in the summer.
Work
Work for one of the premier resort businesses in Atlantic City, earn wages, and gain valuable job experience.
Learn
Learn by earning four free credits in a summer career readiness course.
Upcoming Information Sessions:
Students interested in the program are encouraged to attend one of the information sessions discussing the program for Summer 2023. These online sessions will take place on Monday, December 5, 2022 at 6:00pm and Tuesday, December 6, 2022 at 4:30pm.
To be eligible for this program, students must meet the following criteria:
Enrolled at Stockton full-time as an undergraduate student (cannot be graduating Spring of 2023)
Good academic standing (above a 2.0 GPA)
Good standing with the Dean of Students Office
No academic or Bursar-related holds on account
Eligible students must also obtain employment through one of our program partners to be considered for admittance.
For more information about holds, please visit Account Holds.
For any questions regarding your standing with the Office of Student Conduct, please contact studentconduct@stockton.edu.
Program dates for Summer of 2023:
May 15, 2023-August 12, 2023
The application for the Summer of 2023 will open Mid-January of 2023 for one month. The application will be on this page when it launches.
Students who do not apply during the application cycle are not eligible for the program.
Applications will not be accepted after the deadline.
Students who participated in the program last year must still submit an application for participation in the Summer of 2023 term.

Program participation in a previous summer term does not guarantee a student's eligibility to participate in the forthcoming summer term.

---
Yes, students are required to live at the Atlantic City Housing Complex as a part of this program.
Students admitted to the program do not need to complete a separate summer housing application. The summer housing contract will act as the housing application which eligible student's sign when applying to the Live-Work-Learn program.
Yes, students may request a roommate; however, these requests are not guaranteed. Please complete the Summer Housing Preference Form. This form will ask you to confirm your session dates for the summer, confirm your housing style preferences, and provide a section to request roommates. If requesting a roommate, please be sure to connect with them prior to completing the form to ensure they have applied for summer housing or have an active 12-Month Contract.
Students must move out by August 12, 2023 at noon or be subject to fines.
There are no meal plans offered during the summer term. However, students can take advantage of the Osprey Card program by adding "dining dollars" to your student ID. These funds can be unrestricted, so that you can make purchases at on campus and off campus businesses that participate in the program.
---
Contact Information
Brian K. Jackson
COO, Atlantic City Campus
Alex C. Marino
Director of Academic Operations, Atlantic City Campus
Siena McCabe
Program Assistant, Office of the Provost
For general inquiries about the Live-Work-Learn program, please contact:
liveworklearn@stockton.edu.