Philosophy and Religion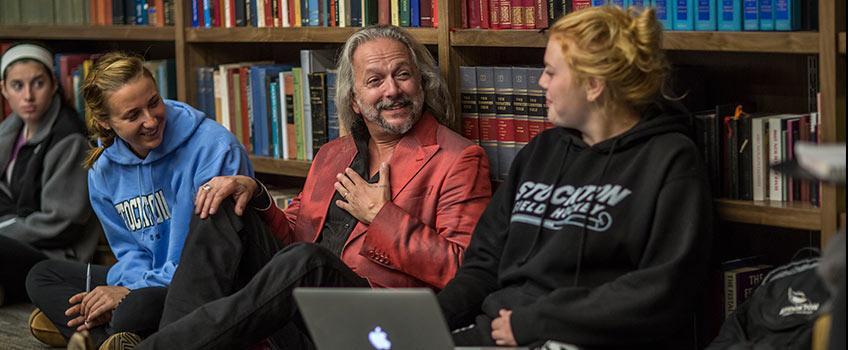 Within the Philosophy and Religion program you can pursue a B.A. degree in Philosophy and Religion, Philosophy Legal Studies, or Philosophy Graduate Studies. A minor in Philosophy and Religion is also available.
---
About the Program
The Philosophy and Religion (PHIL) program draws on traditions of thought from around the world. Its strength lies in its ability to bring diverse traditions to bear on philosophical and religious questions as well as contemporary ethical, social, and political issues. The program offers courses that are designed to help students think critically about fundamental values and their application to society. Program courses are open to students of any major as well as those who want to make Philosophy and Religion their major or minor. The program also offers a Legal Studies concentration for Philosophy majors, and a concentration for majors interested in and dedicated to pursuing their graduate work in philosophy.
Program Chair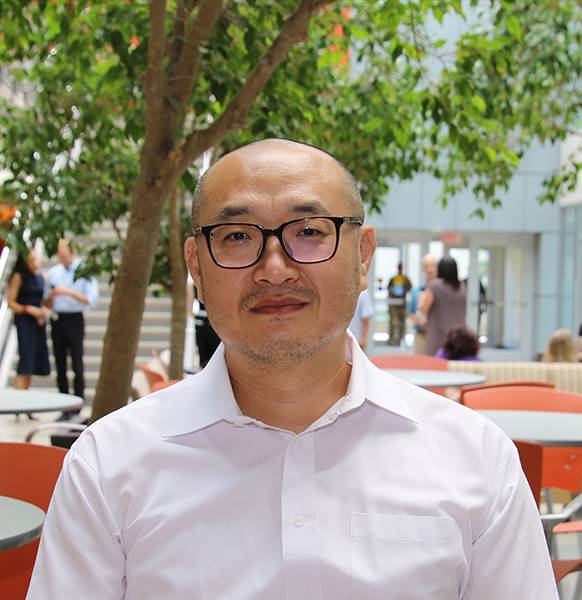 The study of Philosophy and Religion is the ability to critically engage ideas, theories, faiths, and forms of life so that key values, histories, and intellectual processes may be understood and reflected upon systematically. Philosophy and Religion represents key disciplines where the search for values, rituals, logic, and interpretation emerge, and where their application to lives have found a focus on the questions of the human quest for meaning and structure.
The Philosophy and Religion program at Stockton University is a place to come for an excellent education owing to the unique, dynamic, and diverse areas of specialty and experiences that its members create. The courses offered by program members, both in Philosophy and Religion and in General Studies, provide inspiring opportunities for undergraduates who want to acquire a broad humanistic background, who wish to pursue further study in philosophy and religion, o r who are heading toward other professional careers.
Curriculum
The Philosophy and Religion program offers courses beginning at the introductory level on the leading ideas, values, techniques, and history of philosophy and religion, as well as intermediate and upper-level courses of a more intense nature. Each faculty member also offers a Senior Seminar (the capstone course) as well as specialty courses and independent studies.The program offers a major and a minor in Philosophy and Religion and is also designed to serve non-majors. The following is a current list of courses offered, although not necessarily every semester.
To view the curriculum, you'll use the web program, Degree Works. This program is accessible even if you are not currently a student with Stockton University.

Additional Information
Current Students
Access your portal for Degree Works, then look for the "what if" option to explore the various paths towards degree completion. Click the button below for instructional viodes on how to use Degree Works:
Prospective First Year or Transfer Students
Use the button below:
How to Use Degree Works Equivalency
At the next page you are prompted with three (3) options.

Select

the one that says "continue without signing in."
Respond to each prompt using the pull-down menu in the center of the page. [Please be patient. It may take a few seconds for the system to process your request. If you see a NO symbol, you need to wait a moment!]
Prompts include:
Enrollment dates (Choose intended semester attending)
Intended level (Choose "undergraduate")
What degree you will pursue? (Choose "Bachelor of Arts")
What is your intended major? (Choose "Philosophy and Religion")
What is your intended concentration? (Choose "General," "Philosophy Graduate School," or "Philosophy Legal Studies")
What is your intended minor? (Choose "none"

or select one

- it is not required). For Philosophy and Religion minors, select "Philosophy and Religion"
For prospective students, choose "I'm all done" button.
For transfer students,

use the "class" button to see how courses already taken fit into the Stockton degree path.
You will see an overview of the degree you have selected, including all requirements.
At the bottom of the screen, you could save or print the worksheet.
Adapting to Change
The Philosophy and Religion program is a place to come for an excellent education due to the unique, dynamic, and diverse areas of specialty and experiences that its faculty members create. Our courses prepare students as serious competitors for further study, professional careers, and, above all, a well-rounded education. Some of our graduates have received law degrees, master's degrees in philosophy, library science, bioethics, theology, counseling, chiropractic, herbal medicine, and an MFA in poetry, while others are graduate students in psychology, osteopathic medicine, information sciences, and cognition, brain and behavior programs.
Information Literacy & Research Skills
To discover the rich history of ideas, and the foundation of the humanities and the arts.
Communication Skills, Creativity & Innovation
To develop critical and creative skills in thinking, writing, and interpretation, and to be provided with time-tested tools of philosophical analysis.
Ethical Reasoning
To be inspired by the search for values and the quest for a deeply meaningful life.
Teamwork & Collaboration
To become part of a vibrant community of scholars in the interpretation of the love of wisdom.
Minor
The Philosophy and Religion program also offers a minor for students who have an interest in philosophy or religion. The minor works extremely well for students who are majoring in other fields, allowing them to further explore theories, histories, and values, while adding a distinctive touch to their degree. To minor in Philosophy and Religion students are required to complete five courses, one of which must be Philosophical Methods, with a grade of C or better. At least three of the courses must be at the 2000 level or above. To secure the best course progression, students must consult with a faculty member of the program or speak to the Program Coordinator.
Careers
The study of philosophy fosters skills of textual analysis, argumentation, thinking, historical consciousness, writing and conceptual synthesis. Thus, it provides a solid background for the achievement of excellence in all professions. With its emphasis on the study of personal and social values, it promotes thoughtful and compassionate conduct in the workplace. While some Philosophy majors choose to attend graduate school to become professional philosophers, teachers, theologians or ministers, others use their philosophy background as a preparation for a career in law, medicine, government, social services, nonprofit organizations, and business.
Special Opportunities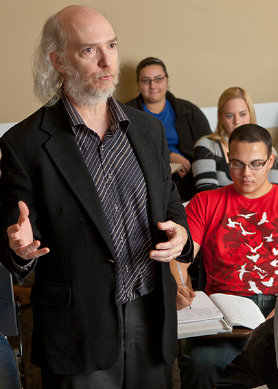 The International Honor Society (PST), Stockton Philosophical Society (SPS), the Classical Humanities Society (CHSSJ), and the Philosophy Speaker Series are active and exciting groups within the Philosophy and Religion program. For students interested in further discussion on philosophical and religious topics and themes, the SPS meets twice a week. Our chapter of PST (Phi Sigma Tau), the International Honor Society of Philosophy, with a rotating Faculty Advisor and three student officers, offers in-depth analysis of chosen topics and themes and the opportunity for students to publish in its journal Dialogue, and graduate with honors. The Classical Humanities Society of South Jersey (CHSSJ) brings speakers to campus for lectures on the classics and classical history disseminated through the humanities. The Philosophy Speaker Series invites scholars from area universities and colleges to lecture, visit, and have dinner with our Philosophy majors and minors.