Why Atlantic City?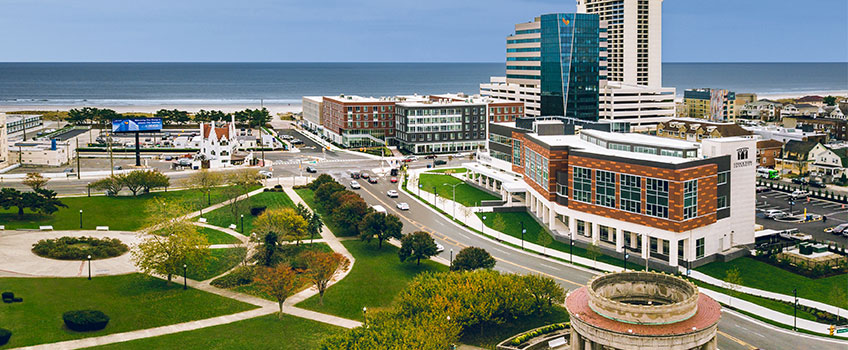 Atlantic City has been a part of Stockton's history from the beginning.
Indeed, when it became clear that the campus' first buildings would not be ready for fall 1971, Trustees chose the Mayflower Hotel at Tennessee Avenue as institution's temporary home. Students and faculty from that first year—including Stockton's fifth president, Harvey Kesselman—have proudly identified as the "Mayflower" generation ever since.
"When Stockton opened its doors in 1971 at the Mayflower Hotel in Atlantic City, there was a real sense that we were embarking on something new, something different." President Emeritus Harvey Kesselman
After the institution's main campus opened in Galloway Township, Stockton continued to have a strong presence in Atlantic City. The university operated an institutional site at the historic Carnegie Library, and supports artistic and cultural endeavors at Dante Hall Theatre and the Wave Arts Garage. Hundreds of Stockton students, faculty, and staff work in the city through internships, service-learning opportunities, and community engagement initiatives ranging from homework completion programs and community gardens, to city-wide events, such as 48 Blocks and Coast Day, and Stockton also administers Work First New Jersey in Atlantic City, the region's largest program's in workforce development.
Stockton University Atlantic City builds on this tradition of urban engagement. Better still, it offers state-of-the-art academic facilities on what had formerly been the site of the Atlantic City High School, continuing the tradition of education on the Boardwalk.
Want to learn more? Check out these additional locations that Stockton University manages within Atlantic City!
---