FAQs & Schedule
**Many elements of what is presented below refer to our in-person Stockton CSI Camps, which will not be held in the Summer of 2020 due to the COVID-19 Pandemic.
Stockton CSI *Online*
How old do students need to be to attend the camp?
We accept students who will be entering high school in the fall following the camp through new high school graduates. We have accepted students as young as 13 in the past if their parents were confident that they could handle the mature themes of the camp.
How do I know if my student is mature enough to attend the camp?
If you would feel comfortable leaving your student home alone for the weekend to take care of her/himself, then he or she might be appropriate for the camp.
What types of students tend to enjoy the camp?
We have had a very positive response from people who have participated in Stockton CSI. Students will have fun, but they will also learn a lot. This camp is for students who are interested in learning about criminal investigations and trials. The campers spend most of each day investigating a crime. There is little time for socializing and no scheduled recreation time.
Will the camp make exceptions to have campers who are a little bit older?
Unfortunately, we cannot accommodate students who graduated high school a year or more before our camp. New high school graduates, however, are welcome to attend.
Is this camp solely for students interested in forensics?
Any students who are interested in participating in the camp's activities are welcome to attend. Most of our campers are interested in exploring careers in criminal justice, forensic science, forensic psychology, or law. However, many of our past campers simply wanted the experience of working with others to solve a murder mystery. Students have a large say in the particular roles they will play in the investigation and trial. We have created camp activities to provide something for everyone.
Do you offer scholarships for the camp?
We budget the camp to break even on expenses. For that reason, we do not have funds to offer scholarships. However, a number of our campers have received scholarships and other funding from their schools and other organizations in their communities.
Is there a payment plan for the camp?
Unfortunately, we do not have a mechanism at our disposal to enable us to provide payment plans. We do, however, accept all major credit cards through our website.
Draft Camp Schedule
A typical camp day will run from 10:00 AM until 1:00 PM EST
All camp activities will be hosted live on ZOOM, and recorded so campers can view things they miss later.
Additional activities, such as viewing parties and extra trial prep. meetings, may be added in the evenings.
| | | | | | |
| --- | --- | --- | --- | --- | --- |
| | Day 1 | Day 2 | Day 3 | Day 4 | Day 5 |
| Lecture | Intro. Lectures/Crime Scene Investigation | Types of Evidence | Presenter (Real CSI?) | How to question witnesses | Presenter |
| Activity | Share crime scene images/videos/autopsies | Assign Evidence Requests | Go over evidence | Introduction and Discussion of witnesses | Question Witnesses |
| Homework | Examine Crime Scene | Evidence Requests | Evidence requests | Write questions for witnesses | Analyze information from witnesses -- Any additional evidence requests, warrants, etc.? |
| | | | | | |
| | Day 6 | Day 7 | Day 8 | Day 9 | Day 10 |
| Lecture | Assign teams | Presenter | Presenter | Career talk | Presenter |
| Activity | Organize teams | Work on case | Work on case | Presentation (mock trial) schedule | What really happened theories (mock trial) |
| Homework | Research assigned expertise | Work on case | Work on case | Final prep | What really happened video |
What happens after I register for the camp?
You will receive an email with information about the camp in early June. It will provide additional details about the camp, including a list of items that we recommend campers have on hand, login information for online camp resources, and a detailed camp schedule.
In-person Camp (We are not hosting In-person camps in 2020 due to the COVID-19 Pandemic.)
What if you are out of state and need to fly to NJ to go to camp? Or, you live too far from the Stockton CSI Summer Camp to drive here?
We can arrange to pick up campers at the Atlantic City International Airport, the Philadelphia International Airport, or the Atlantic City NJ Transit Station. The Philadelphia International Airport is an hour and a half from the Stockton University campus. Please book travel that will allow adequate time for us to pick your camper up at the airport and arrive before check-in and depart from the camp during check-out. We suggest that you email us at stocktoncsi@stockton.edu before you book any flights so we can confirm that the selected flights will allow your child to enjoy the full camp experience.
What kind of clothes should campers bring?
Campers should bring comfortable clothes appropriate for a range of indoor and outdoor activities on the Stockton University campus. Field trips to the County Jail and the Medical Examiner's Office require conservative dress (long short or pants, nothing form fitting, etc) and rubber-soled, closed toe sneakers or shoes. Please feel free to contact us with any specific questions about appropriate clothing.
Where will the campers be staying?
In wings of a university dormitory dedicated solely to the summer camp.
What are the dorms like?
Campers will stay in Stockton's nicest dorms, which feature:
Private rooms
A semi-private lounge with kitchenette (Full-sized refrigerator; microwave, sink)
Gender-segregated floors
Study lounges on each floor
A main lounge with a flat screen television and pool table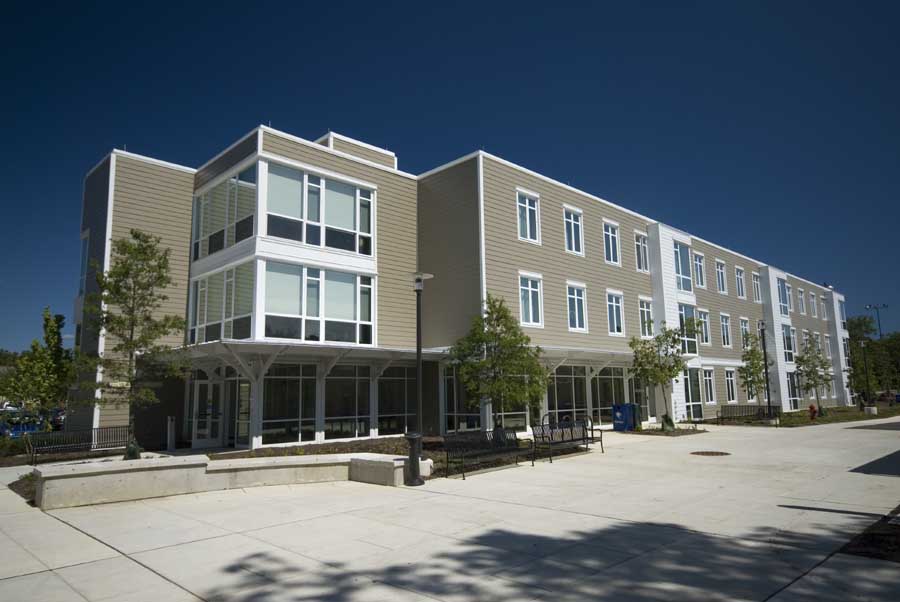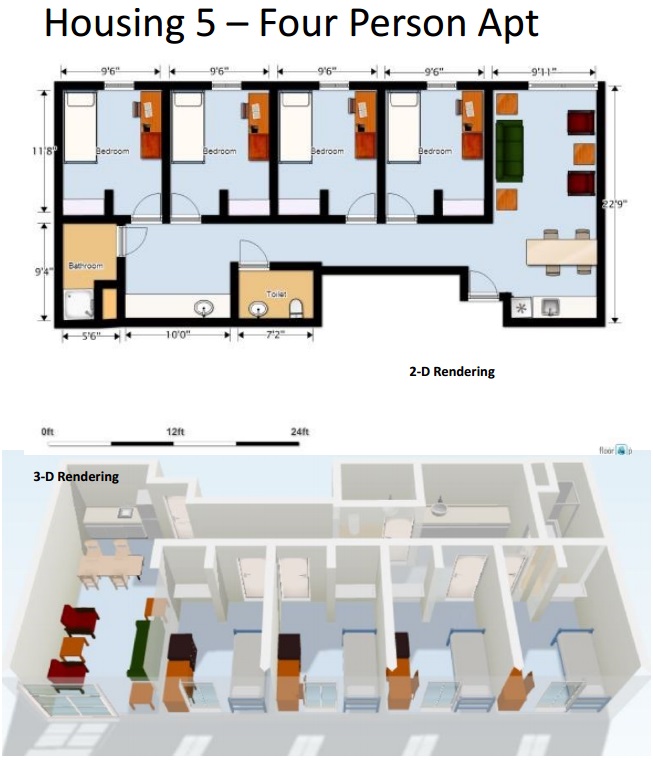 Who will be supervising campers at night?
Specially trained graduate student leaders from the Master's of Criminal Justice Program at Stockton University. In addition, the camp is in compliance with Stockton, State, and Federal Protection of Minors guidelines. Students are supervised 24/7. An EMT accompanies students everywhere at all times.
How secure are the dorms?
Key access is required to enter the dormitory building, enter the hallways where the suites are located, enter the suites, and enter individual rooms for a total of four separate levels of secure access.
Are the sleeping arrangements co-ed?
Male and female campers are assigned to rooms on different floors. Campers are only allowed on the floor to which they were assigned. Typically, female campers are assigned to the third floor and male campers are assigned to the second floor. There is a large lounge on the first floor of the dormitory where campers can socialize in the evenings. The lounge contains a large, flat screen TV and pool table.
What will campers eat?
For breakfast, lunch, and dinner, campers will eat at restaurants close to our field trip locations. Special dietary restrictions will be honored. Campers should let the camp organizers know at least a week in advance if they have special dietary needs.
Campers' meals will be at local restaurants, which include*:
*Specific restaurants may vary slightly based on seating availability for our group
If students have a driver's license, can they drive themselves to camp?
Yes, but during the camp they will not be permitted to drive themselves to activities.
Where can students park on campus?
There is ample free parking on campus.
How can I tell if there is still space available in my preferred camp?
We will indicate when registration is closed for a camp on the website.
Typical Camp Schedule
In-person camp
Check-in for the camp occurs between 1:00 P.M and 2:30 P.M. on the first day of your camp session. The check-in location is indicated on this campus map. This is the location of the dorms where campers will be staying for the duration of the camp. Check-out will take place at the same location from 3:00 - 4:30 P.M. on the final day of your session. We cannot offer housing or supervision after Check-out ends at 4:30 P.M.
Sunday
Check-in 1:00-2:30 at Housing 5
Introduction / camp information
Class on types of death/ work of first responders
Class on collecting evidence and recording crime scene
Monday
Crime scene investigation
Police reports
Eye-witness interviews
Field trip to Air Marshall Training Facility
Case work
Tuesday
Field trip to jail
Crime scene investigation
Case work
Wednesday
Field trip to Medical Examiner's Office
Suspect arrested
Trial prep. with attorney
Prosecution and defense prepare for trial
Thursday
Prepare for trial
Trial
Verdict
Camp wrap-up
Watch camp movies / parents pick up kids 3:00-4:30 at Housing 5
*Subject to minor scheduling changes