CSI Registration Form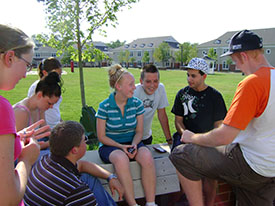 Register today by filling out the online registration form below. Regular Registration: $450 includes live ZOOM discussions led by professionals in criminal justice and forensic psychology, guided investigation of a mock murder scene, investigation of suspects, questioning of witnesses, prosecution and defense trial prep., and a mock trial. Plus a Stockton CSI Online camp t-shirt!
Please register each child individually. Please note: Registration is not complete until full payment is received. Partial payments cannot be accepted.
Secure, online payment instructions will appear after you submit the camper registration form and also appear at the bottom of this page and on our Payments page. Instructions for submitting payment by check or money order, and refund policies also appear at the bottom of this page.
Should you have questions regarding the registration process, please email us.
---
Registration: $450
Payments must be made in full for the entire amount of the registration price. Paid amounts less than the registration price will be automatically refunded and campers will not be registered.
Make secure credit card payments HERE.

COSTS/REFUND POLICY AND CAMP CANCELLATION POLICY
Full refunds can be made if requested 4 or more weeks before the beginning of the camp.
50% of registration fees will be refunded for cancellations made between 2 and 4 weeks before the beginning of the camp.
No refunds will be made for cancellations that occur within two weeks before the beginning of the camp.
There is no refund for late arrival or early departure.
There are no refunds for withdrawal or absence because of illness or family vacation, or for dismissals because of disruptive behavior.
Stockton University reserves the right to cancel any camp not meeting the minimum registration requirements. If this is necessary, you will be contacted at least one week prior to the beginning of camp and your fees will be refunded in full.