CSI Registration Form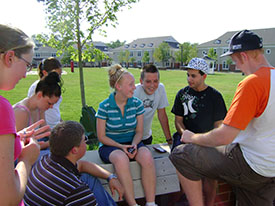 Register today by filling out the online registration form below. Registration for our in-person camps is $899 if paid by April 30 and $949 after that. It includes all investigation and trial supplies, meals from local restaurants (E.g., Chili's, Red Robin), snacks and drinks between meals, a private dorm room, 4 field trips (I.e., Medical examiner autopsy room, Federal Air Marshal Training Center, County Jail, Criminal Courts), use of Stockton WiFi and computer labs, and presentations and demonstrations by a range of criminal justice experts, including Stockton's own National K-9 award winner.
Please register each child individually. Please note: Registration is not complete until full payment is received. Partial payments cannot be accepted.
Secure, online payment instructions will appear after you submit the camper registration form and also appear at the bottom of this page and on our Payments page. If possible, please do NOT pay with a web check. It makes the refund process more difficult.
Instructions for submitting payment by certified check or money order, and refund policies appear at the bottom of this page.
Should you have questions regarding the registration process, please email us.
---