CSI Summer Camp

Stockton CSI Summer Camp
Registration will be available for our online camp and hopefully our in-person camps early in 2021, after we receive pandemic guidance from the state of New Jersey and the Stockton University administration.
Are you a high school student who enjoys television programs like CSI, Criminal Minds, NCIS, Profiler, The System, Law & Order, The First 48, and 48 Hours Mystery? Do you want to help solve a murder? Do you want to know what really happens behind the scenes of a murder investigation and a high-stakes murder trial? Do you want to know what life is like behind bars? Do you want to meet the people who work in criminal justice, law enforcement, forensic medicine, and forensic psychology?
Stockton University invites you to be part of Stockton CSI Online, a virtual summer camp for high school students who want experience with a criminal investigation and trial.
Now in its 14th successful year, Stockton University's CSI Summer Camp is a non-profit program where campers work as part of an elite team of investigators and professionals to solve a murder. Campers are involved with every phase of the legal process, from the crime scene investigation to the criminal murder trial.
What will happen at Stockton CSI Online?
Hosted live on Zoom, campers will work to solve a murder mystery. They will be involved with every phase of the legal process, from the crime scene investigation to the criminal murder trial.
Over 9 days, campers will:
Investigate a mock murder scene from photographs and video footage
Identify possible sources of evidence at the scene
File evidence requests and analyze the results
Interview witnesses and persons of interest
Prepare a case for a criminal murder trial
Try the case in front of a judge and jury
Find out what really happened from a movie filmed before camp started
Have extensive discussions of careers in Criminal Justice, Forensic Science, Forensic Psychology, and the Law; and learn what college majors and courses provide preparation for those careers.
Campers will participate in live Zoom Discussions with professionals, such as:
University Professors with Ph.D.s in their disciplines and extensive research experience in their fields
Police
Forensic Psychologists
A K-9 Unit
Corrections Officers
Victim Services Providers
A Medical Examiner Investigator
An attorney
Evidence
Campers will gain experience with evidence identification and evaluation techniques, such as DNA analysis, impressions, forensic odontology (bite marks), ink analysis, fingerprints, chemical analysis, hair and fibers, blood typing, and spatter analysis.
Questioning
Campers will also learn how to question suspects and witnesses. They will use techniques that real investigators do to learn the facts in a case, know when people are telling the truth or lying, and figure out when people's memories may be distorted.
Courtroom
Finally, campers will learn how to prepare a case for trial. They will learn: (a) strategies for presenting their cases and making arguments in a camp courtroom, and (b) what life is like in jail for those awaiting trial, and life in prison for those who are convicted.
At Stockton CSI, the individual is our top priority. We help to broaden campers' academic horizons and increase their self-confidence. Each student is given focused and positive direction both in and out of our camp meetings. Stockton University is committed to development through learning — the joy of individual discovery among students and their camp mentors.
Stockton CSI is the only online summer camp of its kind. Our highly-trained staff consists of Stockton faculty with doctoral degrees and graduate students in Criminal Justice. They serve as exceptional role models, guides, and mentors.
Our program is unique in many ways. We are able to connect young people with world class experts and inform them of potential career choices with the police, FBI, corrections, and in fields like criminal justice, forensic psychology, and the law. Our program combines learning experiences with hands-on activities.
The all-inclusive price of $450 for the camp includes all ZOOM camp activities taught by experts, hands-on investigative and trial experience, and a camp T-shirt.
Camp Directors

Dr. Duntley joined the faculty of Criminal Justice at Stockton University in 2006 and co-founded the Stockton CSI summer camp with Dr. Christine Tartaro in the summer of 2007. His research explores the psychologies of homicide, stalking, and victimization. Dr. Duntley teaches courses in forensic psychology and quantitative research. He has co-authored 3 books and has numerous professional publications.

Dr. Tartaro joined the faculty at Stockton in 2000 and co-founded Stockton CSI camp with Dr. Duntley in 2007. Her research interests include prisons and jails, mental illness and the criminal justice system, suicide in correctional facilities, and criminal justice policy. She has authored two books and published dozens of articles. Prior to joining Stockton, Dr. Tartaro worked as a researcher for the NJ Department of Corrections. She currently does expert witness work in the area of prison and jail suicide.
Be part of an unforgettable adventure this summer!
REGISTER NOW
2021 IN-PERSON CAMP DATES
Camp 1: July 11-15
Camp 2: July 18-22
Camp 3: July 25-29


2021 ONLINE CAMP DATES
August 2-6 & 9-12 on ZOOM
11:00 AM - 3:00 PM EST
---
Stockton CSI campers come from all over the United States. We have had campers from every pinned location on this map.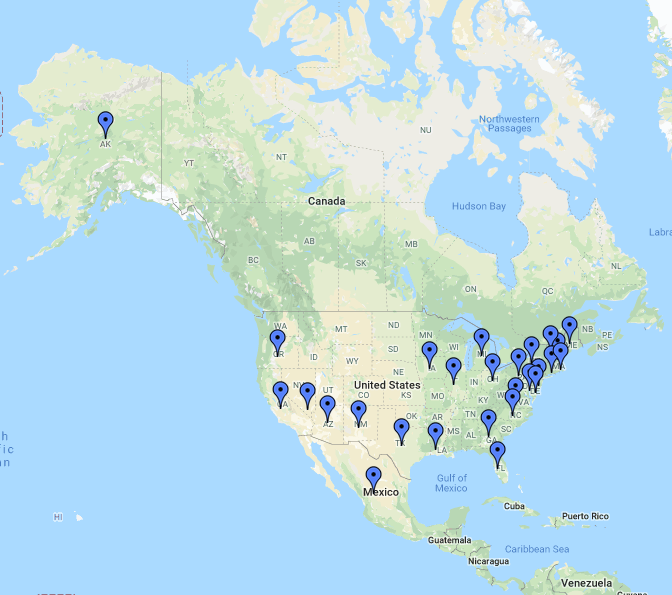 ---