Bird's-Eye View
Meet this month's Bird's-Eye View
James A. Sarkos '99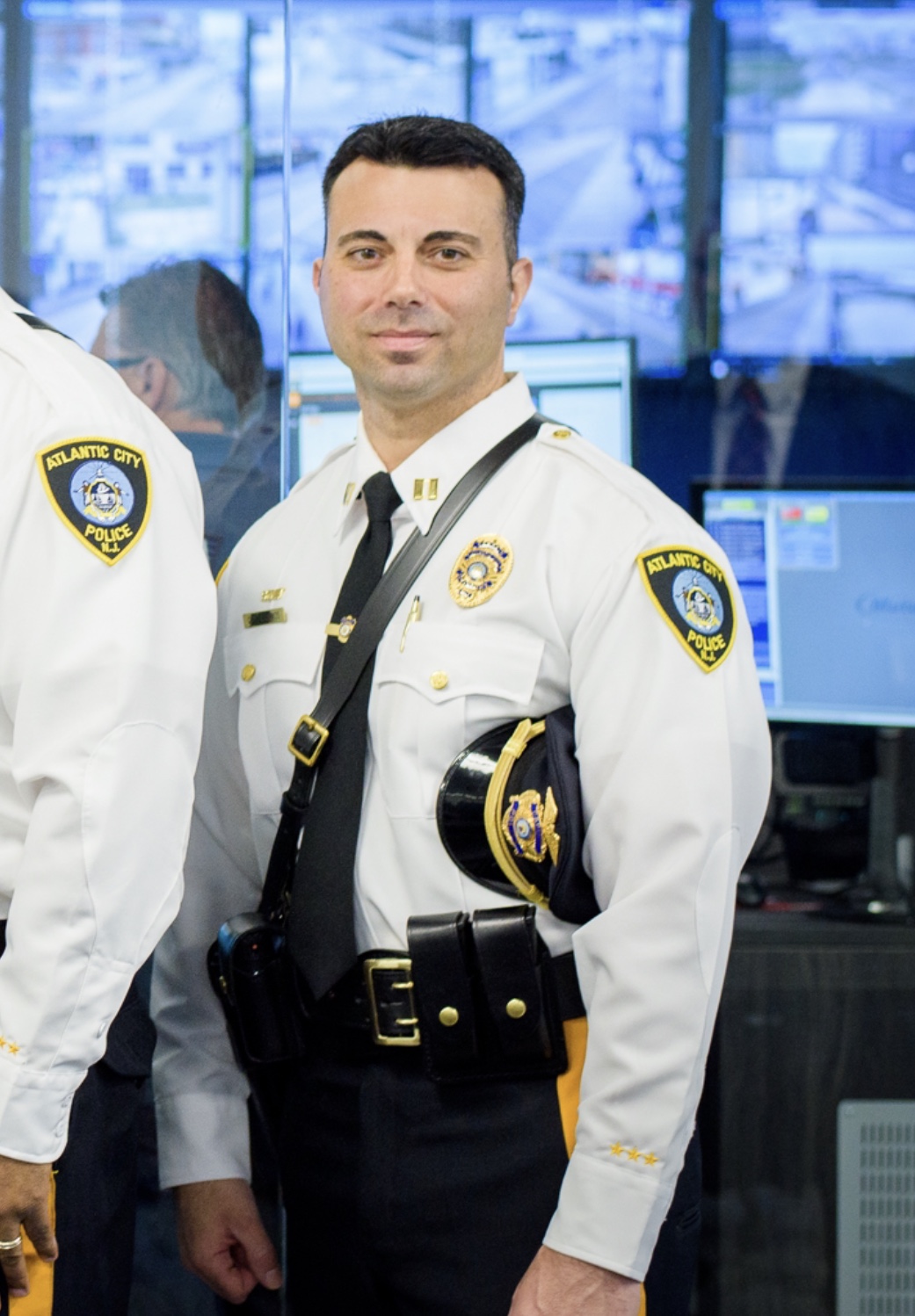 NAME:
James A. Sarkos '99
DEGREE:
BA in Criminal Justice
JOB TITLE:
Deputy Chief of the Atlantic City Police Department
FUN FACT/HOBBY:
Vice Chairman and founding member of the Atlantic City Police Foundation.
How did your Stockton experience influence your life?



I believe the education I received at Stockton has helped me throughout my career. Many police agencies are now requiring a college degree to be eligible for employment. The Criminal Justice degree I received at Stockton has helped me prepare for upper management command and leadership positions that I have held during my career.

In 1995, I started my Law Enforcement career as a Class One Special Officer for the Ventnor Police Department. In 1996 I was hired as a Class II Special Officers for the Wildwood Police Department where I worked for 4 seasons from 1996-1999. I found working as a Class I and Class II Officer to be an excellent way of gaining valuable law enforcement experience during the summer, while being able to concentrate on my studies at both ACCC and Stockton during the fall and spring semesters.

In October of 1999, I was hired full time by the Linwood Police Department where I worked in patrol until October of 2000, when I was hired by the Atlantic City Police Department.

Like all Atlantic City Police officers, I started my career in patrol, being assigned to all three patrol shifts: Alpha Platoon, Bravo Platoon and Charlie Platoon. Additionally, in 2004, I was assigned to the Atlantic City Police Department SWAT Team. In November of 2005, I was assigned to the Special Investigations Section aka the Vice Unit as a Detective. I worked in this capacity until I was promoted to the rank of Sergeant in December 2006. I worked as a patrol sergeant from December 2006 to November 2007. From November 2007 to May 2008 I worked as a Detective Sergeant for the Alpha Criminal Investigations Section aka dayshift detective bureau. In May of 2008, I was assigned a Team Leader position on the SWAT Team. From May 2008 to May 2012 I was assigned as a Detective Sergeant in the Special Investigations Section. I was promoted to Lieutenant in May of 2012 and remained in the Special Investigation Section. In May of 2012, I was assigned as the Assistant Team Commander of the Atlantic City SWAT team until March 2014 when I was assigned as the Commander. I was promoted to Captain in July of 2016. In May of 2018 I was promoted to Deputy Chief where I command the Investigations Division.

How did your experience within the Natural Sciences and Mathematics Department impact your Stockton experience and career?



I graduated from ACCC in 1996 with an Associates of Science degree in Criminal Justice. I continued my education at Stockton University, graduating in 1999 with a Bachelors of Arts degree in Criminal Justice. I also obtained a Master of Art (MA) degree in Human Resources Training and Development from Seton Hall University in 2006.

My education was a tremendous help in preparing me for my career. My studies assisted me in preparing for the police academy, patrol work, investigative work and promotional testing. My Stockton University education has helped me develop skills necessary to excel in law enforcement including communications, time management, writing, organization and research/investigative skills.

Describe your favorite Stockton memory as a student. (Ex: favorite professors, classes, events, activities, etc.)

My favorite professor was Dr. John White. As a former Law Enforcement officer, Dr. White was able to incorporate his work experiences into his teaching. This made his classes extremely interesting and memorable.

Describe your top reason for staying connected and involved with Stockton and your fellow Ospreys.

I am extremely proud of the expansion Stockton has achieved over the last decade. When I attended Stockton University it was called "The Richard Stockton College of New Jersey" and was much smaller than what currently exists at the Galloway campus. I was very impressed with the new quad expansion and Campus Center but the new Atlantic City Campus is what has me the most excited about the direction Stockton is headed in. I have had the pleasure of working with Stockton University and the Stockton Police Department over the past two years to develop a framework on how our agencies will interact and be impacted by the new campus. I have watched with great pride as the new campus has been built. Located on the world famous Atlantic City Boardwalk, the Atlantic City campus and dormitory offers an experience that cannot be replicated anywhere else. I think something truly unique and special has been created here. The campus is beautiful and I cannot wait to see the reaction of my fellow Ospreys on move in day. I am convinced that the Atlantic City campus will be a huge success and continue to expand. The energy and economic stimulus that Stockton is bringing to Atlantic City cannot be overstated. As an alumnus I am extremely proud of what Stockton has accomplished and believe Stockton has and will continue to play an integral role in Atlantic City's resurgence.

What piece of advice would you pass onto the graduating class of Ospreys?



I am a strong advocate of furthering your education and I believe you should always be a student of your profession. Be proud of what you have accomplished but do not stop there. Your professional development does not stop with your diploma and should be continued thought-out your entire career. Think outside of the box and don't be afraid to take chances.

Is there anything else you would like to share with Stockton and your fellow Ospreys?

I am extremely grateful for the education I have received at Stockton University. It has served me well and prepared me for an exciting, challenging and rewarding career in law enforcement.