Stockton University Response to Racial Justice Concerns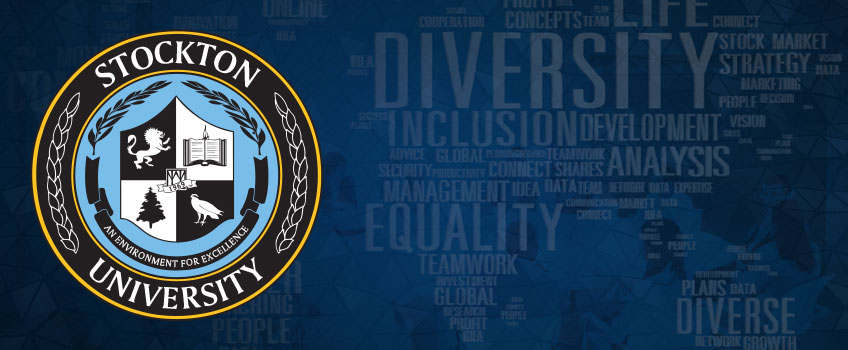 In our on going commitment to diversity and inclusion – we stand firm in promoting the antiracism and social justice cause, to help eradicate systemic racism, which has plagued our world for far too long.
Stockton recognizes that we, too, play a role in dismantling practices that foster the achievement gap that historically has been experienced by students of color. Therefore, we are intertwining the concepts of diversity, equity, and inclusion into all practices within our institution. Stockton has already implemented a number of racial and social justice initiatives, many of which are highlighted below. Again, I invite you to not only explore what Stockton is doing but commit to finding your voice in the effort to stamp out racial injustice.
Office of the President
The Board of Trustees adopted a Resolution at its July 2020 meeting that included the following expectations:

The Board of Trustees is committed to the continuing development, financing and implementation of initiatives to support diversity and inclusion throughout our community, including training for the Board, faculty, staff and students

The Board of Trustees expects that under the leadership of the Provost, the academic deans and faculty will review and revise the curriculum, both within academic programs and general education, to require coursework on these issues

The Board of Trustees expects that under the leadership of the Provost, all academic deans and programs prioritize and foster an inclusive classroom by incorporating practices that encourage the participation of a diverse student body, and cultivate an awareness of differing backgrounds, focuses, and needs among the student body and broader community

The Board of Trustees expects that under the leadership of the Provost and consistent with collective bargaining agreements charges, academic deans and programs will incorporate contributions to equity, diversity and inclusion in reappointment, tenure and promotion practices, in compliance with institutional standards

The Board of Trustees believes that Black lives matter and is committed to fostering a campus community free of racism, where every person regardless of race has the social, economic and political power to thrive

The Board of Trustees respects the right to freedom of speech and expression, but strongly condemns as unacceptable the display of flags or symbols that incite or promote hatred against any identifiable group

The Board of Trustees requests that the University President consider establishing a committee to determine whether a location-based name of the University, consistent with our founders' original intentions should be pursued

Evaluating Stockton's processes around EEO complaints, investigations, and determinations

Restructured the focus of the Office of Institutional Diversity & Equity (OIDE) into two offices to respond to increased level of EEO complaints while allowing greater focus on Diversity and Inclusion. Hired Sheilah Vance as Chief Officer for EEO and Compliance and Valerie Hayes is now Chief Officer for Institutional Diversity & Equity. Dr. Hayes will continue in the role of ADA-504 Coordinator and collaborate with Human Resources on processing reasonable accommodation requests and handle complaints of disability discrimination from employees, students, and campus visitors.

Summarized EEO complaints data to determine patterns

Commissioned an internal audit of EEO processes

Improved search process and amplified Search advocate impact

Procedure 6101 and search advocate documentation and training now explicitly state that the search advocate is a full member of the search committee.

Hiring managers will now approve draft job descriptions when getting a position approved. The final description and ad will not be finalized until there is input from the search committee, including the search advocate.

The University has purchased a "diversity package" where all positions will be posted. It includes publications and hiring sites such as LGBT Network, Diversity.com, Asian American Network, Jobs4Women.net, GlassCeiling.com, Recruit Disability, Latino Job Network.

Office of the President provided funding for training for 12 new search advocates this summer

Finalize MoA with the African American History Museum of Southern NJ to assume ownership and increase and enhance educational programming, fundraising, and daily operations at the Museum to ensure the continuity and vitality of the Museum

Established a Task Force on email communication that included faculty, staff and administrators to strengthen our communication while creating a work environment free from divisive and disruptive conduct.

Disruptive Workplace Policy and Procedure to be developed in collaboration with others on campus

Campus Conduct Code (Policy I-55) has been revised to address racial profiling incidents which do not implicate the Policy Prohibiting Discrimination in the Workplace or the Student Policy Prohibiting Discrimination in the Academic/Educational Environment.

Commitment to survey community regarding policing at Stockton.

Require campus wide Implicit Bias and Microaggression training. Initial training completed by President's Cabinet.

Stockton now has an institutional membership with the Hispanic Association of Colleges and Universities as we work toward becoming a Hispanic Serving Institution (at least 25% Hispanic).
Academic Affairs
Established the new position, Director of Strategic Initiatives, to help lead institutional research efforts about racial discrimination, inequity, and social justice, and coordinate curriculum reform.

33% of our new faculty hires for Fall 2020 were persons of color, including a 13D full-time faculty line in Africana Studies to augment course offerings in this field.

Participated in AAC&U's Truth, Racial Healing and Transformation annual meeting and to promote healing, inclusion, diversity and multiculturalism at Stockton.

Refocused university public programs to focus attention on racial injustice throughout the year. Programs confirmed to date:

September 22, 2020: ARHU 2020-21 Speaker Series


Dr. Molefi Kete Asante, Temple University, "Race, Racism, and Anti-Racism: Continuing the Conversation"

September 22, 2020: Constitution Day
Dr. Julie Chi-hyeSu, Yale Law School, "We the Women: Discovering the 'Founding Mothers' of our Constitution"

September 24, 2020: Convocation:
Dr. Nnedi Okorafor, "Binti"

October 6, 2020: Fannie Loue Hamer Symposium
Dr. Zoe Spencer, "It's Not a Moment, It's a Movement"

October 6, 2020:
Dr. Jonathan Weisen, University of Alabama, Birmingham, "From Birmingham to Berlin: Racial Terror, Lynching, and Public Violence in the United State and Nazi Germany"

October 19, 2020:
Dr. Jermaine McCalpin, New Jersey City University, "Finishing What Was Started: Race, Reparations, and Justice in America"

October 22, 2020:
Dr. Wendel White, Stockton University, and Dr. Arlene Keizer, Olin College, "Red Summer Remembered: A Conversation with Wendel White on His Work"

November 5, 2020:
Two One-Acts by African American Playwrights:
Georgia Douglas Johnson, "Plumes" and Willis Richardson, "Compromise" (virtual)

March 2021: Distinguished History Lecture
Dr. Martha Jones, Johns Hopkins University, "How Black Women Broke Barriers, Won the Vote, and Insisted on Equality for All"
Student Affairs
Divisional Emphasis on Racial and Social Justice: Student Affairs will lead the university's efforts to support Inclusive Student Success, with an emphasis on expanding access to opportunities for Black and Latinx students as reflected in its strategic priorities, organizational structure, strategic talent acquisition, budget priorities and communication efforts:

Research and Assessment of Campus Racial Climate: The Office of the President has funded the administration of The National Assessment of Collegiate Campus Climates (NACCC).

Offered through USC's Race and Equity Center, the survey is a quantitative survey administered annually at colleges and universities across the United States. This survey provides data about undergraduate students' appraisals of institutional commitment to equity and inclusion, the extent to which they interact meaningfully with diverse others, where and what they learn about race and their feelings of readiness for citizenship in a racially diverse democracy, and other important topics.

Participating institutions receive their data files, along with a customized report that includes results and practical recommendations.

Expand Student Health, Safety and Well-Being:

Inclusive Wellness Initiatives: Student Affairs will continue its efforts to strengthen its services for underrepresented students through the We Are Diverse Outreach Initiatives and Racial Healing Circles, hiring of clinical staff of underrepresented backgrounds to provide students with wellness practitioners of diverse backgrounds

Cultivate an Inclusive Campus Community:

Multicultural Center: Student Affairs and Facilities and Operations, in conjunction with the goals of the university strategic plan and master plan, will develop a short-term and long-term plan for an Office of Multicultural Engagement/Multicultural Center to provide leadership for BIPOC student support initiatives, multicultural and social justice education and advocacy.

Community Conversations on Black and Latinx Student Success Series: The Office of the Vice President for Student Affairs launched a weekly series entitled, "Community Conversations: Black and Latinx Student Success" focused on informed research and best practices that support Black and Latinx student success.

Social Justice Education for Student Leaders: The Office of Residential Life, Student Transition Programs and Student Development will lead divisional efforts to provide student leaders and student workers with social justice education-based training.

Social Justice Education for Student Community: The Office of Residential Life will launch a social justice education module for the entire student body during the Fall 2020 semester to raise awareness about implicit bias and other issues related to racial and social justice.

SPACES Initiatives: Will hold a mixer/social networking event hosted by SPACES during welcome week, which will include stakeholders from TogetHER and Sankofa.

The Division will forge partnerships with race-ethnicity identity based student clubs, organizations, fraternities and sororities to create programs and counter-spaces of support for Black/Latinx students.

Residential Life will continue its La Mesa programming series focused on multicultural and social justice education programming.

Promote Equitable Educational Access, Academic Achievement and Post-graduate Success:

Student Affairs has hired a Director of Academic Achievement Programs as a part of its prioritization equitable educational access, achievement and degree attainment through the new focus on expanding access to high impact learning experiences.

The Office of Career Education and Development (CED) will facilitate a Blacks in STEM: a panel event for students of color to speak to professionals in STEM fields, will implement Career Coaching Circles: an alumni career coaching initiative for Black and Latinx students, and will dedicate a resource web page for minoritized students on the CED website: a section of the CED website will be comprised of targeted resources for BIPOC students to help them navigate challenges they may face in the search process and the professional work.

Career Education and Development will collaborate with race-ethnicity-based cultural Greek organizations to provide additional coaching outside of Career Education and Development to support Black and Latinx students in preparing for graduate and professional school.

Educational Opportunity and Success Programs (EOSP) will host a Privilege Walk, which helps scholars understand the various privileges they experience, and share and find commonalities amongst their peers and will facilitate the Identity and Diversity Program, which allows scholars to examine their identities and how these identities differ from how others may view them.

The Office of Military and Veteran Services (OMVS) will promote the "Step Up Stockton" Program that encourages students to intervene when they witness any instances of racism or injustice in the campus community.
Enrollment Management
The Office of Admissions in the Division of Enrollment Management has completed a reorganization that includes undergraduate and graduate admissions and a renewed commitment to recruiting students of color.

After compiling demographic data for how merit scholarships were awarded, revisions were made for the 2020-21 recruitment cycle.

Admissions Counselors will now take a holistic approach to awarding scholarships, and we will utilize additional information as part of the scholarship review. Beginning in the Spring 2021 semester, prospective students are not required to submit SAT or ACT scores as part of the scholarship review process. Examples of activities include but are not limited to Work or volunteering, community engagement, family responsibilities, clubs, arts or music, sports.
Development and Alumni Relations
The Social Justice and Equity Fund was created by Development and Alumni Relations to provide funds in support of student advocacy and educational work surrounding social justice issues.

Grants to student clubs and organizations, partnerships and projects will be made available at specific times throughout the academic year through a call for proposals, as established and reviewed by a steering committee whose members will include faculty, staff and student representation. Initial funding of $5,000 was provided and fundraising will augment the fund in the future.

Creation of an Alumni Conference on Diversity, Equity and Inclusion

Development and Alumni Relations and the Office of Diversity and Inclusion will host a year-long conference focused on diversity, inclusion and social justice issues. The conference will host periodic sessions featuring Stockton alumni, faculty, staff and other guests. The goal of the conference is to foster dialog among members of the alumni community leading to more opportunities for meaningful engagement with Stockton and each other.

Review and Enhance Foundation Scholarship Process to ensure diversity and equity among award recipients

Over the course of the fall semester, a number of representatives of the Foundation Board of Directors, staff, faculty and members of the Scholarship Selection Committee will be involved in reviewing various aspects of the program, providing feedback and making revisions where necessary.

Diversifying Second Saturdays in Atlantic City

Alumni Relations and AC Campus Operations has partnered with the Hispanic Association of Atlantic County for the first Second Saturday program of the academic year. All members of the University community will have the opportunity to donate bookbags and supplies to children attending schools within and immediately surrounding the University District in Atlantic City. Additional service projects will be announced throughout the year as part of Alumni Relations' Second Saturdays program, which hosts free and low cost family-oriented educational and community-based events on the second Saturday of each month at Stockton Atlantic City.
University Relations and Marketing
Created Diversity and Communications Advisory Group to review collateral and social media through multiple points of view.

Revised Social media guidelines to strengthen our communication in social medial channels to improve creating an environment free from divisive and disruptive communication.
Athletics and Recreation
Racism and racial justice was the focus of the All Staff Kickoff Meeting facilitated by Dr. Pat Reid-Merritt.

Creation of an Athletics Diversity & Equity Committee to recommend specific actions to address staff/student-athlete issues around racism and to determine education efforts and programming for the year.

Kevin McHugh, Executive Director of Athletics and Recreation advocated for the creation of the Diversity and Inclusion Committee of the New Jersey Athletic Conference and will be an inaugural member of that Committee.