Student Spotlight

School of Health Sciences students are shaping their futures by participating in research and contributing to positive change in the community. Please browse the stories below to see how our students are shaping the future and to see the variety of opportunities available for interested students.
Cassandra Hrusko
Cassandra Hrusko, enrolled in the DPT program , qualified as an All-American by finishing sixth in the 1500-meter run at the NCAA Division III Outdoor Track & Field Championship last May. The honor came in the final meet of a career in which she was a four-year letter winner in three sports, cross country, indoor track and outdoor track.
Hrusko ran a time of 4:28.52 to finish sixth in the 1500m. Hrusko's time not only was a personal best but also broke her own two-day-old school record by four seconds. She set the previous mark of 4:32.89 in the prelims on Thursday to advance to today's final, where she placed sixth out of 12 after posting the 11th-fastest time of 22 runners in the prelims.
Belko and Hrusko capped their brilliant careers by becoming the first two Stockton females ever to earn All-American status in a track event. All 22 of the indoor and outdoor All-American kudos in the history of Stockton women's program had come in four field events (pole vault, high jump, javelin, discus). Lewis' seven All-American honors have been in the triple jump (3 outdoor, 2 indoor) and long jump (1 outdoor, 1 indoor).
Brittney Soler
Congratulations go to Brittney Soler as she has received a Stockton University Foundation Scholarship Award. She is the first student enrolled in the Exercise Science program to receive a Foundation scholarship. The award provides a total of $1000 that will be applied to the 2017-2018 academic year.

Jodie Davis
Jodie Davis, a Public Health and Chemistry major, has earned a scholarship with United Planet and will be traveling to Ghana for a eight week stay where she will be working on global health service projects. Jodie is the only student in the country to be fully funded in this scholarship opportunity which is highly competetive. Congratulations! The scholarship is made possible through the Bonner Foundation and her efforts as an AmeriCorps Bonner leader in Stockton's Service Learning program. Excited about this opportunity Jodie recently said, "I'm involved with public health because of my community and upbringing." "Growing up in Jersey City, N.J., I've seen the best and worst of people. Many families were forced to skip out on paying bills for months in order to buy their prescriptions. Even after buying their prescriptions, I noticed that my community still didn't have the appropriate health care resources for better treatment.
"Since I'm going to Ghana, I'll provide health care to residents of the city of Ho. I'll be working at a teaching hospital under the influence of their health care team. My stay in Ghana will be eight weeks, so I'll be able to rotate through different areas of the hospital such as the ER department, pediatrics, surgery and much more." Jodie is also the 2017 Newman Civic Fellow for Campus Contact. "The Newman Civic fellowship is a year-long fellowship where I will be given different opportunities to demonstrate my leadership skills," she explained. "I'll have opportunities to study abroad, present research and also attend workshops throughout the nation. There are also numerous scholarships and post grad fellowships offered to Newman Civic Fellows." Jodie is very committed to academic and community service as she volunteers with the South Jersey Aids Alliance, is president of Stockton NAACP chapter, and vice president for the New Jersey Youth and College Division of the NAACP. She also developed a program called "Flex for a Cause" which addresses both hunger and lack of sufficient nutrition which some students are experiencing. Jodie credits the Office of Service-Learning and in her personal life, she is inspired by her family and her church.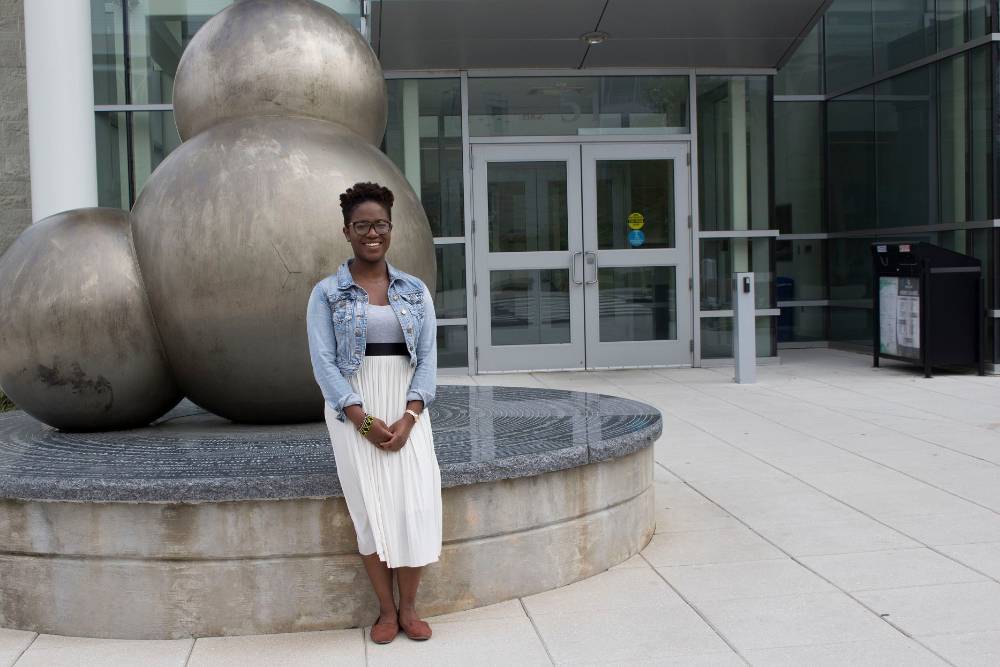 Jovanni Cifaloglio and Lauren Fitzpatrick
On Feb. 4th-5th, Jovanni Cifaloglio and Lauren Fitzpatrick furthered their commitment to the geriatric community by participating in a 2-day, intensive LSVT-BIG certification course at Kessler Rehabilitation Institute in West Orange, NJ. The LSVT program is a high-energy, 16-week treatment approach for patients with Parkinson's Disease. Backed by clinical research, the program focuses on large amplitude movements to combat some of the most challenging P.D. symptoms, including bradykinesia, tremors, and postural instability. This certification is open to both student and licensed health care professionals in the fields of physical therapy, occupational therapy, and speech language pathology. The company also offers an LSVT-LOUD certification, which addresses the vocal integrity of patients with P.D., also with great clinical success. Lauren and Jovanni plan to begin their careers in home health physical therapy and are excited to implement their LSVT-BIG training to serve their adult communities.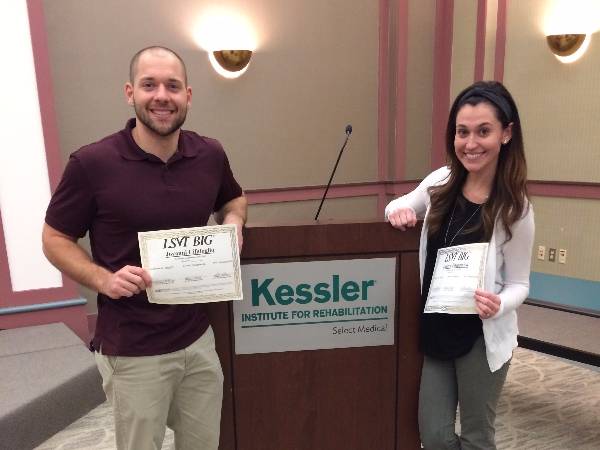 Erica Iannaco
Congratulations to Erica Iannaco, a Public Health major, who recently completed her internship with Paul M. Sarnese, CHPA at Virtua in Marlton, New Jersey. In that pursuit, her manuscript "Best Practices for Preventing Violence in Home Health" was recently published by the IAHSS (International Association for Healthcare Security and Safety) Foundation. The foundation promotes and develops educational research into the maintenance and improvement of healthcare security and safety management as well as develops and conducts educational programs for the public.
The article highights the many risk factors affecting the security and well being of the home healthcare worker. The article presents some staggering figures concerning the dangers and health risks facing home healthcare workers. Some of those include: patients who live in high crime areas that can be dangerous, patients and their families can present danger through physical and verbal abuse, illegal weapons and illegal drug use in homes, and dangerous pets. However, the article explains how training, security prevention, and technology are combatting these potential dangers. Please click here to read the article in full. A special thank you to the Public Health faculty, and especially Dr. Tara Crowell who oversees the program's internships, on their excellent mentorship.
Graduate Physical Therapy Club
The Graduate Student Council awarded the 2015-2016 Graduate Community of Scholars Award to the Graduate Physical Therapy Club. This award is presented to a person or group that demonstrates dedication to academics and community service. Some examples of the many events sponsored by the Graduate Physical Therapy Club include dodgeball and quad rugby tournaments that benefit designated charities as well as food and clothing drives to benefit the Atlantic City Rescue Mission and the Mental Health Association.
Amy Higgins, President of the Graduate Physical Therapy Club, said, "This award is a reflection of the excellence and dedication that is necessary of a Doctor of Physical Therapy student. The amount of time and effort donated by these students is remarkable, as all of the club members are full-time students enrolled in the DPT program. It is an honor to be recognized by Stockton University and a reminder that we are truly making a difference in our community. We are appreciative that we have been blessed with the ability to commit to our profession while serving the community."
Graduate Physical Therapy Club members with their club advisor, Dr. Mary Lou Galantino
Alexandra Hay
Alexandra Hay was awarded a Stockton Board of Trustees Fellowship for Distinguished Students to conduct her research project assessing whether VitalStim therapy paired with Biofeedback techniques improves swallowing ability compared to only VitalStim therapy in elderly dysphagia patients. In the project's summary, Alexandra clearly indicates the relevancy of her proposed project by stating, "Dysphagia, or difficulty with swallowing, impacts as many as 15 million Americans. One in 17 people will develop some form of dysphagia in their lifetime."
Dr. Kelly Dougherty serves as Alexandra's faculty advisor and stated, "The ideas contained in her student-initiated undergraduate research project are entirely novel and completely her own. This is extremely impressive for someone at her stage of training. She is an outstanding, hardworking student who very much deserves this honor." Both Dr. Dougherty and Alexandra were recognized at the Board of Trustees meeting on May 4.
Alexandra is a BSHS major with a pre-communication disorders concentration and gerontology minor. In her future, she plans to pursue a Master of Science in Speech-Language Pathology and work with many diverse clients.
Anthony Loteck
This Spring 2016 semester, BSHS student Anthony Loteck represented Stockton University at the Shriver Cup, a basketball tournament hosted by Unified Sports (a division of the Special Olympics). Unified Sports joins people with and without intellectual disabilities (called athletes and partners, respectively) on the same team; Anthony's team consisted of 8 athletes and 4 partners. This year, the Unified Sports Shriver Cup was held at Princeton University, and Stockton was one of 11 participating universities.
Anthony's initial involvement with Unified Sports was to complete a service-learning based group project. Throughout this semester, he and his group members spent time on Saturdays volunteering for Unified Sports. Due to Anthony's enthusiasm working with the athletes during this time, Unified Sports reached out to him to request his participation in the Shriver Cup.
"My favorite part through the whole experience was honestly everything. From helping these athletes stay healthy in playing basketball, to building relationships with them, it was honestly a heart touching experience from start to end. The look on their faces when they made a shot, or every time I gave them a high five from doing a good play, the list goes on and on. I actually am even now looking forward to continuing helping Unified Sports in participating in soccer during the fall semester.
What I gained from this experience is something that is hard to put in words. If you would have asked me a year ago if I would do something like this, I probably would have not thought about doing it. Now after it is all said and done, I am now thinking about incorporating this experience into my future goals after I graduate from Stockton. Working with these athletes who have such huge hearts really inspired me to help out more."
See more pictures by visiting the Stockton University Unified Sports Facebook page.
Jaimie Einsbruch, Alexandra Breiner, and Erin Gorman
In Fall 2015, three students majoring in Public Health completed internships with Paul M. Sarnese, CHPA at Virtua in Marlton, New Jersey. During this time, the students researched security system monitoring in health care facilities.
In March 2016, their research was published by the International Association for Healthcare Security and Safety (IAHSS) Foundation, which was established to foster and promote the welfare of the public through educational and research and development of healthcare security and safety body of knowledge. The students' publication, titled Security System Monitoring in Health Care Facilities, is available here.