News & Events
The Latest News and Events in the School of Health Sciences
Clinical Education Event 2020
On Friday, February 21, 2020, the School of Health Sciences held its sixth annual Clinical Educator Workshop titled "The Wonderland of Clinical Education", with a theme of Alice in Wonderland. The interprofessional event hosted sixty-five clinicians from the fields of speech-language pathology, physical therapy, occupational therapy, and nursing. The workshop's presentations, delivered by Stockton faculty, were specifically designed to enhance the attendees' clinical supervisory skills and facilitate student learning in their respective practice environments. Topics of discussion included recognizing life roles and their impact on clinical supervision, facilitating critical thinking and reflection in students, providing feedback, understanding of learning styles, and navigating difficult conversations. Presentations were given by Mark Adelung, Assistant Professor or Nursing; Amanda Copes, Director of the Speech and Hearing Clinic; Matthew Romen, PT Academic Fieldwork Coordinator; and MaryAnn Schiattarella, Communication Disorders Academic Fieldwork Coordinator.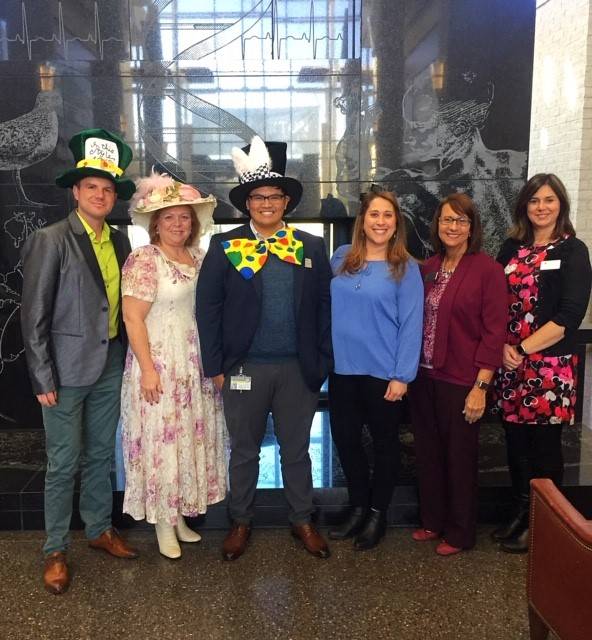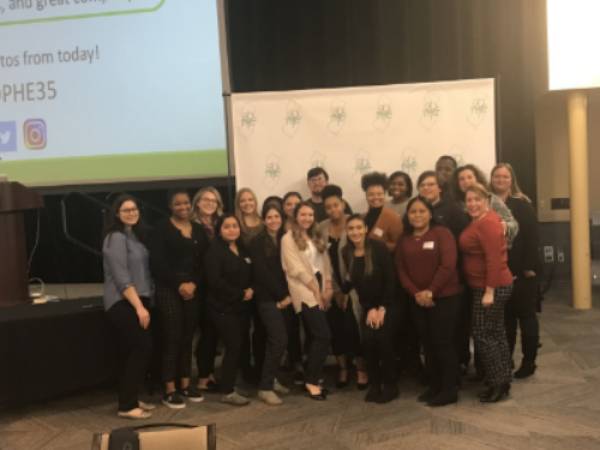 Students Learn About Climate Change at Public Health Program
Dr. Laura Taylor, New Jersey Department of Health Communicable Disease Service-Infectious & Zoonotic Disease Program and Adjunct Faculty and Dr. Tara Crowell, Professor of Public Health, along with 20 Stockton Public Health students attend NJ SOPHE 2019 Annual Program, on December 6, 2019. The Public Health Program provided program funds to register students to attend this event entitled Climate Change: This Real News, The Fake News, and What Can be Done About It. This one-day program included speakers from Faculty and Administrators from Rutgers Climate Institution, Rutgers Environmental Analysis and Communication Group, Rutgers Environmental Science Department, Robert Wood Johnson Foundation, Rolling Harvest Food Rescue, TCNJ Sustainable Institute, and the Chairman and Representative to the United Nations, Stakeholder for a Sustainable Future. Students that attended are currently enrolled in the Public Health & Marketing course. This event provided them the opportunity not only to broaden their knowledge regarding climate change, but to gain a better understanding of the depth and breadth of the public health discipline. This event also showcased local research studies and offered opportunities for professional networking.
Day in the Life 2019
A "Day in the Life" was held on Saturday, March 30th. This program welcomes over 700 admitted students along with parents and families to campus to experience Stockton University before they make their decisions regarding which college to attend. Students and parents are able to attend information fairs and can attend mock classes. Representatives from the School of Health Sciences along with student facilitators assisted incoming students and parents with questions about health sciences and Stockton University.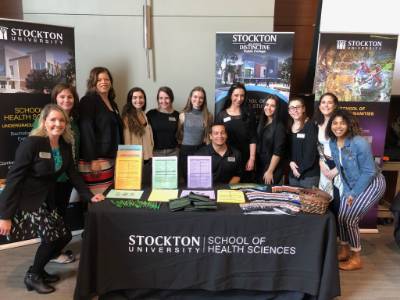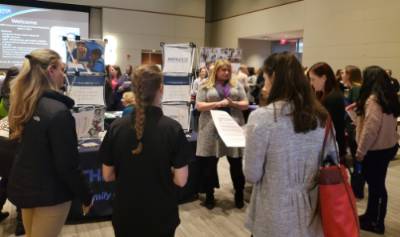 Health Science Career Fair 2019
On Tuesday April 2, 2019 Stockton University's School of Health Sciences along with the Career Center held its third annual Professional Networking Event. Clinical partners were invited to network with our current DPT, OT, Nursing, and CMDS students and alumni. This event was a way to show gratitude and appreciation to our clinical partners who take our students under their wing and teach them through clinical experiences. Over 30 employers were represented with 178 students attending. Student attendance grew 271% from the first event in 2017. Overall the partners felt that our Stockton students were very extremely professional and very prepared for this event. The faculty and staff agreed that this event aids in relationship building and career development and was beneficial for all who attended.
---